Archive for the 'Virginia Beers' Category
Happy Tuesday to whoever might be reading this!
Here's what I'm grateful for today:
I'm thankful for a fun weekend with my boys which involved playing at Pen Park, Friday lunch with Daddy at Zoe's, the Farmer's Market, an awesome twin birthday party, and watching Zootopia!  It feels like we lived life to the fullest this weekend and I'm thankful for that opportunity.
I'm thankful for the nice pedicure I got on Thursday afternoon and the sweet lady who did my toes.  She is a twin and was telling me how much she loves her twin sister and this made me feel happy and hopeful for my boys and their future relationship.
I'm thankful for my mother-in-law and father-in-law for watching the boys so Ben and I could try out the new Random Row Brewing Co. on Sunday and see a movie.
I'm thankful to live in a great city that seems to always have so much to offer.  I'm usually overwhelmed with options for things to see and do and luckily, most of them are kid friendly!
Last but not least, I'm grateful for the opportunities I have to grow and learn at work.  I've been learning so many new things lately, ajax, Knockoutjs, database design, and I'm so thankful for the opportunity and the help and experience from my coworkers!
Have a great day!
Today I've got made thanks for the following:
I'm thankful that both boys slept all night because all 3 of us really needed it with fighting these colds!
I'm thankful we got through the time change this weekend without any major sleep issues.
I'm thankful for celebrations coming up…lots of fun baby showers and my boys' first birthday party!
I'm thankful for a fun weekend that included brunch with my husband at World of Beer (awesome breakfast tacos) followed by the movie Chappie.  Then I got to meet awesome friends for dinner and drinks at Timberwood Grill for Collin's birthday followed by cake and beer at his house.  Timberwood had Three Notch'd Brewery's new Biggie S'mores Imperial Stout that I've been wanting to try!  And to top it off, we took the boys to brunch at Fellini's (they have a Make Your Own Bloody Mary Bar) with our awesome pals, Robert and Crystal, followed by a sunny, warm stroll on the Downtown Mall!
I'm grateful for my husband!  I love him so much and the older the boys get, the better partners in parenting we are becoming!
Happy day friends!
I'm thankful for a free moment to write this post! 😉
I'm a busy woman but not too busy for gratitude!  Here are some of my thankful things today:
I'm thankful my boys are 7 months old today!  They started out as tiny premature babies, but they are now big and healthy little guys!
I'm thankful for a fun and relaxing week last week and the opportunity for my boys to enjoy their first Thanksgiving!  We spent the day Skyping with my family in Texas, visiting their grandparents, spending time with their aunt, uncle, and cousin, eating a new kind of squash that their grandma grew, and trying their first meat, turkey.
I'm thankful for technology, Skype in particular, for allowing me to spend time with my family over the holidays even though we live far apart.  I'm also thankful my boys are getting to know their Texas family via Skype!
I'm thankful for good friends and good times!  My friend Lindsey came over to bake pies Wednesday night and it was so nice to get to visit with her.  Then on Monday, Sarah and I took all the babies on an almost 2 hour long walk and enjoyed the unusually warm weather!  I don't get to spend as much time with friends as I used to so I'm even more thankful for those opportunities now.
Lastly, I'm thankful for the fun date night Ben and I had Saturday and also thankful to my mother-in-law for watching the boys.  Ben and I went to South Street Brewery where we had our first date a few years ago.  It was recently bought out by another local brewery so they had a renovated space, new menu, and lots of new beers to try.  So of course we went all out by ordering an appetizer with our meals and trying a flight of all the beers.  Then we saw Interstellar which was an awesome movie!  I miss these date nights but it's nice that we still get the opportunity to have them occasionally as I know there are many parents out there who do not have that option.
Happy day friends!
I had a wonderful holiday celebrating with my family and hope that everyone else did as well!  Here's how it went!
Saturday morning, I woke up early to finish cleaning before my family got here.  My brother, Mikey, got in around 2 so he, Ben, and I decided to go have a late lunch at Brixx Wood Fired Pizza.  Afterwards, we did a little Christmas shopping and then went over to my friend Collin's house for a Christmas get-together with friends.  After a fun night and a white elephant gift exchange, we headed home.  My mom and Carrie didn't get in until about 3:30 AM.  Ben and I woke up to let them in and gave them the tour of the new house since they hadn't seen it yet.  After a short visit, we all went to bed to rest up for the next day.
Sunday morning, we got up and took it easy.  I made everyone coffee and cooked bacon, eggs, and toast for breakfast while Mikey made us all bloody marys.  After breakfast, we watched our Texans play and hung around the house visiting and looking at the fun stuff that my mom brought from Texas that she'd been storing for years.  We decided we needed to get out of the house for dinner and went to The Local since it is one of the few restaurants in Charlottesville that Mikey, Carrie, and Mom had never been to.  We had a great dinner and all ordered something different so we could each try a few bites of everyone else's dinner.  Afterward, we stopped by our condo to show them how the renovations looked and then watched for Christmas lights on our way home.
Monday morning, we got up and all enjoyed some light breakfast and visited.  After everyone had showered and gotten ready for the day, we headed out for lunch.  We went to Basil to have some great Mediterranean food complete with tabouli, hummus, baba gannoush, lebne, grape leave, and complimentary baklava.
It was a delicious lunch and we were all stuffed!  Then we went to see the movie American Hustle.  We enjoyed the movie and then headed to Pier One to exchange some gifts and then to the grocery store to buy ingredients for Christmas dinner.  When we got home, we all helped to make sausage balls and pralines.  Then we sat down to watch National Lampoon's Christmas Vacation (one of my favorite Christmas movies).
Tuesday was my birthday and we headed over to one of my favorite restaurants, Beer Run, for brunch.  I got my favorite dish, nachos, and we all enjoyed bloody marys and beers.
We did a little Christmas Virginia wine and beer shopping before leaving and then headed home to make some baklava and caprese kabobs to take over to my in-laws house where we celebrated Christmas and my birthday.  My mother-in-law Virginia Mom made the most amazing spread of food…she had everything and it was all so delicious!  Then we ate some of this amazing cake:
My Virginia Mom made the cake out of black beans but it tasted just like chocolate and it had layers of chocolate and Reese's Peanut Butter cups on the inside!  It was delicious AND full of protein!
The family sang happy birthday to me: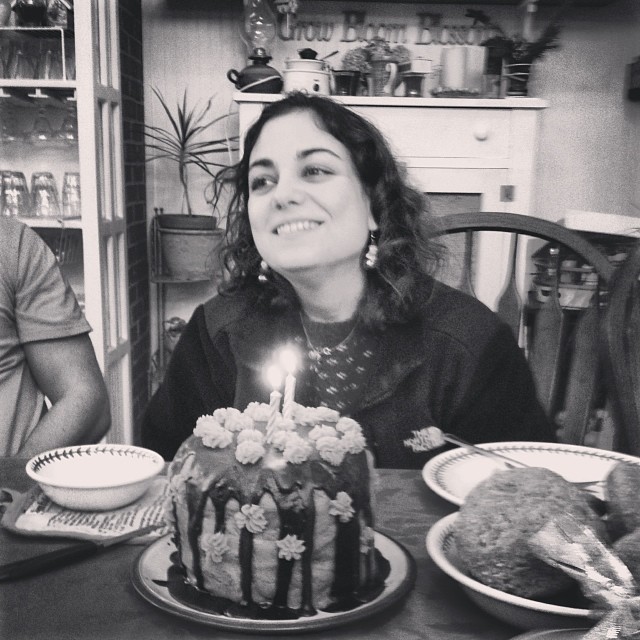 And I blew out my candles making a wish (it's a secret):
Then we opened gifts and enjoyed each other's company for the rest of the evening.  We went home and everyone scrambled to finish putting the last minute touches on their gifts and complete their wrapping.  Our tree looked like this:
Christmas morning, we awoke to this:
And my mom surprised Ben by hand-making him a stocking to match the ones she made my sister, brother, and I as babies:
We all opened presents, enjoyed mimosas, and ate sausage balls and had a wonderful Christmas morning!
Then we went to work on dinner.  Mom made augratin scalloped potatoes, tenderloin, creamy horseradish sauce, bacon-wrapped green beans, rolls, Granny Scott's Wilted Leaf Lettuce Salad, and blackberry cobbler for dessert!  It was all so delicious and she outdid herself once again!  Ian, Sarah, and Phyllis joined us for dinner: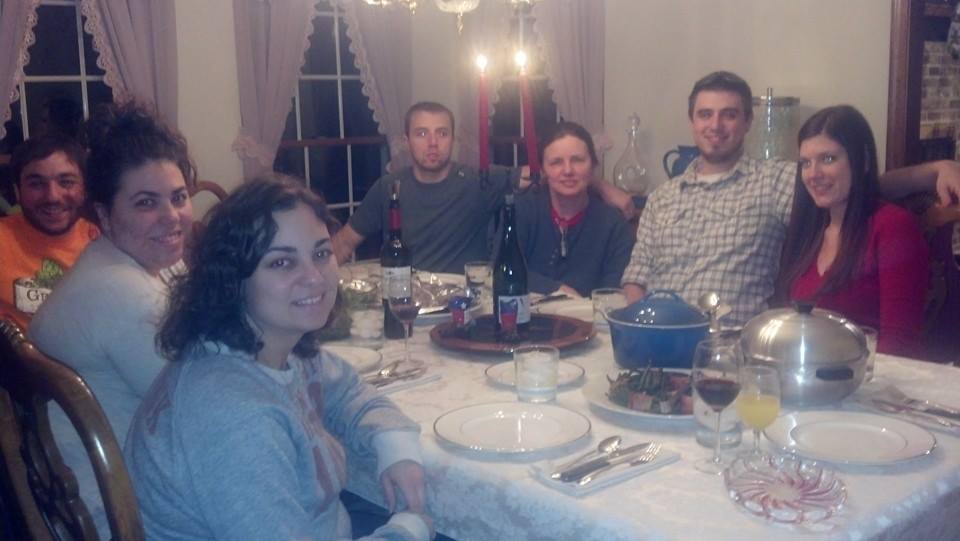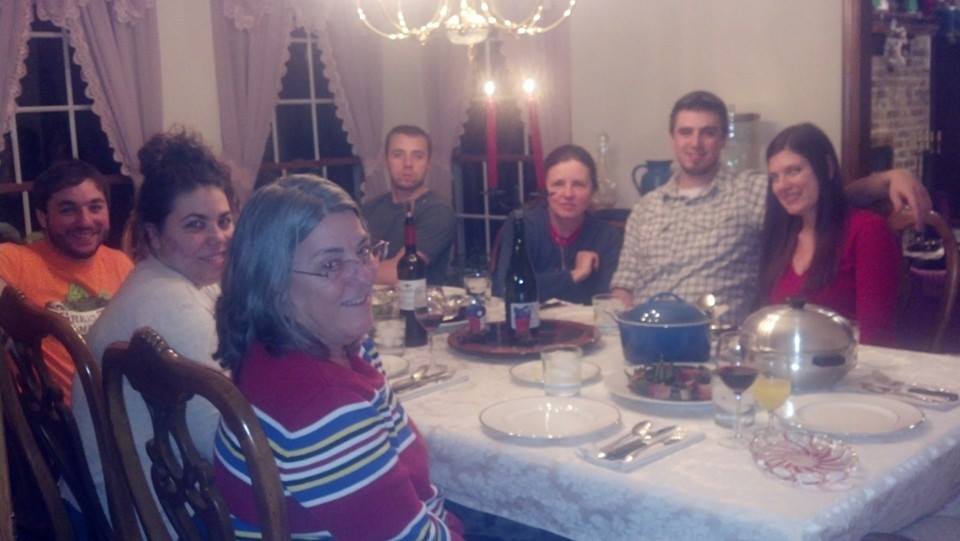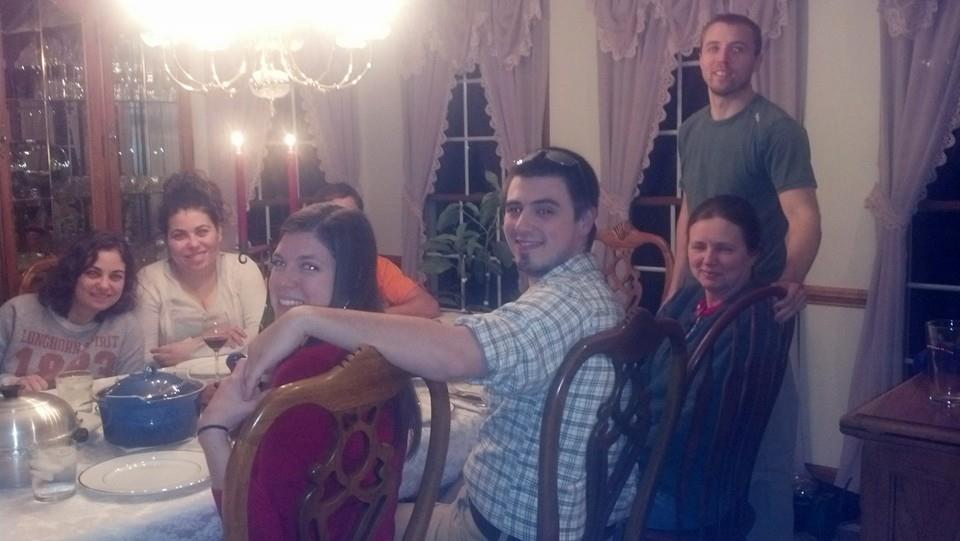 We finished the evening by spending time together and Skyping with some family in Texas.  In was the most amazing holiday and now I am so sad that it is over and so sad that my family had to leave.  However, I am so happy and grateful they could be here and can't wait to see them again soon!
Merry Christmas everyone and happy New Year!
P.S.  Thanks to Sarah, Mikey, and Carrie for many of the pictures!
Good morning!  Yesterday was Memorial Day and my brother was in town visiting for the long weekend, so I didn't have a chance to log in and write my weekly Thankful Monday post so here it is for Thankful Tuesday:
First and foremost, I am so thankful for all of the men and women who have given their lives and those who continue to serve to allow us to live in a wonderful and free country.  Words will never be sufficient to honor them, but I am grateful for the sacrifices of them and their families.

Secondly, I am so thankful for a weekend with my little brother, Mikey.  He drove up from South Carolina to spend the weekend with us and see our new house.  We had such a blast hiking and swimming in Sugar Hollow, hanging out on the farm and shooting skeet, trying different beers and wines at local breweries and wineries all over the area, and of course watching Arrested Development!  I'm so grateful to get to spend time with my family and also very thankful that Ben's family embraces my family and that we all get along.  I love my brother and can't wait until we get to have another sibling weekend!
I'm thankful for the beautiful weather this weekend that allowed us to spend some time in nature and the outdoors.
I'm thankful for family, friends, and fun times.  We had a blast at the Market Street Wine Shop Free Wine Tasting, Fridays After Five, Beer Run, Timberwood Grill, the Beer Hound Brewery, Sugar Hollow, the Whiskey Jar, Commonwealth Skybar, Mountfair Vineyards, Jefferson Vineyards, and Stinson Vineyards.  I'm also thankful for the opportunity to live in such an amazing place with so many things to do.
Lastly, I'm thankful for the 3 day weekend and a short week!
Have a good one!
Good morning and welcome to my Thankful Monday post!
Today, I'm thankful for the following:
I'm thankful for a wonderful day with friends yesterday.  First, we had breakfast at the Tavern on the James and then we went to the James River Brewing Company that I've been wanting to try for a long time.  It was great company, great food, and great fun!
I'm thankful that I have amazing women in my life who are all willing to put in the effort to keep in touch.  Friday night, I met up with several of the ladies I used to work with at VGT for dinner and drinks.  It was so nice to catch up with everyone and I'm always grateful to have another Girls' Night to look forward to!
I'm thankful to have so many friends who are pregnant or who have recently had babies.  Not only am I thankful that their pregnancies all seem to be going well, but I'm also so happy to see so many wonderful friends bringing new life into this world.
I'm thankful that Spring is here!  Although we had about 3 inches of snow last night, we had a beautiful, sunny, and warm day on Saturday that Ben and I enjoyed by running 5 miles along the river.  I think this is the last of the snow we will have this season.
I'm thankful again for the opportunity to work from home today.  As I mentioned before, we had snow overnight and it is supposed to continue to snow until this evening so I'm very glad I have a job that allows me the flexibility to work from home so that I don't have to risk my safety and others' on the roads.
Have a terrific week!
Saturday night, I was in the mood for some pumpkin themed activities, so we headed over to Ian and Sarah's house for dinner, pumpkin carving, pumpkin seed roasting, and pumpkin beer tasting!
Sarah cooked the amazing dinner and I provided the pumpkin ales and pumpkins for drinking and carving.  Sarah made white bean vegetarian chili which was delicious.  It had the consistency of potato soup but the taste of chili and it was perfect for a breezy fall evening.  I brought over Rogue Pumpkin Patch Ale, Williamsburg Alewerks Pumpkin Ale (a Virginia beer!), and Smuttynose Pumpkin Ale which I picked up from Beer Run which always has an amazing beer selection!  Rogue and Smuttynose were both kind of spicy with hints of pumpkin and nutmeg while Williamsburg Alewerks was more sweet like pumpkin pie.
After dinner, we carved pumpkins with the help of Amy, Joel, Collin, Ian, and Ben.  Sarah opted for an awesome design created using the power tool pumpkin carving method.  She used a drill to create decorative holes all around the pumpkin's surface.  I of course had to go with a Texas theme!  Due to my lack of artistic ability, I had Ben draw the shape of Texas  freehand.  It looked great but we were worried it would be too difficult to carve, so he drew me a Texas Longhorns logo instead.  It came out great and the Texas themed jack-o-lantern is now being proudly displayed outside our front door.
We used the seeds from our pumpkins to roast cinnamon sugar pumpkin seeds and garlic pumpkin seeds and ended the evening feasting on them while watching Netflix.  It was a great night with great friends and the perfect way to celebrate Halloween weekend!
Last night, I went downtown to Fridays After Five, a free concert held at the Charlottesville Pavilion every Friday in the summer time, to meet up with the AMAZING Travis family(Robin, Sterling, and Sarah, my sister-in-law) to see Craig Travis (Sarah's dad) sing with his former band the Houserockers.
After bumping into some friends and enjoying good conversation while sipping on local Star Hill beer, we went to the front of the pavilion to cheer on the Houserockers and dance and sing along.  The Houserockers put on a wonderful performance and Sarah's dad is truly talented.
I apologize for the blurriness of these pictures, but we were dancing after all!
After the show, Sterling, Sarah, and I stopped off at Miyako for some sushi and edamame.  It was a great way to start the weekend and I'm so glad I FINALLY got to see the Houserockers perform after hearing so many great things about them from the Travis family!
Last night was a blast!
Cheryl, Jennifer, Kristen, and I headed out to the Charlottesville Pavillion to celebrate the first day of summer and see Colbie Caillat and Sheryl Crow play!
We started out the evening at my apartment with a quick glass of wine and then headed to the downtown mall.  You may remember me writing about Ventana a few months ago and their very unique margaritas.  Well Ventana was offering a discount to all Sheryl Crow ticket holders so we decided to stop in for a pre-concert cocktail.  I finally got to try the cucumber margarita.  It was delicious!  It wasn't as good as the jalapeno margarita, but it was definitely the perfect refreshing beverage for a hot summer day.  Jennifer tried the strawberry margarita and Cheryl had the habanero margarita which I tried the last time I was at Ventana.
After drinks, we headed to the Pavillion for the music.  We enjoyed some awesome Star Hill Lucy as we chatted and listened to Colbie Caillat play.
When Sheryl Crow took the stage, we got to hear all of our old favorites and some new ones too!  We danced and sang and had a great time and even bumped into some more friends!
Overall, it was an awesome first day of summer.  We definitely started Summer 2010 off right!
So I actually got to try the Blue Mountain Brewery Oktoberfest (mentioned in the previous post) before the weekend was over at a new (two years old but new to me) restaurant/pub/beer store Ben and I discovered 2 minutes from home.  Beer Run is the name and beer is definitely their game. 
They had the largest assortment of beer I've seen in Charlottesville.  I was in beer heaven!  Their food was also delicious!  Ben and I enjoyed a pint of the Blue Mountain Brewery Oktoberfest with our dinner and bought a 4 pack of the Dogfish Head Punkin Ale to take home with us.  I have to admit, I could have gone bankrupt (and gained 50 pounds) in that place had Ben not dragged me away.  Luckily, it is close by and we will definitely be going back again.
If you're in the area and you enjoy beer, I highly recommend stopping by.  Check out their website for more info.