Archive for the 'Fall' Category
Good morning!  It's been a while but I keep coming back!
Here's what I'm grateful for today:
I'm grateful that I live in a country where we all have the right to vote on this election day!  I voted this morning and regardless of who the winners are, I'm just grateful that I am a citizen of the greatest country in the world!
I'm grateful for a beautiful fall weekend filled with family time!  Saturday, Ben, the boys, and I ran the Wolanski 2 Miler to celebrate the retirement of my awesome OBGYN.  We then bought lots of goodies at the Farmer's Market and continued on to Carter Mountain Orchard for some apple picking.  The boys had such a great time and I'm thankful I can give them fun and awesome experiences like these!
 I'm grateful to live in a city with such amazing preschool options!  We've been touring preschools to enroll the boys in next fall and there are so many great schools around that it's overwhelming to choose one!
I'm thankful for the extra hour we got this weekend.  While I'm not a fan of it getting dark super early, it was nice to get that extra hour on Sunday especially when there are never enough hours in the day!
I'm grateful for a sweet sister.  She sent me a sweet card and beautiful bracelet to ask me if I'd be her matron of honor in her wedding!  I'm so excited for her and thankful to be her sister.
Happy day friends!
Time for a little gratitude!
I'm thankful for a wonderful place to work that provides me with flexibility, a part time schedule, and working from home capabilities that all allow me to spend more time with my children.  They also have a wonderful wellness program that has helped me beyond any drug out there and has introduced me to the wonderful world of mindfulness and meditation.  And to top it all off, they have a bi-annual employee appreciation day!  I'm very grateful to work here!
I'm grateful for access to therapies for my boys.  Because they were born premature, they've been late to walk and talk and we are lucky to have a physical therapist and speech therapist who come to our house to work with us in addition to insurance that pays for it.  Both the boys are walking now and are starting to mimic our words so I'm very grateful for their continued improvements and development!
I'm thankful for the good things in life that have been happening for my sister and brother.  Within the past year and a half they have both started new jobs in their preferred career path, begun relationships with very nice significant others, and have found their first real adult homes.  I'm happy to see them happy!
I'm grateful for the internet and social media.  It has allowed my extended family to stay connected and plan a future family reunion that has been long overdue!
I'm grateful for long walks on autumn days.  My boys and I have been spending lots of time outdoors soaking up the last of the warmth and sunshine before winter comes and it makes me so happy to spend time with them outside.
Happy day friends!
I love dark beers, particularly porters and stouts, however in the summer, its usually just too damn hot to imbibe in them.  If I happen to catch myself out on a relatively cool summer night or come across a rare dark brew that I have been dying to try, I'll drink it, but I usually stick to lighter beers when the weather's hot.
I'm not a huge fan of winter as I've written before, mostly because I loathe the dark, short days and can't stand the cold weather.  However, one great thing the cold weather ushers in is my taste for darker beers which also seem to be more widely available in the winter months.
One of my favorite breweries, Terrapin Beer Company, out of Athens, Georgia was recently featured in an episode of one of my favorite shows, The Walking Dead (also filmed in Georgia) and makes one of my favorite dark beers, the seasonal Moo-Hoo Chocolate Milk Stout.  My guess is that Moo-Hoo takes its name from the chocolaty milk beverage called Yoo-hoo due to its smooth, creamy texture and chocolate flavor that comes from the use of cocoa nibs, cocoa shells, and lactose in the brewing process.  In my opinion, Moo-Hoo is a thousand times better than Yoo-hoo ever was, but I am a bit biased seeing as I've become quite the beer snob.
Terrapin makes some really amazing beers including Pumpkin Fest, Hopsecutioner IPA, and a number of rare Side Project beers like the Liquid Bliss I wrote about last year.  In addition, they have some of the most creative and entertaining artwork bringing their labels alive!
I recently picked up a 4 pack of Moo-Hoo at the weekly free beer tasting we go to at Market Street Wine Shop.  I'm really looking forward to enjoying this thick, dark beer now that the days are getting colder.  If you are a fan of beer in just the tiniest amount, I highly recommend checking this brew out while its in season!
Good morning and happy Thankful Monday!
Today, I am thankful for the following:
I am thankful for a wonderful week with friends!  Tuesday, I met some of the VGT girls at Brixx for dinner and catching up.  Thursday, I made this crock-pot chicken taco soup recipe and we had all of Ben's family over for a fun family dinner.  Friday night, Sarah, Amy, and I had a lovely girls night just chatting and relaxing.  Then, Saturday night, I went to Carolyn's Halloween party where I laughed all night long at the outrageous costumes everyone had!  It was a week filled with lots of the people I love.
I am thankful for my cats.  They have been catching mice left and right.  I'm guessing we've been seeing more mice because it's been getting colder and they are looking for a warm place to spend the winter.  I'm thankful my cats are taking care of them before I have to deal with them.  And I'm also very thankful for Ben since he is the one who takes care of disposing of the dead mice the cats have caught.
I am thankful for free movies and date nights.  Wednesday, Ben and I got tickets to a free advanced screening of the move About Time which was really good and we prefaced the movie with dinner at a new Thai restaurant, Bangkok '99 that had really great food and wonderful service.  I love date nights with my husband, especially when they involve free movies!
I'm grateful for a restful weekend.  I took two naps and spent a ton of time bundled up on the couch watching American Horror Story, my current Netflix obsession.  It was the perfect activity for a cold fall weekend.
Lastly, I'm excited for something very special that I can't reveal on the blog yet as its a surprise.  But I can say that it makes me very happy and I count my blessings for it every day!
Have a great week!
Good morning and welcome to my weekly Thankful Monday blog post!
Here's what I'm thankful for today:
I'm thankful that I got to watch the Houston Texans game on TV here even if they did lose against the Baltimore Ravens.  Very rarely do they show the Texans games here but since they were playing a team that is based not too far from where I live, the game was shown on CBS.
I'm thankful for winning the Big Greasy Office Pool last week!  I've played the last two years and never won, but last week, I had the most accurate NFL picks for the week and won a $30 McGrady's Gift Certificate, a Wild Wolf Brewery Prize Pack, a Gift Pack from Century Link, a $30 University Dive & Hobby Center Gift Card, and 4 passes to the Virginia Chili Brews n' Brews Festival in Waynesboro!  Sarah, Ben, and I went to the Chili Cookoff/Festival on Saturday and even though it rained, we had a blast and tasted some interesting chili!
I'm thankful that my husband is so handy and seems to have fixed our TV!  With everything that we've had break in the past couple of months, it's nice that there is something that seems to have been an easy fix (fingers crossed it is actually fixed and will stay that way)!
I'm thankful for the opportunity to start mentoring at Computers 4 Kids again.  I've mentored two students in the past and had taken a break during wedding planning and house searching but now I am ready for student number 3!
Lastly, I'm thankful for the cooler weather.  Although I'm not crazy about the shorter days and it getting dark earlier, I am loving the cooler weather, especially with two broken AC units!
Have a great week!
Saturday night, I was in the mood for some pumpkin themed activities, so we headed over to Ian and Sarah's house for dinner, pumpkin carving, pumpkin seed roasting, and pumpkin beer tasting!
Sarah cooked the amazing dinner and I provided the pumpkin ales and pumpkins for drinking and carving.  Sarah made white bean vegetarian chili which was delicious.  It had the consistency of potato soup but the taste of chili and it was perfect for a breezy fall evening.  I brought over Rogue Pumpkin Patch Ale, Williamsburg Alewerks Pumpkin Ale (a Virginia beer!), and Smuttynose Pumpkin Ale which I picked up from Beer Run which always has an amazing beer selection!  Rogue and Smuttynose were both kind of spicy with hints of pumpkin and nutmeg while Williamsburg Alewerks was more sweet like pumpkin pie.
After dinner, we carved pumpkins with the help of Amy, Joel, Collin, Ian, and Ben.  Sarah opted for an awesome design created using the power tool pumpkin carving method.  She used a drill to create decorative holes all around the pumpkin's surface.  I of course had to go with a Texas theme!  Due to my lack of artistic ability, I had Ben draw the shape of Texas  freehand.  It looked great but we were worried it would be too difficult to carve, so he drew me a Texas Longhorns logo instead.  It came out great and the Texas themed jack-o-lantern is now being proudly displayed outside our front door.
We used the seeds from our pumpkins to roast cinnamon sugar pumpkin seeds and garlic pumpkin seeds and ended the evening feasting on them while watching Netflix.  It was a great night with great friends and the perfect way to celebrate Halloween weekend!
And by "Winter Is Coming", I'm not just referring to one of my favorite shows, Game of Thrones, which I am really excited to see the third season of beginning in March.
Today is the last full day of summer and tomorrow is the Autumnal Equinox, or official beginning of fall.  And as fall leads to winter, I started thinking about my first winter here in Virginia.  It was my first real winter and my first real snow storm I had experienced.  We received 6 inches of snow in Charlottesville in early 2006 and the next day, I was like a kid on Christmas.  I headed outside with my camera to view the landscape covered in white powdery snow.  I think it was pretty obvious to others that I'd grown up someplace far away that never experiences such phenomenon.
I wanted to showcase one of my favorite photos from that day.  I lived in an apartment complex that had a lake, really a large pond, that often provided a sanctuary to local ducks, geese, and swans.  The reflection coming from the sun on the water as the geese basked in the sunlight after a long night of cold and cloudy snow really lets you feel the calm after the storm.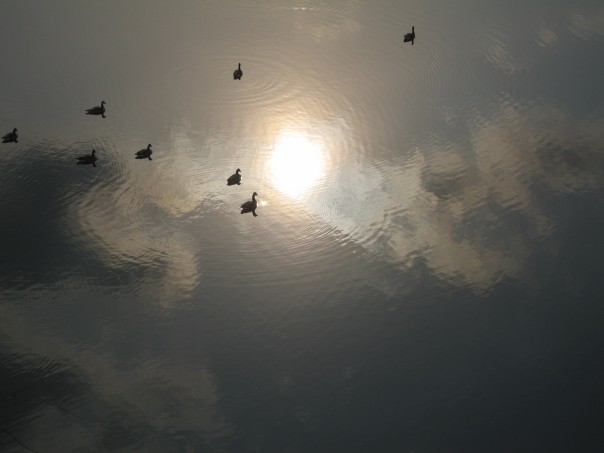 I'm hoping we get some snow this winter, especially after the uneventful winter we had last season.  I'm not a huge fan of winter time, but if it's going to be cold and dark and dreary, I'd rather had some beautiful snow to go with it.  After all, when everything's white, the world looks a little bit brighter!
We are getting dangerously close to the end of summer, and although I LOVE fall and all of the beautiful colors and changing leaves and cool and crisp air it brings with it, I dread the shorter days and decrease in sunlight.  The fall colors are something that I never really saw growing up in Houston that I've really come to apreciate here in Virginia.  However, the shorter days where it gets dark around 5 PM is also something  that I never saw growing up that I really can't stand.  It brings on a serious case of Seasonal Affective Disorder (SAD 🙁 ).
With these last few days of summer and late evenings still filled with dwindling sunlight, I'm trying to soak up as much of it as I can get before the time change.  The Meade Park Farmers Market that takes place every Wednesday afternoon from 3 PM until 7 in Charlottesville is about to come to a close for the season next week so I suggested to Ben that we go for a run to the market after work.  After a beautiful 2.75 mile run to the market in perfect temperatures, we arrived at the market where we bumped into some friends, got to sample some delicious and nutritious bread from the Great Harvest Bread Company, and ended up buying some fresh and local green beans and swiss chard.  We than ran the 2.75 miles back home along the Rivanna River where I cooked barbecue chicken (with authentic Texas Rudy's barbecue sauce – thanks to Cheryl and Dan), asparagus, and garlic parmesan sauteed zuccini.  After dinner, Ben and I watched 21 Jump Street, the movie and laughed our butts off!  I highly recommend it especially if you're looking for a good laugh.
It was a great day, made even better by the fact that rather than going and sitting in front of a computer all day, I got to spend the work day volunteering with my company for the Thomas Jefferson Area United Way Day of Caring.  We organized closets, separated donated childrens' clothing, and made goody bags for young families in the area at the Child, Youth, & Family Services in Charlottesville.  It was wonderful to learn about the organization, help out my community, meet lots of new people, and give my time and effort to such a great cause.  And you should have seen the amazing lunch they provided us!!!
I'd have to say it was definitely a summer day to remember!
It's starting to feel like fall!
After the sweltering heat that we've endured this summer, I'm welcoming the autumn season with open arms.
Fall always reminds me of new beginnings: starting school, starting a new job, entering into a new relationship.  These significant events in my life have almost always happened during fall, so the familiar smell of the air and feel of the breeze cooling you as the sun warms your skin perfectly always makes me happy and nostalgic.
Tomorrow, I'm attending the Harvest Wine Festival At The Plains and will happily be sipping local wines while enjoying the company of friends and the feel of the grass beneath my body.  Next weekend, I'll be attending and "starring in" the autumn harvest themed wedding of two dear friends.  I can't think of a better way to welcome the season!