Archive for the 'Charlottesville' Category
Good morning and welcome to my Thankful Monday post for the week!
Today, I am thankful for the following:
I'm thankful for strong and able bodies that allowed Ben and I to get a great deal of work done on both our house and condo this weekend.  We are that much closer to be unpacked in the house and having the condo ready to rent.

I'm thankful to live in a smaller city like Charlottesville where it's easy to run into friends and acquaintances   Last week I went to lunch with an old friend and ran into several good people I used to work with at VGT.  It was so nice to catch up with them and just see their smiles!
I'm thankful for my husband.  He brought me tulips, one of my favorite flowers, last week unexpectedly to say thank you for all of the hard work I have done to get us moved.  It's so nice to know he appreciates me and even better to see him show his appreciation!
I'm thankful that University of Virginia students are done for the summer.  There are so many parts of Charlottesville that are very enjoyable once students have gone home and places and events are less crowded as well!
I'm thankful that we may be getting our first house guest,  my brother, this coming weekend, and I'm also thankful for a long weekend!  I think I might sleep in!
Happy week!
This weekend, Ben and I went to the Charlottesville City Market to buy some fresh veggies and enjoy the local vendors.  We bumped into this car as we were walking to the market.  I said that "Murse" stands for Male Nurse, like Gaylord Focker in the movie "Meet the Parents".  Ben however said that it stood for Man purse, as in the man bag that Joey carries in an episode of Friends. According to Urban Dictionary, the word murse can be used to describe both a male nurse and a male purse, but I think someone is much more likely to display pride of being a male nurse than pride of owning a male purse on the bumper of their Saturn.  What do you think?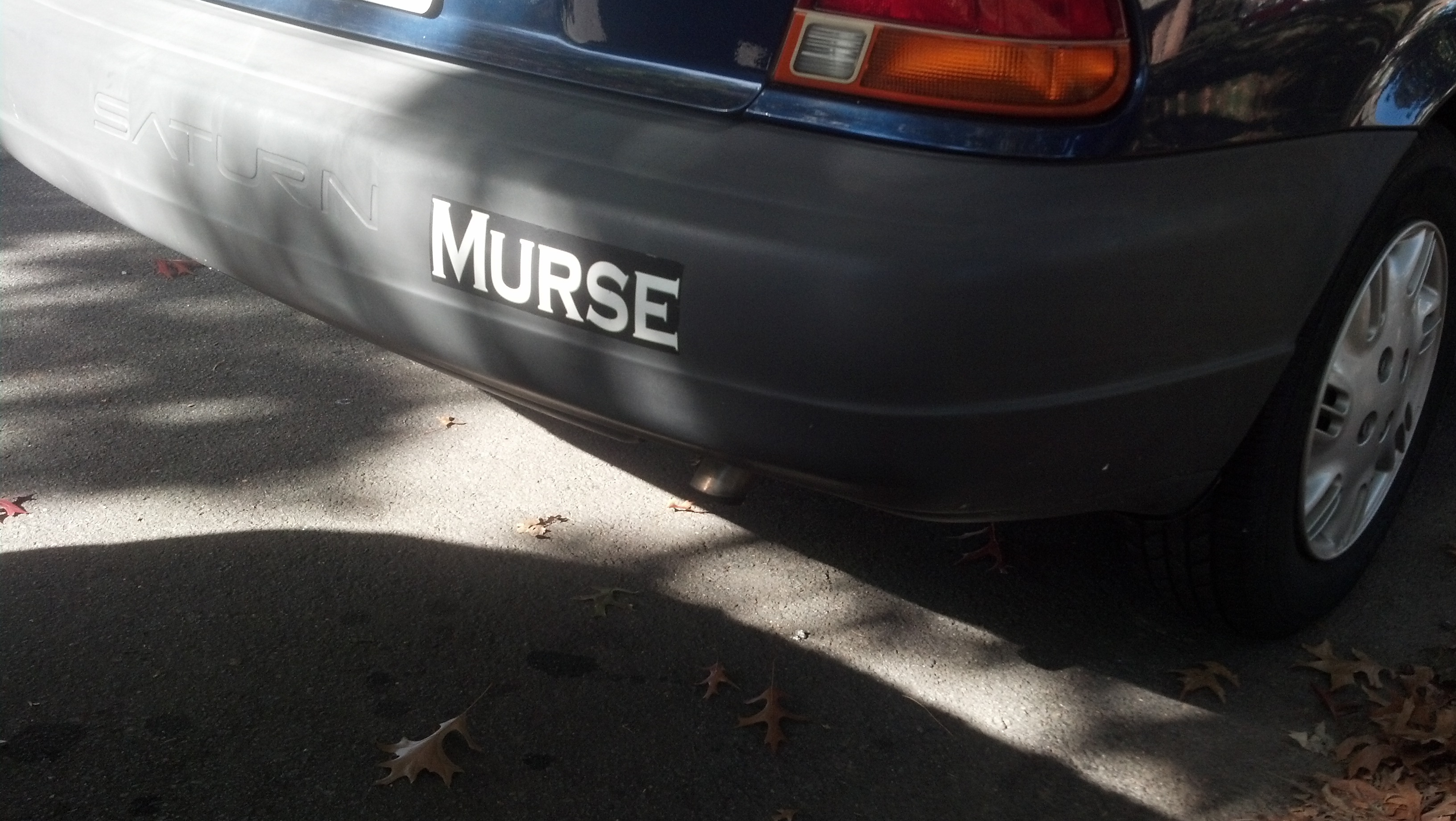 And by "Winter Is Coming", I'm not just referring to one of my favorite shows, Game of Thrones, which I am really excited to see the third season of beginning in March.
Today is the last full day of summer and tomorrow is the Autumnal Equinox, or official beginning of fall.  And as fall leads to winter, I started thinking about my first winter here in Virginia.  It was my first real winter and my first real snow storm I had experienced.  We received 6 inches of snow in Charlottesville in early 2006 and the next day, I was like a kid on Christmas.  I headed outside with my camera to view the landscape covered in white powdery snow.  I think it was pretty obvious to others that I'd grown up someplace far away that never experiences such phenomenon.
I wanted to showcase one of my favorite photos from that day.  I lived in an apartment complex that had a lake, really a large pond, that often provided a sanctuary to local ducks, geese, and swans.  The reflection coming from the sun on the water as the geese basked in the sunlight after a long night of cold and cloudy snow really lets you feel the calm after the storm.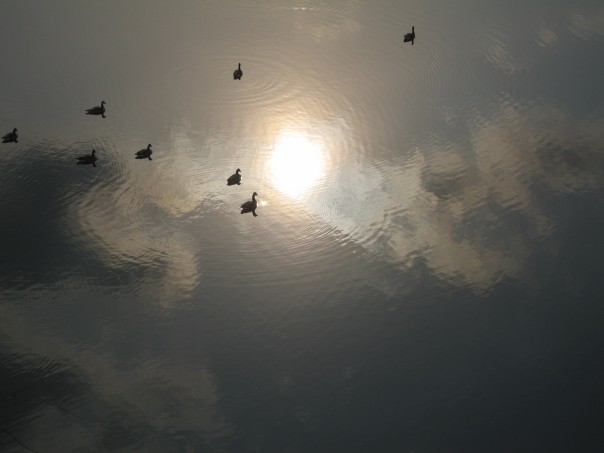 I'm hoping we get some snow this winter, especially after the uneventful winter we had last season.  I'm not a huge fan of winter time, but if it's going to be cold and dark and dreary, I'd rather had some beautiful snow to go with it.  After all, when everything's white, the world looks a little bit brighter!
We are getting dangerously close to the end of summer, and although I LOVE fall and all of the beautiful colors and changing leaves and cool and crisp air it brings with it, I dread the shorter days and decrease in sunlight.  The fall colors are something that I never really saw growing up in Houston that I've really come to apreciate here in Virginia.  However, the shorter days where it gets dark around 5 PM is also something  that I never saw growing up that I really can't stand.  It brings on a serious case of Seasonal Affective Disorder (SAD

).
With these last few days of summer and late evenings still filled with dwindling sunlight, I'm trying to soak up as much of it as I can get before the time change.  The Meade Park Farmers Market that takes place every Wednesday afternoon from 3 PM until 7 in Charlottesville is about to come to a close for the season next week so I suggested to Ben that we go for a run to the market after work.  After a beautiful 2.75 mile run to the market in perfect temperatures, we arrived at the market where we bumped into some friends, got to sample some delicious and nutritious bread from the Great Harvest Bread Company, and ended up buying some fresh and local green beans and swiss chard.  We than ran the 2.75 miles back home along the Rivanna River where I cooked barbecue chicken (with authentic Texas Rudy's barbecue sauce – thanks to Cheryl and Dan), asparagus, and garlic parmesan sauteed zuccini.  After dinner, Ben and I watched 21 Jump Street, the movie and laughed our butts off!  I highly recommend it especially if you're looking for a good laugh.
It was a great day, made even better by the fact that rather than going and sitting in front of a computer all day, I got to spend the work day volunteering with my company for the Thomas Jefferson Area United Way Day of Caring.  We organized closets, separated donated childrens' clothing, and made goody bags for young families in the area at the Child, Youth, & Family Services in Charlottesville.  It was wonderful to learn about the organization, help out my community, meet lots of new people, and give my time and effort to such a great cause.  And you should have seen the amazing lunch they provided us!!!
I'd have to say it was definitely a summer day to remember!
On Saturday morning, I ran the Charlottesville Women's Four Miler for the 5th year in a row.  The race takes place every year on Labor Day weekend, and the money raised goes to support the University of Virginia Cancer Center Breast Care Program which helps  to fund breast cancer research and support local women fighting the disease.
I was really excited about my performance this year.  Despite it raining during the entire race, I beat my record for the course and crossed the finish line in just under 45 minutes.  In addition, I ran the first mile at 9 minutes and 19 seconds which is a HUGE record for me (I usually run between an 11 and 12 minute mile)!  Below are my results from the past 5 years and they definitely show what an improvement I've made!
To get ready for the race, the past couple of years, my friends Sarah and Wendy and I have made shirts to wear on race day.  This year, mine said:
T-shirt…$4

Race Registration…$45

E Racing Cancer…Priceless
Sarah and Wendy's shirts quoted lyrics from the Young MC song "Bust A Move" (get it…bust as in boobies…haha!).
Ben even came out to support us and I want to say a special thank you to him for holding all of our bags and waiting for us in the rain.
One of the best things about this race is all of the support it gets from the local community.  People come out rain or shine to volunteer and cheer on the runners and everyone gets all decked out in pink.  We even saw a man with three kids who all had their hair dyed pink (including the father's beard) and were wearing pink shirts in support of their wife/mom running the race!  It's the number 1 most popular race in Charlottesville and race registration has closed out in under 12 hours the past couple of years.  I was really lucky to get a spot this year since race registration was on my wedding day.  Lucky for me, my pal Wendy signed me up!  I love this race and I plan on running it every year as long as I'm able.  And one day, if I have daughters, I hope to have them run it with me!
Friday afternoon, I met up with my friend/sister-in-law Sarah and my friend Amy to hang out at Fridays After 5.  Sarah and Amy were downtown looking for some last minute items for Amy's wedding which is in less than two weeks!  I'm so excited for Amy and Joel's wedding…it's going to be a blast!
After meeting up with the girls, we stopped by Baggby's Gourmet Sandwiches and then headed over to the Nook to join Sarah's parents, Craig and Robin, for some drinks.
After drinks at the Nook, we headed to the pavilion to watch Mingo Fishtrap play.  I'd never heard of them, but Sarah's parents were raving about their music.  Plus they are from Austin, so any band from Texas deserves a listen from me.  I really enjoyed their music and they were great at playing several different styles and genres.
After taking the picture above, Sarah and Amy both asked if it was going on the blog.  Well here it is girls!
Ben and I were supposed to get dinner with our friends Cheryl and Dan who sadly moved to Tennessee on Saturday, but their movers came too late and they weren't finished packing until well after dinner time.  We will miss them, but are planning on a visit soon!
After Fridays After 5, Ben and I randomly headed out to Sarah and Ian's new house for a fun night with friends.  All in all, it was a perfect start to the weekend!  I hope everyone's Friday was as fun as mine!
I realized the other day that I just passed the 7 year anniversary of moving to Virginia.  I believe I moved into my first Virginian residence on August 9th, 2005.
I remember how weak and sad I felt when I got here.  I literally kicked and screamed part of the way here and could think of nothing else more than to get back to Texas ASAP!  I never dreamed that I would still be here 7 years later.  Even though I still wish I lived in Texas and I miss my friends and family terribly, I wouldn't change the past.  Had I not left Texas and moved to Virginia, I don't think I would be as strong and independent as I am today.  Had I stayed in my comfort zone close to mommy and daddy, I may have never really gotten that push out of the metaphorical nest that I needed to truly become an adult.  Living close to my parents was always a crutch that I could take advantage of.  What if I had a flat tire? What if I got in a car accident?  What if I can't figure out how to cook something?  Mom and dad were always right there to fix things for me.  Of course now they are only a phone call away, but being 2000 miles away from them made me realize that I needed to be able to rely on myself like an adult.
Another reason I would never change the decision I made 7 years ago to follow my college boyfriend to Virginia is that I would have never met so many amazing new friends and family.  I would have never fallen in love with and learned so much from Ben.  I probably would have stayed in an unhealthy and manipulative relationship and not morphed from the shy introvert into the outgoing extrovert (most of the time) that I am now.
I would also probably never get the chance to appreciate a more rural environment.  When I first moved to Charlottesville, I certainly had culture shock!  I spent my whole life living in HUGE cities like Houston and San Antonio.  Not having a gas station on every corner was pretty scary to me…it made me feel cut off from the rest of the world.  Now I LOVE living in a less urban environment.  It means that there are less traffic, less pollution, and less crowds to deal with.  And Facebook, cellphones, email, and this blog certainly keep me feeling connecting to the ones I love who are far away.
I'm so glad that I have traveled the path that lays behind me now.  It certainly wasn't easy and it's been filled with some sadness, heartbreak, and loneliness.  But it has also been filled with joy, surprise, adventure, learning, love, and amazement.  I know the future will definitely hold the bad and the good but it will also be shaped by the 7 years I've spent here and the decisions that led me here as well.  I just have to remember that in order to experience something amazing, I've got to take a risk, endure the negative, and keep a positive outlook on things.  Had I not left Texas, I wouldn't be the person I am today and that would be sad, because I really do love who I am!
Last night, I went downtown to Fridays After Five, a free concert held at the Charlottesville Pavilion every Friday in the summer time, to meet up with the AMAZING Travis family(Robin, Sterling, and Sarah, my sister-in-law) to see Craig Travis (Sarah's dad) sing with his former band the Houserockers.
After bumping into some friends and enjoying good conversation while sipping on local Star Hill beer, we went to the front of the pavilion to cheer on the Houserockers and dance and sing along.  The Houserockers put on a wonderful performance and Sarah's dad is truly talented.
I apologize for the blurriness of these pictures, but we were dancing after all!
After the show, Sterling, Sarah, and I stopped off at Miyako for some sushi and edamame.  It was a great way to start the weekend and I'm so glad I FINALLY got to see the Houserockers perform after hearing so many great things about them from the Travis family!
A few months ago, I received an email from Living Social about a deal for a Murder/Ghost/History tour in Charlottesville.  I've been wanting to take this tour for a long time since I've heard alot of good things about it from friends and I'm interested in history and mystery so I decided to take advantage of the deal.
Fast forward to this week and I received an email that my living social deal I had purchased months ago was about to expire so I had to act fast!  Sarah and I made plans to take the tour which is given every Thursday, Friday, and Saturday from 8 to 10 PM in downtown Charlottesville.  I wasn't sure what to expect since Cville is such a small town (at least in my eyes).  I was curious about how many people would attend the tour and how much history and ghost stories there could actually be.
The tour, given by Rob Craighurst of Tell Me About It Tours, was pretty awesome!  Rob walked us through the streets of downtown Charlottesville telling us the story of a former mayor of Charlottesville, Sam McCue, and his wife Fannie who was murdered in 1904.  His elaborate and historically accurate anecdote was sprinkled with rumors of ghosts sightings at certain area residences and businesses as well as interesting facts about the landscape and history of Charlottesville in the early 1900s.  He also pointed out several buildings throughout downtown Charlottesville that I had no idea existed like the original Charlottesville jail where people were hanged as punishment for their crimes.  Rob was a wonderful tour guide who mastered  the use of humor, suspense, and imagery in his story and held our attentions very well!  I would recommend this tour to both tourists and long-time residents of Charlottesville.  I will probably even take the tour again since I found it so interesting.
If you're ever in Charlottesville (or live here) and are looking for 2 hours of entertainment (and exercise as it was a walking tour), I highly recommend this!  The price wasn't bad either…only $15 per person!
My posts have been few and far between this year, but that's mostly because I've been out experiencing life!  Since one of my goals of writing this blog has been to document all of the new and wonderful experiences I have as I make my way through each day, I figured I should share some of those.
Well in no particular order, here they are:
I'm sure there are a ton of things that I'm leaving out and so many pictures and stories to go with all of these experiences, and one day I'll hopefully get them all up here on the blog.
It's been an AMAZING year so far and I'm hoping 2012 will be even better!
Hope your 2011 has been as great as mine!