Archive for the 'Holidays' Category
Happy New Year Friends!
I'm wishing everyone peace, prosperity, health, and happiness in 2017!  Here's what I'm grateful for today:
I'm grateful for an amazing Christmas holiday celebrated in Texas surrounded by so much family!  I'm so thankful that we were able to travel and spend time with so many of the people that mean the most to me!  I hope you had a great Christmas too!
I'm thankful that I work for a great company with an awesome employee discount benefit!  Our 10 year old TV finally kicked the bucket last night and I was able to save almost $500 on a new TV with my employee discount.  Thanks Crutchfield!
I'm grateful for my mom.  She always does her best to make sure that her family has a great Christmas.  She outdid herself this year by providing a big and beautiful festive home for us all to convene for the holidays and by cooking some amazing holiday meals!  Thank you Mom!
I'm grateful for my husband who spent his first Christmas away from his parents so that we could spend the holiday in Texas (my first time in 5 years!).  I know it wasn't easy for him or his family to be apart on Christmas so I want to say a special thanks to them all for being cool with it.
I'm grateful for a fresh start and the new year.  There are exciting things coming for my family this year and one of my goals is to try and remain grateful with a positive attitude and to also raise my boys with that same mindset.
Happy 2017!  Love you all!
Hi friends!
It's a new year and with a new year, comes the inevitable new years resolutions.  And one of my many resolutions is to practice being grateful more often which includes *attempting* to keep up with my weekly "Thankful Monday (or whatever day it happens to be)" posts.  So here's my first thankful post of 2016:
I'm so grateful for modern medicine!  I hurt my back badly the other day due to a combination of overzealous New Year's Day workout, slipping and falling at the park, and constant lifting and carrying of a combined 55 pounds of toddler boys.  While I am most certainly not grateful for the injury, I am so thankful for my doctor, my doctor's office's ability to get me seen very quickly, steroid/numbing shots, and medication.  Here's hoping I can be grateful for a quick recovery next week! 😉
I'm grateful that thus far, my boys have not caught the stomach virus that Ben and I endured over the holidays.  I'm hoping they both stay healthy!
I'm thankful for my family, who spent lots of time and money to travel to Virginia to be with us for my birthday and Christmas.  We had a blast together despite above mentioned stomach virus.
I'm thankful for our secure jobs and enough income to not only give our boys a good life but also a very nice Christmas filled with more toys than they could play with in a day.  I'm also thankful for these gifts, the bulk of which came from family.  The boys are blessed as are we!
I'm thankful for the opportunity for a fresh start.  Every new year brings with it the chance to reflect on the past and try to improve upon our mistakes and misgivings.  Here's hoping 2016 will be an amazing and grateful year for us all!
Wishing you all a wonderful year ahead!
I'm trying to keep positive these days!  Lately, I'm thankful for the following:
I'm thankful for fun friends visiting from out of town and a husband who watches our children so I can have a night out!  My friends Cris and Carolyn were in town so a bunch of us spent a great evening at World of Beer!  It was a blast!  Then on Sunday, we had a great lunch at Beer Run!  I got to enjoy awesome people, great food, and two of my favorite beer joints in town!
I'm thankful for my hard-working husband who spends most of his free time trying to keep up with the demands of our yard and house!  He is constantly fixing something or mowing the grass or doing some sort of upkeep and I hope he knows how much I appreciate it.
I'm thankful I FINALLY get to take my boys to Texas and go to the beach after a 2 year beach-hiatus!
I'm grateful for the holiday we have this week!  YAY 4th of July!
I'm thankful for electricity.  We had a rough thunderstorm with hail last Thursday and I was afraid we were going to lose power again.  It blinked a couple of times but luckily it came right back on.  After last weekend's power outage, I am much more grateful for the common comforts electricity provides that we often take for granted!
Happy day friends!
Good morning friends!  I hope everyone had a wonderful Memorial Day!  Here's a list of things I'm thankful for today:
I'm thankful for a great 12 month checkup for my boys on Friday with no reactions to immunizations thus far!  I'm also thankful for the doctor's go-ahead that we can start giving the boys cow's milk instead of formula.  That is going to save us so much time and money!
I'm thankful for a fun-filled weekend!  After our doctors appointment on Friday, we met up with my friend Lindsey and her kiddos for some outdoor time and walking at Saunders-Monticello Trail.  Lindsey took beautiful photos of us a couple of weeks ago and wanted to give me the pictures.  Afterward, we met up with Ben and headed to Fridays After Five where we met our friends Chris and Cara and their little ones.  We had a great time enjoying the beautiful weather and dancing to the live music!  The boys did so great!  Saturday, after an awesome personal record-making 4 mile run, I got to spend some quality time with some amazing ladies helping to throw a baby shower for my friend Amy and her lil guy who arrives in August!  Sunday was low key with some quality family time.  Monday, we celebrated Memorial Day with brunch at Beer Run.  Sarah and Cora joined us for brunch and then we all headed over to Old Mills Trail near where Ben and I used to live and run together for a sunny walk.  Afterward, we took the boys swimming for the first time!  The weekend ended perfectly with a cookout at Ben's parents' house.  The boys got their share of hamburgers and fruit salad!
I'm so grateful for the new drive-thru Starbucks in town!  Coffee and I are best friends now that I have 2 children who like to wake up before 6 AM and unloading and reloading the boys in and out of the car just wasn't feasible for a latte but now my prayers have been answered and I can get my caffeine fix without waking them up!  An extra special thanks goes out to my cousin Megan for the Starbucks gift card she gave me…my bank account is grateful for that!
I'm thankful for the beautiful weather we've been having and while I'm thankful for the rain Texas has been receiving due to their drought status of recent years, I'm also thankful that all of my family in Texas is safe and sound despite the floods and storms.
I'm thankful for all my friends and family who bring happiness and smiles to my days!  Love you all!
I'm really having a hard time being grateful right now as I'm exhausted from lack of sleep, overwhelmed with work, household duties, mothering responsibilities, and Christmas shopping, and just unmotivated with everything piling on.  But when is the best time to be grateful?  When you find it hardest to be grateful!  Of course that is supposedly when it should be the most helpful, so here it goes:
I'm thankful that we got to take our boys to see Santa and get a Christmas tree on Sunday.  And we did it all while supporting two great causes.  We donated to the East Rivanna Volunteer Fire Company which hosted the Santa Clause pictures and we bought our Christmas tree from the boy scouts.
I'm thankful for my husband for taking time off of work on Friday and Monday to help me take the boys to doctors appointments.  It's getting more and more difficult for me to take them places on my own and I'm so thankful Ben has a great employer that allows him to be flexible.
I'm thankful for fun times this past weekend, stir-fry night with the Rejonis', a baby shower for my friend Jamie, Christmas cookie decorating, Christmas shopping, and spending time with family and friends.
I'm grateful for the internet that is making Christmas shopping with 2 seven month old babies much less stressful than it has to be!
I'm thankful for the sweet smiles and laughs of my boys that make me forget all my troubles!
Happy day friends!
Monday was busy but I think I can squeeze in a quick post today.
Today, I'm thankful for the following:
I'm thankful for my boys' progress.  We have physical therapy sessions every other week for both boys to address delays in their motor skills and preferences for their right sides cause flattening on the right sides of their heads, and yesterday, the Physical Therapist was so impressed with their progress that she thinks they only need a couple more sessions until they no longer need her assistance.  My boys are growing fast!
I'm thankful for my husband who is covering the night shift with the babies this week since he has the whole week off of work and I don't.
I'm thankful for family, and Thanksgiving, and days off of work!
I'm thankful for technology.  Since I can't be with my Texas family for Thanksgiving, we'll enjoy each others' company via Skype!
I'm thankful for my little family.  I don't feel like we are complete yet, but having children during the holidays really reinforces what they are all about and I'm so grateful I have healthy and happy little ones to share the holidays with and start making memories and continuing traditions.
Happy Thanksgiving!
When I was in elementary school, I remember one year getting my Valentine's Day cards ready to hand out to the students in my class.  Rather than just filling out the To and From fields on the store-bought cards like most kids, I chose to add a special message to each and every one.  I write "I Love You" on each card.  I remember feeling embarrassed the next day when some of the boys in my class made fun of me.  I remember thinking I should have just done the bare minimum and not gone out of my way to make my cards extra special just to get teased at the school Valentine's Day party.
Well, as an adult, I am proud of my childhood self for wanting to stand out and express my feelings.  I am glad that I went the extra mile and wrote that meaningful yet often feared sentiment on each card.  The truth is, I do love all of my friends.  Even as a child I loved my friends and knew that love was an emotion that wasn't just meant to be between a couple in a relationship or someone who shared your blood.  I'd been in the same class with those kids since I started school and they were important to me and I wanted to show them that.  So I don't regret it and I never will, even if it did cause me some embarrassment as a little girl.
I hope my children are never afraid to express their true emotions and I also hope they are never made to feel embarrassed of them either.  Happy Valentine's Day to you all and remember that Valentine's Day and loving someone is not just about expressing your appreciation and love for your boyfriend, or girlfriend, or husband, or wife.  It's about sharing your gratitude and love with all the people that fill your life with joy and happiness.
It's been a little over a year now since I wrote my first Thankful Monday post.  This originally started out as an experiment so I could see if practicing gratefulness would help make me a happier person.  I think I can say that after a year, practicing gratefulness at least once a week has without a doubt helped me to be a happier and more positive person.  As a result of this conclusion, I think I will continue to write my Thankful Monday blog posts indefinitely.  So without further delay, here is the first Thankful Monday post of 2014:
I'm thankful for a fun craft night on Friday evening with Amy and Sarah.  It was Sarah's birthday, so we celebrated her day and I made her this

flourless nutella cake

.  I had so much fun just chatting with the girls, watching them make scarves, learning about different sewing techniques, and

creating an ornament from the trunk of our first Christmas tree

.



I always cherish these fun and creative times with friends.

I'm thankful for a nice long phone date with my cousin and best friend Megan!  Whenever we have phone dates, we end up chatting for hours.  It's always so much fun to catch-up and talk to the people I love!

I'm thankful for a very generous gift from my boss.  She was about to donate some belongings to Goodwill when she found out that I would be needing them soon so she gave them to me!  I'm so grateful to be surrounded by generous and helpful people!

I always say it, but I don't think it is ever enough – I am so thankful for my husband Ben!  He is always helping me and taking care of me!  This weekend, he stacked wood and continuously made sure the fire in our wood stove was burning to keep us warm (he even taught me how to operate it).  He also did several things on my honey-do list including but not limited to changing all of the burnt out light bulbs in the house and helping me fold a tablecloth.  I love him so much and still can't believe how lucky I am to have found him.

I'm thankful for my days off.  Though I work in retail and don't get as many days off during the holidays as I'd like, I am very thankful for the ones I do get.  Last Wednesday was a nice day off spent celebrating the New Year.
Have a great week and happy New Year!
Good morning and happy Thankful Monday!
Since tomorrow marks the end of the 2013 and Wednesday marks the beginning of 2014, I thought I do a special 2o13 Recap of the things I am thankful for this year!
I'm thankful for a very productive year.  At the end of 2012 and when I turned 30 a week before 2013, I made myself a promise that I'd make 2013 a very productive and memorable year.  Though it wasn't productive in the ways that I thought it would be, I think the improvements I made were even better than the ones I imagined.  They include the following:
Bought my dream house with my husband!
Traveled alot (10 out of the 12 months):

DC in February with good friends
New Orleans for my cousin Jennifer's bachelorette party in March
Padre Island in April to visit my mom and spend time with family
Houston and Galveston in June for my cousin Jennifer's wedding and to spend time with family
Nashville in June to visit good friends
Baltimore for a fun girl's weekend to celebrate Independence Day
Seattle and Victoria, Canada in July for my cousin Catie's wedding and to visit family
Nag's Head in August to have a girl's weekend at the beach
DC in September to see the Book of Mormon with friends
DC in October for a great training course for work
Massanutten with good friends in November
Cape Cod in December for my husband's cousin's wedding and to spend time with his family

Did alot of work to improve my happiness and mental health (reading, learning to meditate, cognitive behavioral therapy, online learning, exercise).

Trained for and ran the

Charlottesville 10 Miler

in March with my husband!

Got a great review and a raise at work and also learned to be more experienced and confident in my job.

Spent alot of very important time with family and friends.

Ran 1 race in June (

4 the Wounded 5K

), 4 races in the month of September (

Charlottesville Women's 4 Miler

,

9/11 Heroes Run

,

Special Olympics Pepsi 10K

, and 

Benefit 5K for Shiloh Thompson

) and 1 race in November (

Shelter For Help in Emergency 5K

) and greatly improved my running, pace, and personal records.

Lost 25 pounds (FINALLY – this had been a goal for a long time)!

Won tickets to the

King Family Vineyards Pink Ribbon Polo Classic

,

Top of the Hops Beer Festival

,  

Virginia Chili Blues & Brews Festival

,

 and an entry to the

4 the Wounded 5K

 – it was a lucky year (maybe it was that

red egg

we found)!

Helped several friends welcome sweet babies into this world!

Bought several pieces of furniture and large appliances for our first house (couch, book shelves, washer and dryer).

Bought and decorated our first Christmas tree together and celebrated our first Christmas in our new house with our families!

Created 2 amazing gifts that are still in the works (more on those later)!

Many more!
It was an amazing year and although there were ups and downs as there always will be, the wonderful things listed above will be the things I remember about 2013 and am grateful for when I look back on this year in the future!  I know 2014 is going to be one of the hardest but most rewarding and amazing years of my life thus far and I am truly looking forward to the challenge.
Happy New Year!  I'm wishing everyone a happy and amazing 2014 and please remember to try and be thankful.  I will continue to be!
I had a wonderful holiday celebrating with my family and hope that everyone else did as well!  Here's how it went!
Saturday morning, I woke up early to finish cleaning before my family got here.  My brother, Mikey, got in around 2 so he, Ben, and I decided to go have a late lunch at Brixx Wood Fired Pizza.  Afterwards, we did a little Christmas shopping and then went over to my friend Collin's house for a Christmas get-together with friends.  After a fun night and a white elephant gift exchange, we headed home.  My mom and Carrie didn't get in until about 3:30 AM.  Ben and I woke up to let them in and gave them the tour of the new house since they hadn't seen it yet.  After a short visit, we all went to bed to rest up for the next day.
Sunday morning, we got up and took it easy.  I made everyone coffee and cooked bacon, eggs, and toast for breakfast while Mikey made us all bloody marys.  After breakfast, we watched our Texans play and hung around the house visiting and looking at the fun stuff that my mom brought from Texas that she'd been storing for years.  We decided we needed to get out of the house for dinner and went to The Local since it is one of the few restaurants in Charlottesville that Mikey, Carrie, and Mom had never been to.  We had a great dinner and all ordered something different so we could each try a few bites of everyone else's dinner.  Afterward, we stopped by our condo to show them how the renovations looked and then watched for Christmas lights on our way home.
Monday morning, we got up and all enjoyed some light breakfast and visited.  After everyone had showered and gotten ready for the day, we headed out for lunch.  We went to Basil to have some great Mediterranean food complete with tabouli, hummus, baba gannoush, lebne, grape leave, and complimentary baklava.
It was a delicious lunch and we were all stuffed!  Then we went to see the movie American Hustle.  We enjoyed the movie and then headed to Pier One to exchange some gifts and then to the grocery store to buy ingredients for Christmas dinner.  When we got home, we all helped to make sausage balls and pralines.  Then we sat down to watch National Lampoon's Christmas Vacation (one of my favorite Christmas movies).
Tuesday was my birthday and we headed over to one of my favorite restaurants, Beer Run, for brunch.  I got my favorite dish, nachos, and we all enjoyed bloody marys and beers.
We did a little Christmas Virginia wine and beer shopping before leaving and then headed home to make some baklava and caprese kabobs to take over to my in-laws house where we celebrated Christmas and my birthday.  My mother-in-law Virginia Mom made the most amazing spread of food…she had everything and it was all so delicious!  Then we ate some of this amazing cake:
My Virginia Mom made the cake out of black beans but it tasted just like chocolate and it had layers of chocolate and Reese's Peanut Butter cups on the inside!  It was delicious AND full of protein!
The family sang happy birthday to me: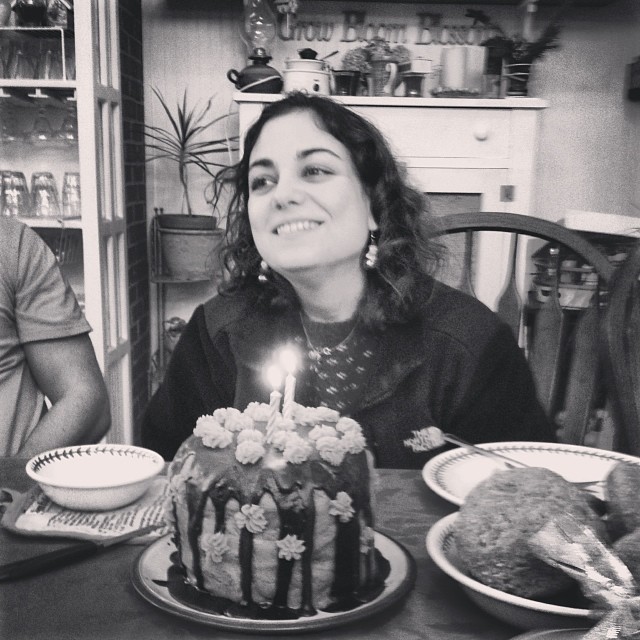 And I blew out my candles making a wish (it's a secret):
Then we opened gifts and enjoyed each other's company for the rest of the evening.  We went home and everyone scrambled to finish putting the last minute touches on their gifts and complete their wrapping.  Our tree looked like this:
Christmas morning, we awoke to this:
And my mom surprised Ben by hand-making him a stocking to match the ones she made my sister, brother, and I as babies:
We all opened presents, enjoyed mimosas, and ate sausage balls and had a wonderful Christmas morning!
Then we went to work on dinner.  Mom made augratin scalloped potatoes, tenderloin, creamy horseradish sauce, bacon-wrapped green beans, rolls, Granny Scott's Wilted Leaf Lettuce Salad, and blackberry cobbler for dessert!  It was all so delicious and she outdid herself once again!  Ian, Sarah, and Phyllis joined us for dinner: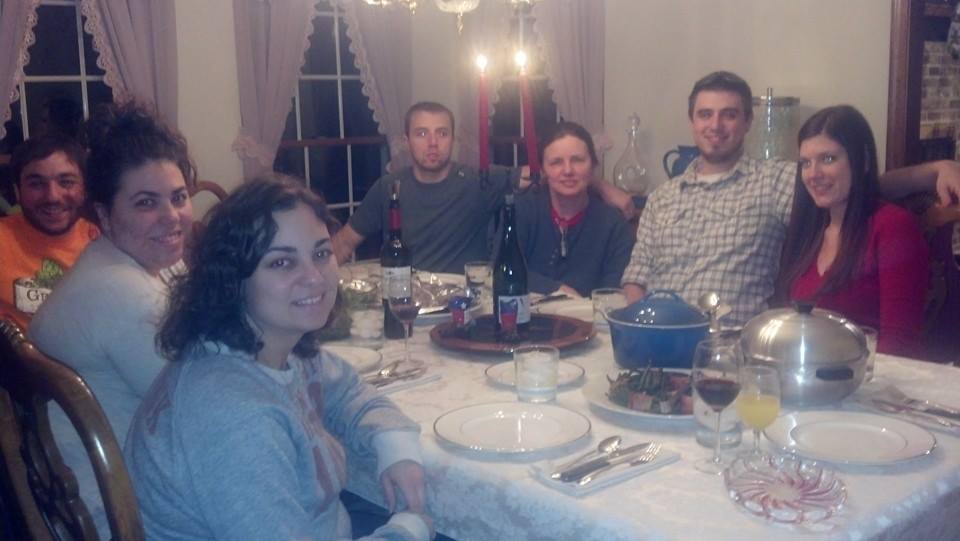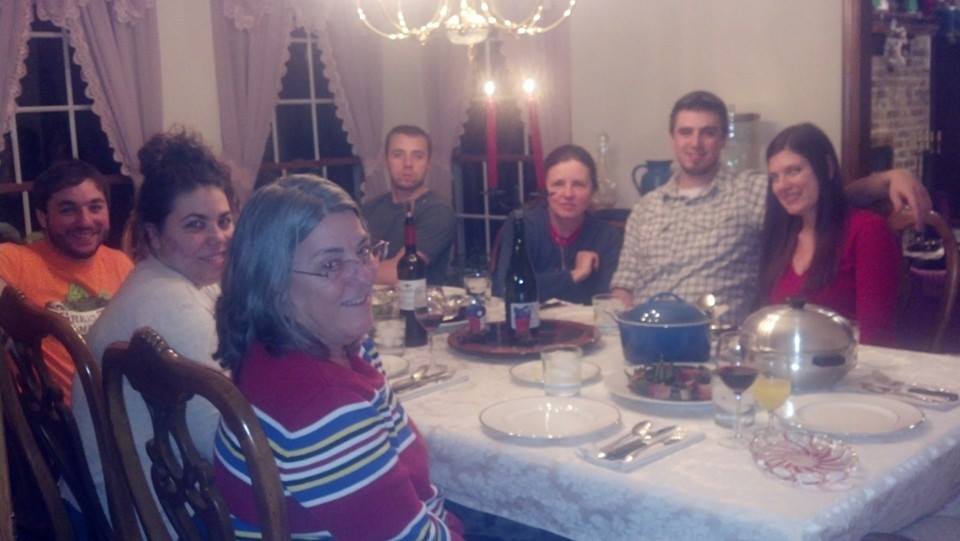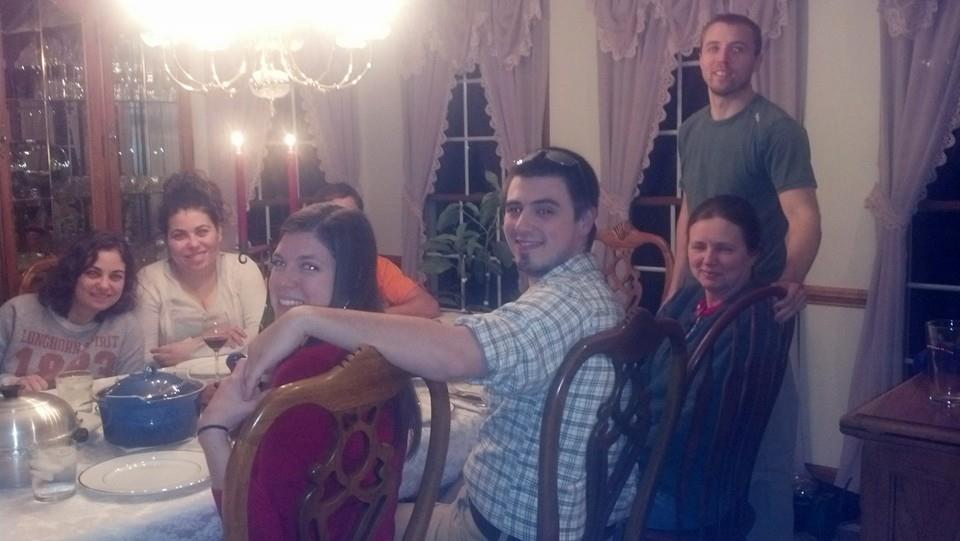 We finished the evening by spending time together and Skyping with some family in Texas.  In was the most amazing holiday and now I am so sad that it is over and so sad that my family had to leave.  However, I am so happy and grateful they could be here and can't wait to see them again soon!
Merry Christmas everyone and happy New Year!
P.S.  Thanks to Sarah, Mikey, and Carrie for many of the pictures!