Archive for the 'Christmas' Category
Happy New Year Friends!
I'm wishing everyone peace, prosperity, health, and happiness in 2017!  Here's what I'm grateful for today:
I'm grateful for an amazing Christmas holiday celebrated in Texas surrounded by so much family!  I'm so thankful that we were able to travel and spend time with so many of the people that mean the most to me!  I hope you had a great Christmas too!
I'm thankful that I work for a great company with an awesome employee discount benefit!  Our 10 year old TV finally kicked the bucket last night and I was able to save almost $500 on a new TV with my employee discount.  Thanks Crutchfield!
I'm grateful for my mom.  She always does her best to make sure that her family has a great Christmas.  She outdid herself this year by providing a big and beautiful festive home for us all to convene for the holidays and by cooking some amazing holiday meals!  Thank you Mom!
I'm grateful for my husband who spent his first Christmas away from his parents so that we could spend the holiday in Texas (my first time in 5 years!).  I know it wasn't easy for him or his family to be apart on Christmas so I want to say a special thanks to them all for being cool with it.
I'm grateful for a fresh start and the new year.  There are exciting things coming for my family this year and one of my goals is to try and remain grateful with a positive attitude and to also raise my boys with that same mindset.
Happy 2017!  Love you all!
Hi friends!
It's a new year and with a new year, comes the inevitable new years resolutions.  And one of my many resolutions is to practice being grateful more often which includes *attempting* to keep up with my weekly "Thankful Monday (or whatever day it happens to be)" posts.  So here's my first thankful post of 2016:
I'm so grateful for modern medicine!  I hurt my back badly the other day due to a combination of overzealous New Year's Day workout, slipping and falling at the park, and constant lifting and carrying of a combined 55 pounds of toddler boys.  While I am most certainly not grateful for the injury, I am so thankful for my doctor, my doctor's office's ability to get me seen very quickly, steroid/numbing shots, and medication.  Here's hoping I can be grateful for a quick recovery next week! 😉
I'm grateful that thus far, my boys have not caught the stomach virus that Ben and I endured over the holidays.  I'm hoping they both stay healthy!
I'm thankful for my family, who spent lots of time and money to travel to Virginia to be with us for my birthday and Christmas.  We had a blast together despite above mentioned stomach virus.
I'm thankful for our secure jobs and enough income to not only give our boys a good life but also a very nice Christmas filled with more toys than they could play with in a day.  I'm also thankful for these gifts, the bulk of which came from family.  The boys are blessed as are we!
I'm thankful for the opportunity for a fresh start.  Every new year brings with it the chance to reflect on the past and try to improve upon our mistakes and misgivings.  Here's hoping 2016 will be an amazing and grateful year for us all!
Wishing you all a wonderful year ahead!
I'm really having a hard time being grateful right now as I'm exhausted from lack of sleep, overwhelmed with work, household duties, mothering responsibilities, and Christmas shopping, and just unmotivated with everything piling on.  But when is the best time to be grateful?  When you find it hardest to be grateful!  Of course that is supposedly when it should be the most helpful, so here it goes:
I'm thankful that we got to take our boys to see Santa and get a Christmas tree on Sunday.  And we did it all while supporting two great causes.  We donated to the East Rivanna Volunteer Fire Company which hosted the Santa Clause pictures and we bought our Christmas tree from the boy scouts.
I'm thankful for my husband for taking time off of work on Friday and Monday to help me take the boys to doctors appointments.  It's getting more and more difficult for me to take them places on my own and I'm so thankful Ben has a great employer that allows him to be flexible.
I'm thankful for fun times this past weekend, stir-fry night with the Rejonis', a baby shower for my friend Jamie, Christmas cookie decorating, Christmas shopping, and spending time with family and friends.
I'm grateful for the internet that is making Christmas shopping with 2 seven month old babies much less stressful than it has to be!
I'm thankful for the sweet smiles and laughs of my boys that make me forget all my troubles!
Happy day friends!
I had a wonderful holiday celebrating with my family and hope that everyone else did as well!  Here's how it went!
Saturday morning, I woke up early to finish cleaning before my family got here.  My brother, Mikey, got in around 2 so he, Ben, and I decided to go have a late lunch at Brixx Wood Fired Pizza.  Afterwards, we did a little Christmas shopping and then went over to my friend Collin's house for a Christmas get-together with friends.  After a fun night and a white elephant gift exchange, we headed home.  My mom and Carrie didn't get in until about 3:30 AM.  Ben and I woke up to let them in and gave them the tour of the new house since they hadn't seen it yet.  After a short visit, we all went to bed to rest up for the next day.
Sunday morning, we got up and took it easy.  I made everyone coffee and cooked bacon, eggs, and toast for breakfast while Mikey made us all bloody marys.  After breakfast, we watched our Texans play and hung around the house visiting and looking at the fun stuff that my mom brought from Texas that she'd been storing for years.  We decided we needed to get out of the house for dinner and went to The Local since it is one of the few restaurants in Charlottesville that Mikey, Carrie, and Mom had never been to.  We had a great dinner and all ordered something different so we could each try a few bites of everyone else's dinner.  Afterward, we stopped by our condo to show them how the renovations looked and then watched for Christmas lights on our way home.
Monday morning, we got up and all enjoyed some light breakfast and visited.  After everyone had showered and gotten ready for the day, we headed out for lunch.  We went to Basil to have some great Mediterranean food complete with tabouli, hummus, baba gannoush, lebne, grape leave, and complimentary baklava.
It was a delicious lunch and we were all stuffed!  Then we went to see the movie American Hustle.  We enjoyed the movie and then headed to Pier One to exchange some gifts and then to the grocery store to buy ingredients for Christmas dinner.  When we got home, we all helped to make sausage balls and pralines.  Then we sat down to watch National Lampoon's Christmas Vacation (one of my favorite Christmas movies).
Tuesday was my birthday and we headed over to one of my favorite restaurants, Beer Run, for brunch.  I got my favorite dish, nachos, and we all enjoyed bloody marys and beers.
We did a little Christmas Virginia wine and beer shopping before leaving and then headed home to make some baklava and caprese kabobs to take over to my in-laws house where we celebrated Christmas and my birthday.  My mother-in-law Virginia Mom made the most amazing spread of food…she had everything and it was all so delicious!  Then we ate some of this amazing cake:
My Virginia Mom made the cake out of black beans but it tasted just like chocolate and it had layers of chocolate and Reese's Peanut Butter cups on the inside!  It was delicious AND full of protein!
The family sang happy birthday to me: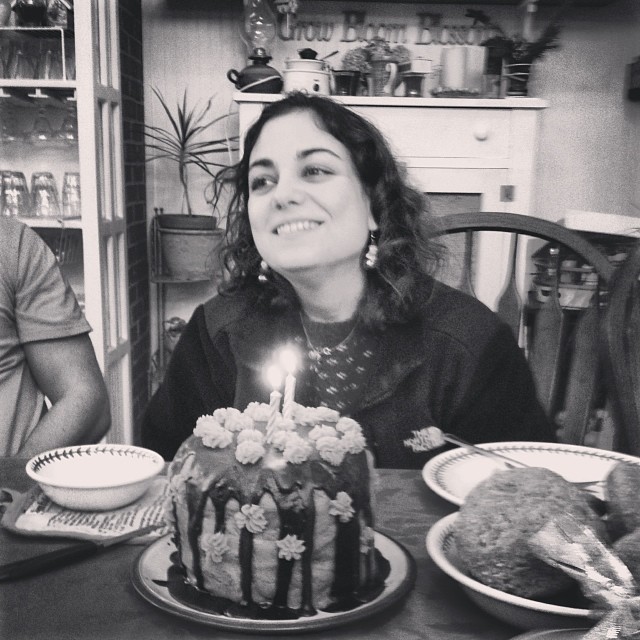 And I blew out my candles making a wish (it's a secret):
Then we opened gifts and enjoyed each other's company for the rest of the evening.  We went home and everyone scrambled to finish putting the last minute touches on their gifts and complete their wrapping.  Our tree looked like this:
Christmas morning, we awoke to this:
And my mom surprised Ben by hand-making him a stocking to match the ones she made my sister, brother, and I as babies:
We all opened presents, enjoyed mimosas, and ate sausage balls and had a wonderful Christmas morning!
Then we went to work on dinner.  Mom made augratin scalloped potatoes, tenderloin, creamy horseradish sauce, bacon-wrapped green beans, rolls, Granny Scott's Wilted Leaf Lettuce Salad, and blackberry cobbler for dessert!  It was all so delicious and she outdid herself once again!  Ian, Sarah, and Phyllis joined us for dinner: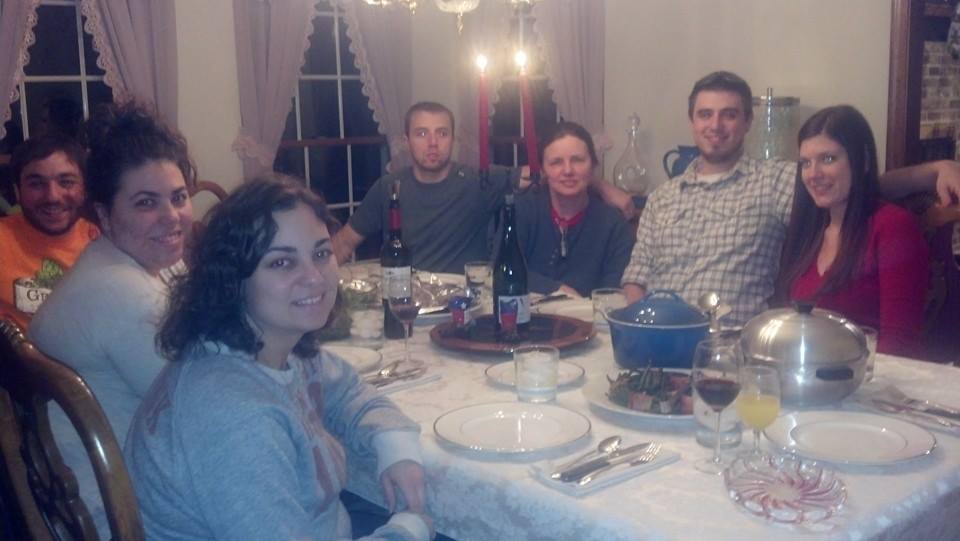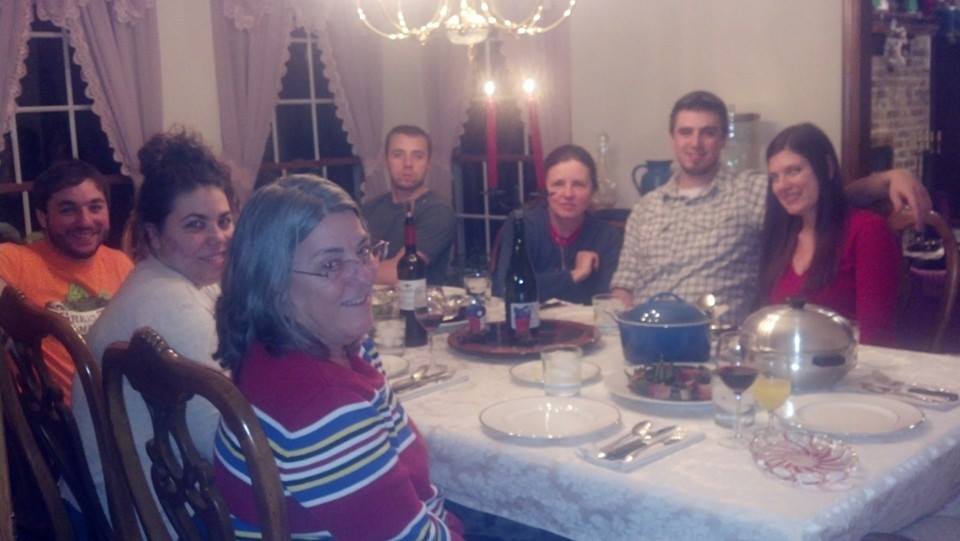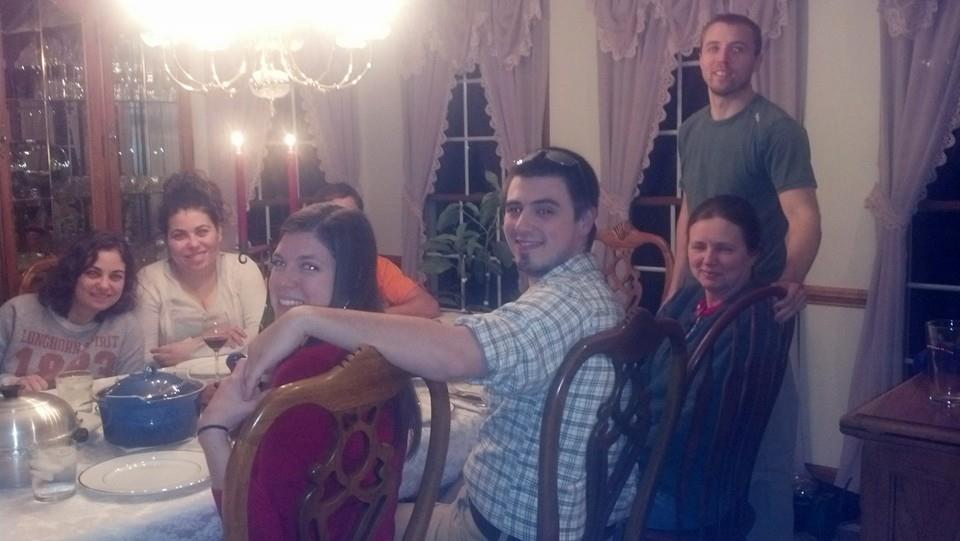 We finished the evening by spending time together and Skyping with some family in Texas.  In was the most amazing holiday and now I am so sad that it is over and so sad that my family had to leave.  However, I am so happy and grateful they could be here and can't wait to see them again soon!
Merry Christmas everyone and happy New Year!
P.S.  Thanks to Sarah, Mikey, and Carrie for many of the pictures!
I know I am a few days late but what a busy week I had!  My mom, sister, and brother came to town for Christmas and we had an amazing five days!  Here's what I'm thankful for!
I'm forever grateful for my mom and sister who rented an SUV, drove 1300 miles from Houston, brought me some of my belongings being stored in Texas, and then turned around and drove 1300 miles back 5 days later just to spend Christmas and my birthday with me!  I love them so very much that I could never fully express it in words.
I'm grateful for my brother who drove from South Carolina to spend Christmas and my birthday with me!  We had a blast shopping, eating, watching football, and lounging!  I love my little brother!
I'm thankful for my Virginia family who not only make my Texas family feel welcome when they visit, but also treat me like blood!  My mother-in-law made the most amazing birthday dinner and birthday cake and my father-in-law, brother-in-law, and sister-in-law all helped celebrate.  I love them all!
I'm thankful for my husband Ben!  He is part of my heart and helps hold me up when I am down and keep me grounded when I am being a fool.  He is the love of my life.
Lastly, I'm thankful for internet, cell phones, Facebook, Skype, and all technology that allow me to feel a little bit closer to my family when they have to leave and also allows us to celebrate the holidays virtually with family far and wide!
I hope everyone had a very merry Christmas!  I know I did!
Happy Thankful Monday!
Here's what I'm thankful for today:
I'm thankful for a wonderful day Christmas shopping with Ben yesterday, and I'm very thankful and happy about our very first Christmas tree (pictures to come once it's decorated).  I'm also thankful for a strong husband who is able to lift and move the tree and also knows how to take care of it (Ben wants to root the tree outside after Christmas is over).
I'm thankful for a wonderful weekend with family.  Friday night, Ben and I joined his parents and two nieces for our annual holiday trip to Richmond for the Lewis Ginter Botanical Gardens' Dominion GardenFest of Lights.  Then Saturday, I spent the day baking and doing Christmas crafts with my mother-in-law and nieces.  I made two terrariums that I'm very proud of!
I'm sooooo very thankful that I got to spend a day with my cousin Jennifer!  Her husband was in Baltimore for business so she came with him and drove down for the day on Wednesday.  We started off by catching up over lunch at Timberwood Grill, then headed to Monticello to do the tour since she had never been.  Then we went to the Downtown Mall, bought some Virginia Wine at Market Street Wine Shop, and met Ben for dinner at South Street Brewery.  We ended the evening by baking brownies at home.  Thursday morning, we had breakfast at Bodo's before Jennifer headed back to Maryland.  I was sad to see her go but soooo happy that we got to spend precious time together.  I love my family!
I'm thankful for the wood stove in our house and for a husband who has been building fires to keep us warm.  Our heater broke again on Friday morning so we were forced to start using our wood stove.  Wow does that thing work great!  It heats the house almost well enough that we don't need the heater!
Lastly, I'm thankful for the holidays and family to spend them with.  Last year I was somewhat of a scrooge because we couldn't have a Christmas tree, I didn't have much PTO saved up yet (and I work in retail), I was turning the dreaded 30, and I couldn't go home for Christmas.  This year, we have a beautiful house to spend the holidays in, I can take a few days off of work, my family is coming to spend Christmas with us since we have plenty of room in the new house, we have our first Christmas tree together (after being together for seven and a half years), and I'm not turning 30 this year 😉 !
Have a great week and enjoy the this time of year!
Good morning and happy Thankful Monday!
I hope everyone had a wonderful Thanksgiving!  Tuesday night, my friend Kristen came over to visit while I cooked this cranberry sauce recipe and my mom's Broccoli Cheese Casserole.  Wednesday, I worked from home and then we enjoyed Thanksgiving dinner with Ben's parents, Ian, Sarah, and Sarah's family.  Everything was delicious and I ended up stuffed!  I especially LOVED the citrus apple cider that Ben's mom made…best apple cider I've ever had!  Thursday, Ben and I watched the Macy's Thanksgiving Day parade and then I enjoyed a nap before heading over to have Thanksgiving lunch with his mom.  Then I  had a great phone date with my best friend/cousin Megan.  I worked from home again on Friday and then went to Friendsgiving for more yummy food and fabulous friends at Collin's house.  Saturday, Ben, Sarah, and I went to see Hunger Games: Catching Fire which was much better than the first one and I splurged on movie popcorn. Sunday I was very productive and got some more boxes unpacked.  Even though I had to work, it was a nice holiday filled with wonderful people.
Here's what I'm thankful for today:
I'm thankful that in less than a month, my family will be here to celebrate Christmas with me.  I'm so thankful that they are able to travel to Virginia this year for the holiday, especially since last year was the first year the four of us were not all together on Christmas.
I'm thankful that my dad, step mom, and three little brothers made it home safely from France and had a nice vacation.
I'm thankful that my mom made it safely to Dallas last night and got to spend some time with family.  I'm also thankful for a great opportunity she has.
I'm thankful for loving family and friends that I was able to spend the Thanksgiving holidays with.
I'm thankful for my new bookshelves and my husband who put them together for me.
Happy December!
Welcome to today's Thankful Monday Wednesday post!  Monday was my birthday and yesterday was Christmas and my mom was in town so there was little time for blog posting.  Here's what I'm thankful for this week:
I'm thankful for the BEST most wonderful mom who loves me so much.  She knew I was down in the dumps about not being able to fly to Texas for my birthday and Christmas this year (the first time ever) so she flew to Virginia and surprised me!  I love her so much it makes my heart hurt!

I'm thankful for my wonderful husband and friends who helped facilitate my mom's trip by picking her up from the airport and delivering her to me at the ugly Christmas sweater party I was attending.
I'm thankful for my Virginia family who not only helped my mom plan the surprise but were generous hosts while she was here, making us dinner and desserts on several occasions.  I'm also thankful for them welcoming us into their home on Christmas Eve and Christmas.
I'm thankful for airports, pilots, airplanes, and everything else that allows us to travel far and wide these days.  Mom was able to travel to Virginia Friday night and then back to Houston on Christmas morning in order to spend time with my sister on Christmas after she got off work.
I'm thankful for my husband for being caring, considerate, and understanding, and giving me a shoulder to cry on when it was finally time for my mom to leave.  I miss her so much, but I'm so thankful for the people who I love who live close by to get me through the times when I find myself missing my family unbearably!
Merry belated Christmas to everyone and mom, if you are reading, I love you so much and am grateful for you everyday!
In my post yesterday, I talked about how my sister brought me some Saint Arnold's Oktoberfest from Houston.  Saint Arnold Brewing Company is Texas' oldest craft brewery.  My family and I have been to their old facility and their new one in Houston several times for the tastings and tours.  It's always a treat for me to get some of their beer since it's only available in Texas and Louisiana.  Every year, they produce a limited amount of their Christmas Ale and we tend to buy several 6 packs of it when we are home for the holidays.  A couple of years ago, my brother and I both packed up some Christmas Ale and brought it back with us in our suitcases to our respective non-Texan residences.  For my wedding, my friend Cody drove from Houston to Virginia to attend the party, so he brought me an assortment of Saint Arnold brews as a gift.
When you go in for a tasting, you pay $7 and get a souvenir Saint Arnold glass to keep.  You also get 4 tokens that you can trade in to have your souvenir glass filled with different draft beers brewed right there on the spot.  Patrons are encouraged to bring snacks and food and enjoy the company while sampling the different beers.  In addition, if you bring in the cardboard six pack cartons for them to recycle, you can trade them in for cool Saint Arnold swag.  You can also upgrade you souvenir glass to a larger pint glass or even larger boot glass or mug and use your tokens to have those filled instead.
It really is a great brewery in a great city in a great state and I always enjoy going there with friends and family.  Here are just a few pictures of some good times had enjoying tasty Saint Arnold beer.
There are still a ton of beers that Saint Arnold brews that I have yet to try.  I'd love to get my hands on some Winter Stout, Divine Reserve, Pumpkinator, and Endeavor (I believe named for the space shuttle) so I'll just have to keep making trips to the brewery whenever I'm in Houston visiting.  And for those who aren't crazy about the taste of beer or who prefer to indulge in non-alcoholic beverages, they brew a delicious Root Beer.
If you're not in Houston, be sure to check out the Saint Arnold Brewing Company website and if you are in Houston, get to the brewery ASAP!
I hope everyone had a merry Christmas!
I always get a little sad when I have to leave my family in Texas after Christmas and come back to work, but there was a little something waiting on my desk that brought the biggest smile to my face!
My friend Ashley MADE this Christmas ornament for me! I absolutely love it!
Thank you Ashley! Your gift will be cherished for many years to come!