Archive for the 'Pictures' Category
Hi friends!  Ready for some gratitude?  This is a BIG one!
Today, I'm thankful for:
Our third baby!  I've made it to the third trimester and feel fairly safe to share with the rest of the world (if you hadn't seen me me recently).
I'm thankful our little guy (that's right, another boy) seems to be healthy and growing on schedule!
I'm grateful that my 2 boys already seem to love their baby brother!
I'm thankful for the opportunity to have 1 baby and *hopefully* a normal pregnancy and birth experience.
I'm grateful for this gift from God to my family!
Love to you all!
Good grateful morning to you!  We had a fun and fabulous weekend to make up for the sad and uneventful one before.  Here's what I'm grateful for today:
I'm grateful for amazing friends who are so nice to share with us.  My friend Lindsey and her husband and kiddos invited us to ACAC waterpark where they have a membership and we had so much fun with them!  There is an enclosed kiddie area with a kiddie pool and splash pad so I was able to take the boys by myself without an extra helper.  We had a great time, played in the water, and enjoyed lots of snacks by the pool.  Thanks Lindsey and Greg!
 I'm grateful again for amazing friends and daddies who watch kiddos so mommies can get some much needed relaxation and adult time!  Friday night, Sarah and I went to the free wine tasting at Market Street Wine Shop, something we used to do all the time B.K. (before kids!) and even ran into some old friends.  Then Lindsey, Sarah, Kaleigh, Sherry, and a couple others met up at Wine & Design to paint a tree at sunset scene.  Everyone brought delicious snacks and wine to share.  We had a blast and decided to continue the evening with drinks at The Whiskey Jar.  What an awesome night!  Thanks to Lindsey for planning and thanks to Ben, Ian, and Greg for pulling extra daddy duties and putting the kids to bed so we could all enjoy the evening!
  I am so grateful I live in such an amazing part of the country where I can witness the beauty of nature every day!  Saturday afternoon, while the boys were napping, I was sitting on the deck enjoying the sunshine and watching for hummingbirds when 2 bald eagles flew right by me and landed in a tree nearby.  Ben and I watched them for several minutes with the binoculars.  I've never seen one, much less 2, that close before!  I'm so thankful I was in the right place at the right time!
I'm grateful for my boys and for being given the gift of twins.  Now that they are getting older, I'm getting glimpses of sibling love that just melt my heart and I'm so thankful I get to witness it.  Morgan LOVES to hug and kiss Carter (although Carter isn't always the biggest fan since it sometimes turns into a wrestling match) and it makes my heart so happy to see the love between them!
Lastly, I'm thankful for my in-laws who help us in so many ways.  This weekend, they allowed us to use their membership to a local neighborhood beach so we could take the boys to the lake and let them practice using their new floaties.  They had so much fun and I'm so grateful to my in-laws for sharing these amenities with us!
Happy day friends!
WOW!  It's been a long time y'all!  Life is busy with 2 toddlers!  I think since the last time I've written we've enjoyed 2 trips to Texas, endured multiple illnesses, and celebrated the boys turning 2!
I actually have a quick moment to express some gratitude so here it is:
I'm thankful that my boys are 2!  They are amazing and watching them learn, play, and interact with each other every day is a blessing times 2!
I'm thankful that my boys seem to be catching up developmentally.  Being born 2 months early, we've dealt with physical delays, speech delays, motor skill delays and have been involved in multiple therapies.  While they still have some catching up to do, the development doctors and therapists at their 2 year NICU development checkup yesterday were very pleased with their growth and improvement!  Go Carter and Morgan!
I'm thankful for my husband.  We don't always agree or get along but he humors me more than I probably realize and he works very hard to take care of the boys and I, our house, and himself.  He went out and bought a window AC unit for the boys' room since the HVAC on our second floor is broken and installed it right away!
I'm thankful for my good friend Lindsey who has taken family photos of us multiple times over the past 2 years.  She is so talented and did I mention she does it for FREE?!?!  Plus she is just an amazing person!  Here's one of my favorite shots from our most recent photo shoot about a month ago:
  I'm thankful for all the amazing people I work with!  We've been having lots of good times at happy hours lately and its so nice to work with friendly and fun people!
  BONUS – I'm grateful our cat, Revolver Ocelot, came back after running away and being gone for almost a full month!  I'm so thankful he is ok despite losing a lot of weight and being bitten by another animal.
Happy day friends!
I found another great happiness infographic on lifehack.org and wanted to save it here for future reference.
28 Small Changes That Can Make Your Life Much Happier
Good morning friends!  I hope everyone had a wonderful Memorial Day!  Here's a list of things I'm thankful for today:
I'm thankful for a great 12 month checkup for my boys on Friday with no reactions to immunizations thus far!  I'm also thankful for the doctor's go-ahead that we can start giving the boys cow's milk instead of formula.  That is going to save us so much time and money!
I'm thankful for a fun-filled weekend!  After our doctors appointment on Friday, we met up with my friend Lindsey and her kiddos for some outdoor time and walking at Saunders-Monticello Trail.  Lindsey took beautiful photos of us a couple of weeks ago and wanted to give me the pictures.  Afterward, we met up with Ben and headed to Fridays After Five where we met our friends Chris and Cara and their little ones.  We had a great time enjoying the beautiful weather and dancing to the live music!  The boys did so great!  Saturday, after an awesome personal record-making 4 mile run, I got to spend some quality time with some amazing ladies helping to throw a baby shower for my friend Amy and her lil guy who arrives in August!  Sunday was low key with some quality family time.  Monday, we celebrated Memorial Day with brunch at Beer Run.  Sarah and Cora joined us for brunch and then we all headed over to Old Mills Trail near where Ben and I used to live and run together for a sunny walk.  Afterward, we took the boys swimming for the first time!  The weekend ended perfectly with a cookout at Ben's parents' house.  The boys got their share of hamburgers and fruit salad!
I'm so grateful for the new drive-thru Starbucks in town!  Coffee and I are best friends now that I have 2 children who like to wake up before 6 AM and unloading and reloading the boys in and out of the car just wasn't feasible for a latte but now my prayers have been answered and I can get my caffeine fix without waking them up!  An extra special thanks goes out to my cousin Megan for the Starbucks gift card she gave me…my bank account is grateful for that!
I'm thankful for the beautiful weather we've been having and while I'm thankful for the rain Texas has been receiving due to their drought status of recent years, I'm also thankful that all of my family in Texas is safe and sound despite the floods and storms.
I'm thankful for all my friends and family who bring happiness and smiles to my days!  Love you all!
Happy Hump Day!  Here's a few thankful tidbits for you today:
I'm thankful my little preemies born almost 2 months early are happy and healthy and turned 1 on Sunday!  We are truly blessed to have them in our lives!
I'm thankful my mom was able to come from Texas to help celebrate the boys' first birthday!
I'm grateful for my mom, mother-in-law, and many other family members who helped throw an amazing first birthday party for my little guys!
I'm thankful for all of our friends and family who helped us celebrate the first of hopefully many happy birthdays!
I'm so thankful for all of the love and support we've had over the past year.  We made it to 1!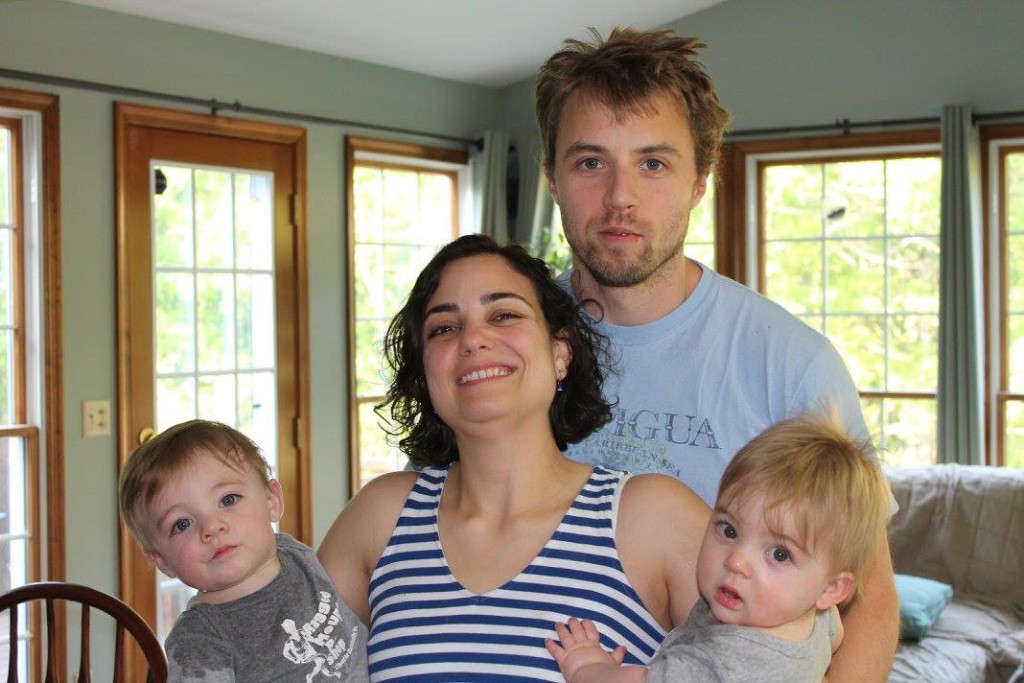 Happy Tuesday friends!  It feels like I'm always in a hurry these days, but here's a quick list of gratitude to keep me mindful!
I'm thankful for a healthy heart, strong legs, and a nice day that allowed Ben and I to run the Charlottesville Ten Miler on Saturday.  We each got personal records for the distance and ran the whole time despite a lack of training due to cold weather, snow, illnesses, and overwhelming parenting duties!
I'm thankful to my mother-in-law for everything she does for us.  She got up early on her day off and watched the boys so Ben and I could run the race Saturday.  She rocks!
I'm thankful for my 3 men!  The other day I was thinking that it finally feels like I have a family!  I've been missing this feeling since I went away to college and I finally feel complete again.
I'm thankful for warm weather and sunny skies!  My 3 men and I have been going on lots of walks outside now that spring is upon us!  I hope to instill a love of the outdoors in my children so we're getting out as much as possible!
I'm grateful for spring and summer!  There are so many fun things planned in the next few months, I can hardly contain myself!
Happy day friends!
An interesting infographic on how friendships influence happiness from Happify.com:

Here's a really helpful infographic I found on Lifehack.org that talks about challenging and coping with negative thoughts.  I notice myself running alot of negative thoughts that involve jealousy, resentment, and judgement through my head on occasion so this infographic instantly struck me as a valuable read and something to save for later.