Archive for the 'Pictures' Category
Many strange things have been happening lately.
On Friday, a meteor exploded over Russia, an event being described as a "once in a decade" occurrence.  The meteor that damaged hundreds of buildings and injured over 500 people happened on the same day that an asteroid named 2012 DA14 came closer to Earth than our own orbitting communications satellites.
Then on Friday, I heard a loud flushing noise at work and blue fluid erupted from a drain underneath my desk.  The strong-smelling chemical was, according to the facilities manager at work, non-toxic and the result of air being unintentionally pumped into the pipe that connects the outside to this drain.  The blue fluid is a chemical used in place of water (due to its ability to evaporate) to neutralize sewage stench.
Friday night, I went to the grocery store and while I was there for less than 20 minutes, I encountered two separate people (they were not together) who were each missing a leg and walking with the aid of crutches.
Saturday morning, Ben was cooking breakfast and encountered this: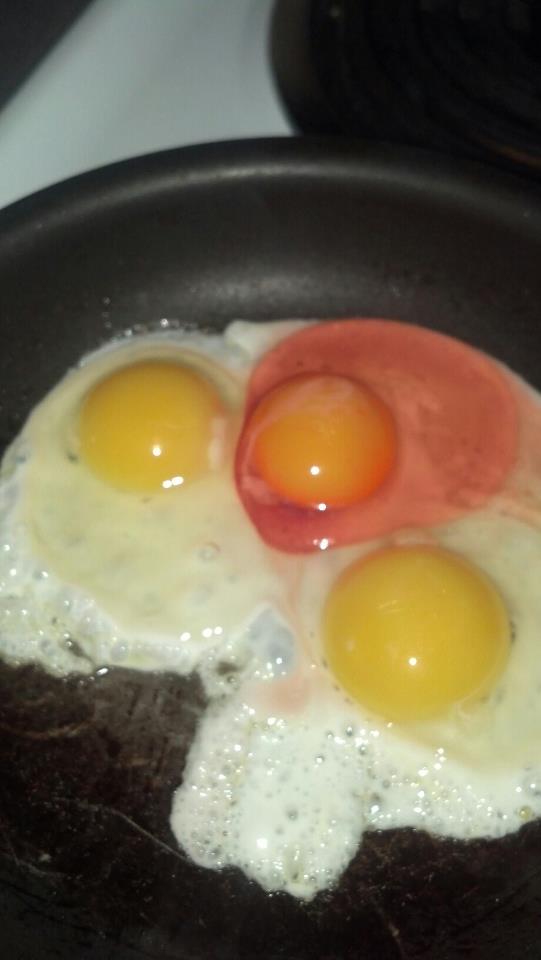 According to Google, the bloody egg was most likely the result of a stressed-out hen breaking a blood vessel as she simultaneously laid her egg causing the blood to become trapped inside the shell.  Unfortunately, Ben decided to eat it anyway.  A friend says the Chinese consider finding one of these good luck since they are extremely rare.
Then, after 9 months of searching endlessly for a house, and a day away from submitting an offer for a piece of land on which we hoped to build, we found the perfect house (for us) in the perfect location (for us).  Of course that perfect house is not ours yet but my fingers are crossed!
The odds of all of these things happening, especially within such a short period of time, seems extremely low.  Needless to say, I'm still waiting for something weird to happen!
Last weekend, our good friends Robert and Crystal invited us to spend the weekend with them at their time share in Washington D.C. .  We stayed at the lovely Wyndham in National Harbor which is just across the Potomac River from our nation's capital.
The weekend started out Friday night with Robert and Crystal picking us up and heading to dinner at the Bavarian Chef, a delicious German restaurant in Madison.  Bavarian Chef, which is authentic German food in a traditional German atmosphere, complete with the servers dawning lederhosen, used to cater our lunches about once a month when I worked for VGT and their food was always spectacular.  I ordered the Karlsbadener Sahnegoulasch, "a combination of tender pieces of veal, mushrooms, onions, tomatoes, and fresh cream" with a German style beer.  Both were AMAZING!  After stuffing ourselves, we headed north to DC.  We didn't get to our hotel until after 11 PM, so we got to bed so we could rest up for a long and exciting day in the capital.
Saturday morning, Ben and I went to the hotel gym for a quick workout while Robert and Crystal attended an owners' meeting.  After getting showered and dressed, we headed to Ketchup for breakfast and then caught the bus to the city.  It was a beautiful sunny day, but the wind was blowing strong which made for biting cold weather.  At least we had the sun to keep us a little warm.
First, we stopped by the capitol to take pictures.
Afterward, we headed to the Smithsonian's National Museum of the American Indian, where we spent several hours viewing exhibits, artwork, and readings.  The lobby of the museum had this beautiful prism that reflected sunlight into all of the colors of the rainbow.
After touring the museum, we walked to the Washington National Monument which is still closed for repairs due to the earthquake we had back in August 2011.
I wanted to visit the Texas pillar of the World War II Memorial and the Lincoln Memorial Reflecting Pool, so we kept on walking.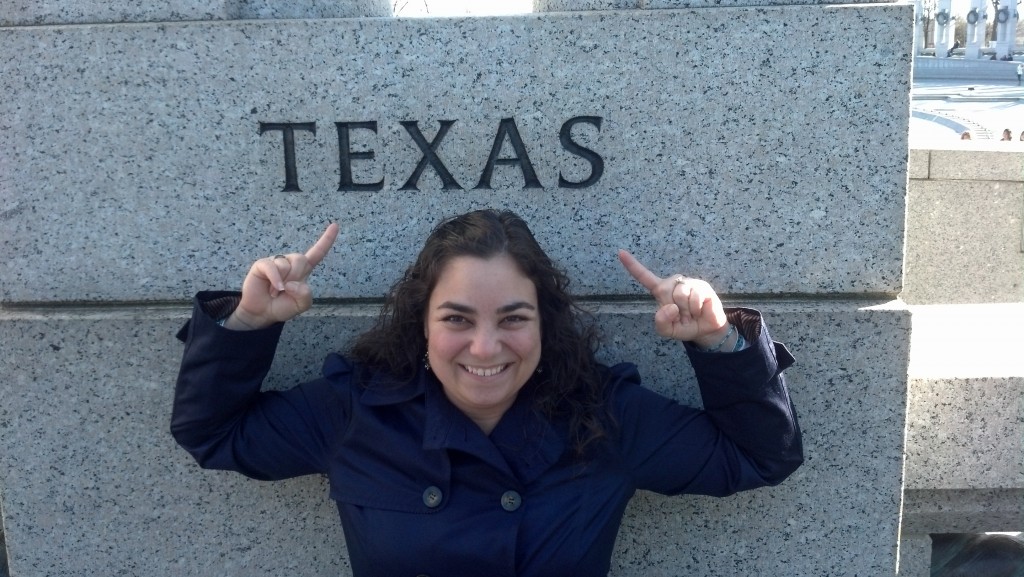 We headed back toward where our bus dropped us off and decided to stop into the very crowded Smithsonian National Museum of Natural History to see the Orchids of Latin America Exhibit.  Our next stop was to grab some lunch and then a quick walk around Union Station as we waited for our bus.  Upon arriving back at the hotel, we rested up before walking to Harrington's Irish Pub & Kitchen for dinner and drinks where Crystal tried (and LOVED) her first Guinness!
After dinner, I had some friends that just happened to be celebrating a birthday at Bobby McKey's Dueling Piano Bar right across the street from our hotel, so I made the quick walk over to join them.  If you're ever in National Harbor, I highly recommend checking out Bobby McKey's and get there early because when I showed up around 10:45, there was standing room only!  The bar was a blast with several piano players singing some mainstream music as well as familiar tunes with their own creative lyrics.  They did an amazing 1980s-1990s rendition of Billy Joel's 'We Didn't Start the Fire" and a pretty hilarious version of "Hey There Delila".  Toward the end of the night, what I assume to be a very drunk patron bought a round of shots for the ENTIRE bar!  I will definitely be revisiting Bobby McKey's in the future!
I finally got back to the hotel around 2:30 AM and was exhausted from the full day of friends and tourism so I crashed right away! Sunday morning, we checked out of the hotel and had breakfast at a cute little diner in Old Town Alexandria.  After filling our tummies, we drove to the Smithsonian National Air and Space Steven F. Udvar-Hazy Center near Dulles Airport.  This was by far the largest and most comprehensive collection of air and space memorabilia I have ever seen!  My favorite parts were the Discovery Space Shuttle and the Flight Simulator that we got to ride in.
It was an awesome trip and a very full weekend and we can't thank Robert and Crystal enough for their hospitality, generosity, and friendship!  I can't wait to go back and see even more!
Good morning and happy February!   Can you believe we are already in the second month of 2013?!?!  It seems like January flew by!
Here's what I'm thankful for this week:
I'm thankful for an invitation to a Super Bowl party last night that gave me the opportunity to spend time with new and old friends!

I'm thankful for a mother-in-law Virginia Mom who is so crafty and planned a day with family to make Valentine's Day Houses!  It was tasty, fun, and best of all, I got to be crafty with my family!
I'm thankful for a husband that enjoys running with me (and motivates me to keep from quitting).  Yesterday morning we ran 9 miles in preparation for the Charlottesville Ten Miler in March!
I'm thankful for the opportunity to get to spend time with so many good friends and family last week (running with Becky and Ben on Sunday, restaurant week  with Kristen, Tim, and Ben on Wednesday, dinner with Ashley and Dana on Thursday, Shopping with Sarah on Saturday, making Valentine's Day houses with Peter, Phyllis, Ben, Robin, Sarah, Abby, and Elise on Sunday, and James' Super Bowl party last night with lots of new friends and Kelly and Marian who I miss so much).  My life is certainly rich because of the wonderful people who are in it!
I'm thankful that for the past couple of weeks, I've finally started to feel like my happy self again with less anxiety and worry and more happiness and joy.  Maybe these posts are helping!  :)
Good morning!  Welcome to this week's thankful Monday blog post!
Today, I am thankful for the following:
I'm thankful for the fit body and sufficient health that allowed me to run 8 miles and walk another yesterday morning with my husband and a new friend.  We are all training for the Charlottesville 10 Miler this spring and we had a great training run!
I am thankful for the various free educational opportunities out on the web.  I've been taking online courses, lectures, and seminars from Code Academy, Coursera, and I Will Teach You To Be Rich since the new year started and I am learning so much valuable information as well as building my experience base, and it's all FREE!
I am thankful for birthdays because they give us an excuse to celebrate and a chance to come together with new and old friends.
I'm thankful for Netflix and Comcast On Demand that allow me to escape my worries and stress temporarily at the drop of a hat by having thousands of movies available.  This weekend, I watched Total Recall, The Switch, Man of the House, and Insidious.
I'm thankful for the fresh start to do better and live fuller that Monday brings us each week!
Have a great week!
Saturday, my friends Sarah and Amy and I decided to have a girls/craft day!  Most of the crafts I've been wanting to do are household related and since Ben and I STILL HAVE NOT found a house, those will all have to wait.  So I decided to go with something that I could enjoy immediately… jewelry!
Ever since my sister was making jewelry and beading back in high school, I've wanted to try it.  She always made such pretty things that were very similar to items in the store that cost lots of money.  So I decided I'd make a very simple beaded bracelet.  We headed to Joann Fabrics for crafting supplies where I decided to go with copper wire and turquoise beads.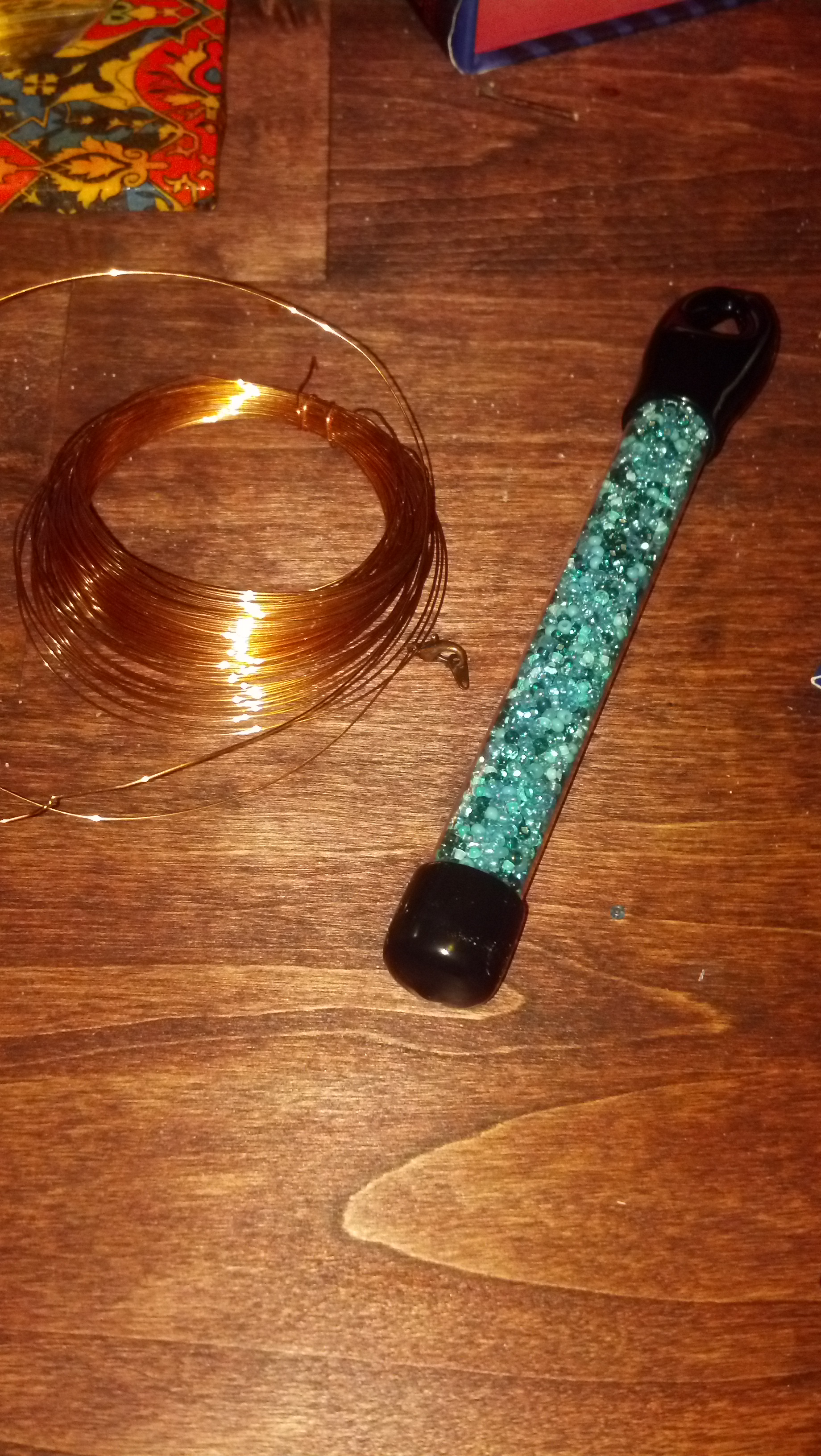 While Sarah worked on her amazing curtains and Amy created beautiful artwork for her home, I meticulously added bead by bead to my copper wire in a nice and organized pattern.  I was very happy with the result and think I'd like to keep learning and crafting jewelry   The finished product looks like this: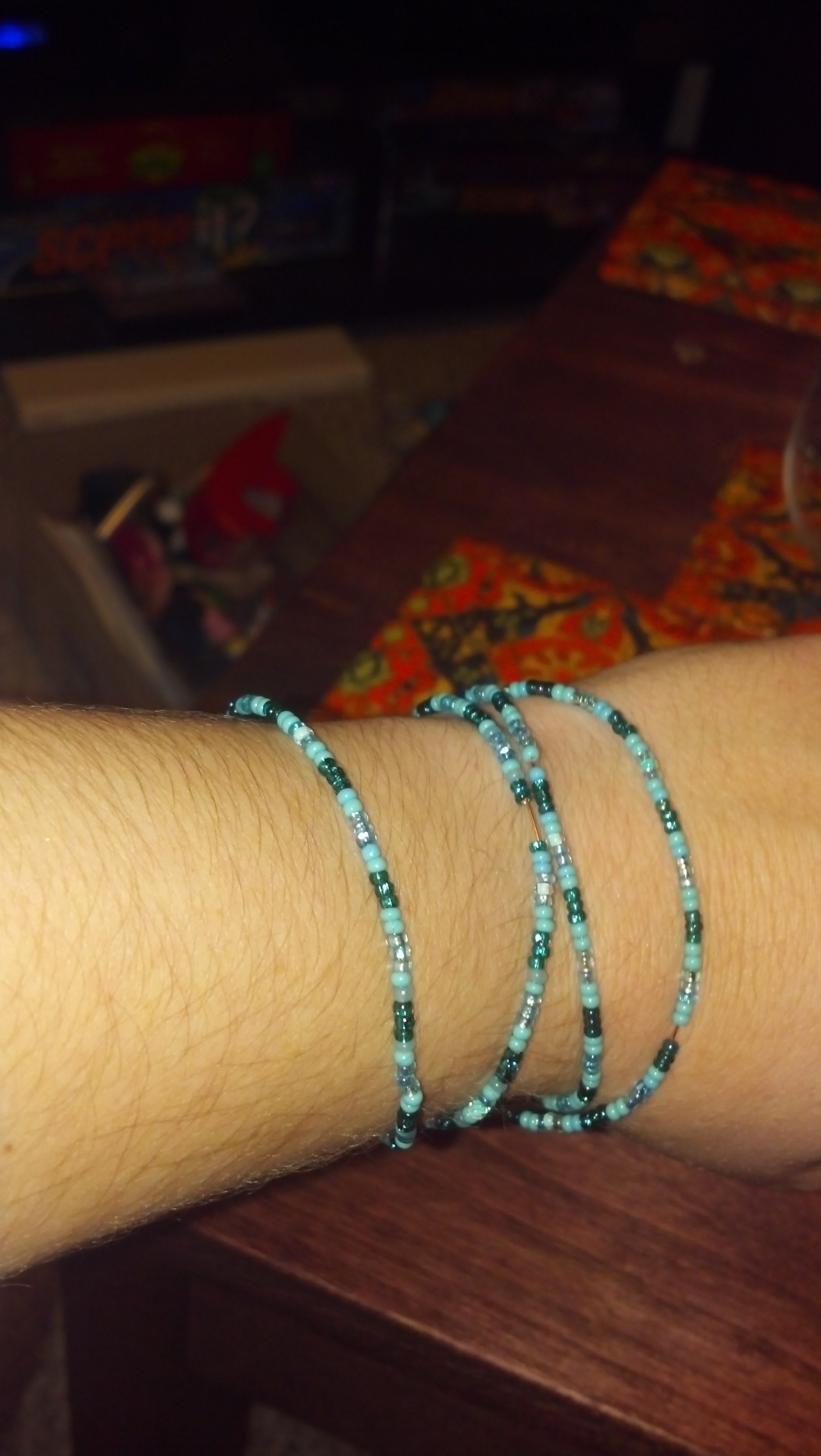 Can't wait to make my next work of art!
I found another new and interesting beer at the one and only Beer Run.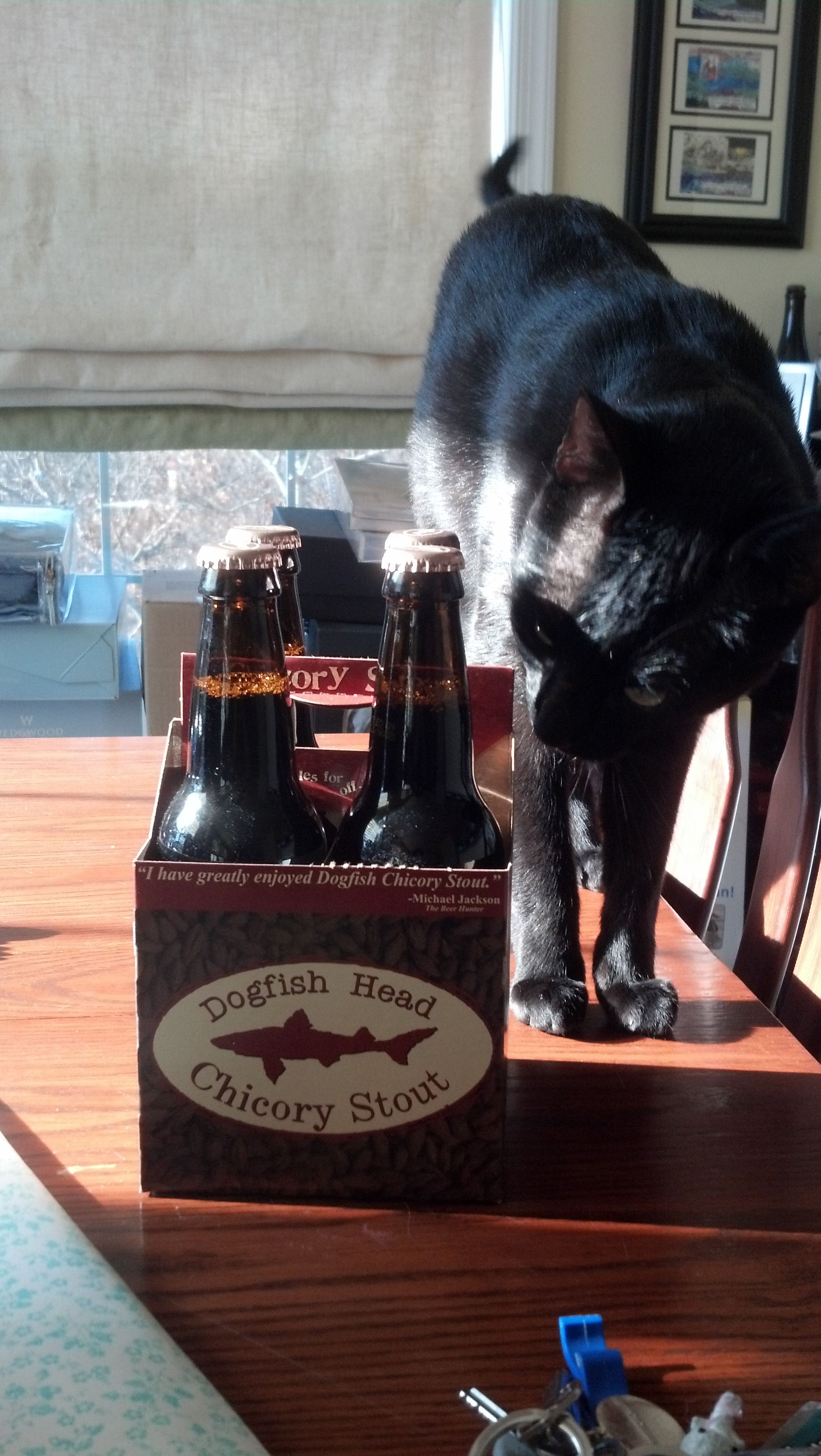 Dogfish Head Chicory Stout  from the amazing Dogfish Head Craft Brewery is a seasonal beer made with chicory, the same ingredient used to make the famous coffee at Cafe Du Monde in New Orleans.  This is one of the first seasonal beers that Dogfish Head brewed when they first started operations in the mid 1990′s.  It's a dark, thick stout filled with many unique flavors like chicory and licorice that you won't find in many other craft brews out there.  Give it a try!
P.S.  Revolver Ocelot approves!
This is a cool photo of a photo that my sister sent me showing my parents together in the 1970′s.  My brother looks just like my dad in this picture.
I'm thinking about submitting it to My Parents Were Awesome.
Friday, I was picking up Christmas presents at one of my favorite restaurants/watering holes, Beer Run, when I stumbled upon this intriguing brew!  Terrapin Side Project Liquid Bliss, from Terrapin Beer Co. is an experimental dark beer made with peanuts.  It was smooth and delicious with a hint of peanut butter.  This beer is probably one of the top ten best beers I've ever had.  Even the smell of the empty pint class when I was finished, left me salivating and wanting more.
Alot of people have commented that the idea of peanut butter beer sounds disgusting and if you aren't a fan of dark beers, you probably won't like it.  But for the experienced beer snob like myself, this is definitely worth the $8.99 for a 22 ounce bottle to try and fall in love with.  I can't wait to get my hands on some more of it!
We were helping my mother-in-law out at her late mother's house a few weeks ago installing light fixtures and such and I spotted one of these: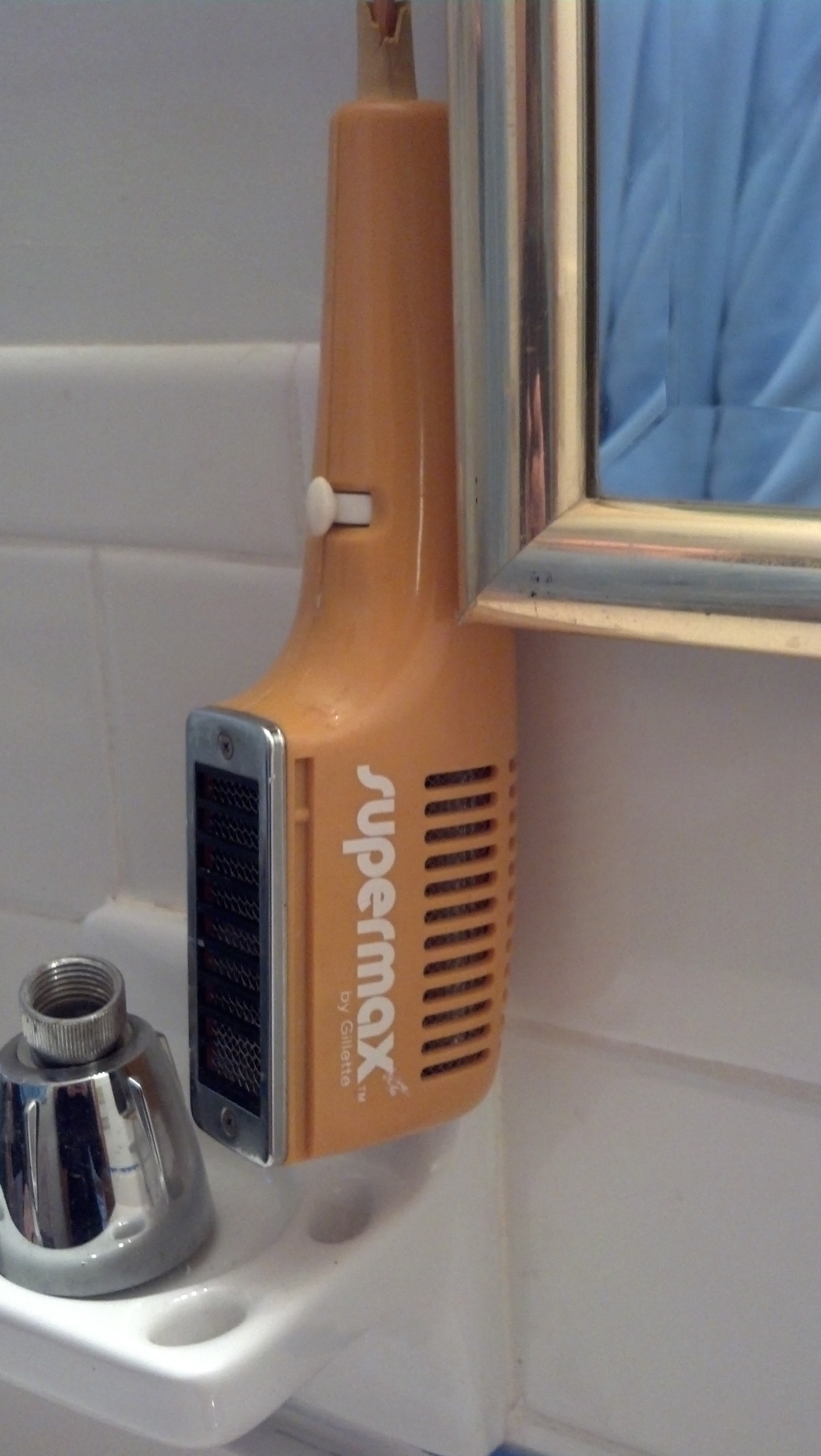 It's a Supermax hairdryer by Gillette from the 1970′s and the second I saw it, it brought back vivid memories of my parents' master bathroom!  The bright orange color instantly reminded me of my mom blowing drying her hair and putting on makeup.  I then remembered the smell of my mom's perfume that she would wear whenever her and my dad would go out for the evening.  I would inhale the scent when she would hug and kiss me goodbye before leaving us with the babysitter.  The smell of it always seemed so comforting.
It's amazing the memories that can be triggered by the sight, smell, or sound of something.  Our senses are so powerful and I think we take them for granted since they are constantly in use.  This makes me wonder what other memories and feelings are locked inside the intricate vastness of my brain and what could possibly trigger them to come to the forefront of my mind.