Archive for the 'Texas' Category
I was in Texas this weekend and traveling all day yesterday so Thankful Monday has turned into Thankful Tuesday!
This Tuesday, I am thankful for so much after spending a wonderful long weekend with my family at the beach!  Here are just a few of the things I am grateful for:
I'm thankful for my mom.  I'm thankful that she hosted my sister, brother, Ben, and I at the beach this weekend, cooked us some of our favorite meals (swedish meatballs…yum), and showered us with gifts (reusable bags from the cities we attended college in, Texas honey from my uncles' beehives, and delicious

HEB

tortillas!  I really have the best mom in the world (but I am a bit biased since she is MY mom)!

I'm thankful for my brother, Mikey.  He's always so much fun to be around and we enjoyed his company this weekend while we joked, shared some delicious Saint Arnold's beer, and basked in our favorite home-cooked and Texas meals.  My brother understands what its like to live far from home and outside of Texas because he currently resides in South Carolina and I feel like we've become closer since sharing that experience.  I'm also so thankful that Mikey stayed up until 2 AM (3 AM his time) driving us from Houston to Padre after our flight was delayed…what a trooper!
I'm thankful for my sister, Carrie.  She has the sweetest smile when she is being positive and despite what she might think, I love her very much and enjoy spending time with her.  I'm thankful she was able to get off work this weekend to spend time with us, and I'm also very thankful that she provided her car for transportation so that we did not have to rent a car.
I'm thankful for my dad.  Despite having a busy work day and a conference call scheduled, he took time out to meet us for a Tex-Mex lunch at Chuy's yesterday and then drove Ben and I to the airport.  He even managed to fit in a quick reunion with my step-mom and little brothers!  I'm really grateful that I got to see my dad and spend a little time with him since we were only in Houston for a few hours.
I'm thankful for Debbie.  I love Debbie and she has always been one of our favorite "aunts".  I'm thankful that Debbie was able to spend the weekend with us and also so grateful that she took time to drive us back to Houston since Carrie had to leave Sunday to go back to work.
I'm thankful for Josh, Caroline, and their two sweet kiddos.  It was so nice to see them and spend Saturday at the beach with them!
I'm thankful for my Uncle (Amo) Jamil, Aunt Norma, and their family.  They drove from San Antonio to Padre to spend some time with us on the beach on Sunday.  It was so sweet to spend some time with my little cousins, play in the ocean and in the sand with them, and get to know them some.  I miss living close to them, and I'm so grateful for every time we get to see each other.
I'm thankful that I got to see my step-mom and my little brothers even if it was only for 30 minutes.  They are growing up so fast!
I'm thankful for my husband, Ben, who lets me drag him all around Texas, especially when I know he's not crazy about traveling.  It's much less sad to leave Texas and my family when he's traveling with me.
Lastly, I'm thankful for the really cool TVs and free movies that United Airlines provided us.  Being able to watch Zero Dark Thirty and This Is 40 on the plane made being delayed for a couple of hours a lot less frustrating!
I could go on and on, but I'll stop at 10!  I hope everyone has a beautiful week!
Good morning and happy Thankful Monday!
I certainly have ALOT to be thankful for this morning, including but not limited to the following:
I'm so thankful that Ben and I closed on our new house!  We are now homeowners and we absolutely LOVE our new home.  I ca't wait to throw parties in it, raise babies in it, and make a lifetime of memories!

I'm so thankful for wonderful family who helped us do some moving this weekend.  A special shout out goes to Ian for his heavy lifting, Peter for letting us borrow his truck, and Sarah and Phyllis for the many meals they cooked for us to keep us going!
I'm thankful for the beautiful weather we had this weekend.  Not only was it quite enjoyable to be outside, it helped make moving alot easier without having to worry about extreme heat, freezing cold, or rain.
I'm thankful for my husband, Ben, without whom I wouldn't be able to afford the house of my dreams.  It's also been so amazing to experience this rite of passage with him by my side.
Lastly, I'm thankful that I'm headed to Texas next weekend for the first time in almost a year (I think that's the longest I've ever been away from my home state) and that I get to see my family who I love so much!
Have a beautiful and very happy week friends!
Good morning!  Spring is actually FINALLY here and we've been having beautiful weather so that is definitely something to be thankful for!
In addition to my gratefulness that spring has arrived, I'm also thankful for the following:
I'm so thankful that Ben and I close on our new house this week!  I can't wait to live in a house again…it's been 8 years since I've lived in an actual house!  So long apartment living!

I'm very happy for my cousin Jennifer and her new husband Eric.  They got married in Florida this weekend and I'm extremely thankful for Facebook and all of her friends and family who posted pictures of the beautiful event and lovely family so that I could share in the celebration.
I'm thankful for the new friends I've made at work who have made working here feel much more comfortable and happy.
I'm thankful for all of the wonderful people who have offered to help us move and fix up our condo to get it ready to rent.  We are lucky to have such kind and generous people in our lives.
I'm thankful that in less than two weeks, I will be a first-time home owner AND I'll be in Texas visiting my family!
BONUS:  I'm thankful that the Farmers Market is finally back in season.  I went early Saturday morning to enjoy it and missed it so much!  I'm glad its back for another 9 months!
Have a wonderful and beautiful week.  I hope everyone is lucky enough to enjoy some warm and beautiful spring weather (sans allergies of course)!
Last weekend, our good friends Robert and Crystal invited us to spend the weekend with them at their time share in Washington D.C. .  We stayed at the lovely Wyndham in National Harbor which is just across the Potomac River from our nation's capital.
The weekend started out Friday night with Robert and Crystal picking us up and heading to dinner at the Bavarian Chef, a delicious German restaurant in Madison.  Bavarian Chef, which is authentic German food in a traditional German atmosphere, complete with the servers dawning lederhosen, used to cater our lunches about once a month when I worked for VGT and their food was always spectacular.  I ordered the Karlsbadener Sahnegoulasch, "a combination of tender pieces of veal, mushrooms, onions, tomatoes, and fresh cream" with a German style beer.  Both were AMAZING!  After stuffing ourselves, we headed north to DC.  We didn't get to our hotel until after 11 PM, so we got to bed so we could rest up for a long and exciting day in the capital.
Saturday morning, Ben and I went to the hotel gym for a quick workout while Robert and Crystal attended an owners' meeting.  After getting showered and dressed, we headed to Ketchup for breakfast and then caught the bus to the city.  It was a beautiful sunny day, but the wind was blowing strong which made for biting cold weather.  At least we had the sun to keep us a little warm.
First, we stopped by the capitol to take pictures.
Afterward, we headed to the Smithsonian's National Museum of the American Indian, where we spent several hours viewing exhibits, artwork, and readings.  The lobby of the museum had this beautiful prism that reflected sunlight into all of the colors of the rainbow.
After touring the museum, we walked to the Washington National Monument which is still closed for repairs due to the earthquake we had back in August 2011.
I wanted to visit the Texas pillar of the World War II Memorial and the Lincoln Memorial Reflecting Pool, so we kept on walking.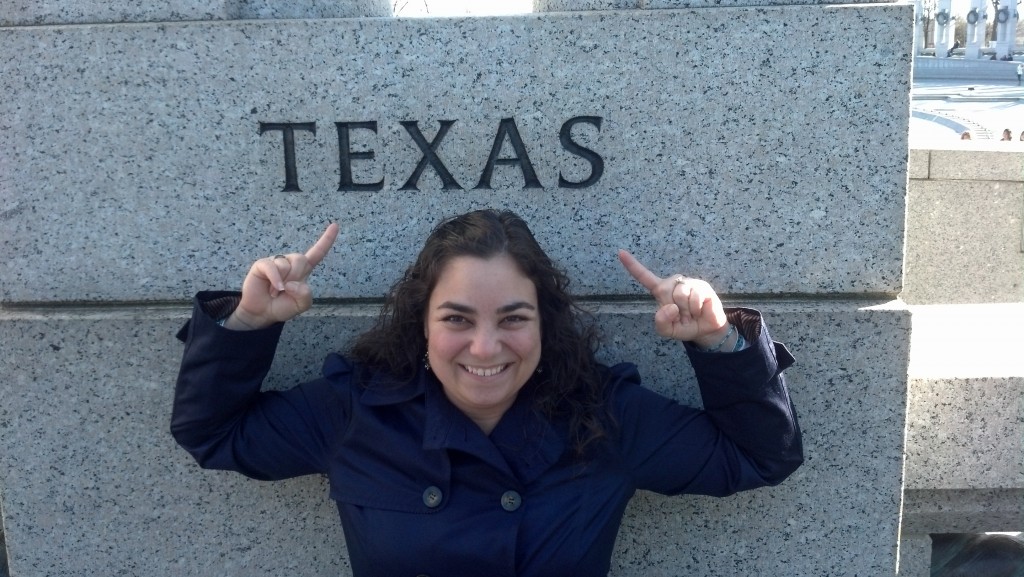 We headed back toward where our bus dropped us off and decided to stop into the very crowded Smithsonian National Museum of Natural History to see the Orchids of Latin America Exhibit.  Our next stop was to grab some lunch and then a quick walk around Union Station as we waited for our bus.  Upon arriving back at the hotel, we rested up before walking to Harrington's Irish Pub & Kitchen for dinner and drinks where Crystal tried (and LOVED) her first Guinness!
After dinner, I had some friends that just happened to be celebrating a birthday at Bobby McKey's Dueling Piano Bar right across the street from our hotel, so I made the quick walk over to join them.  If you're ever in National Harbor, I highly recommend checking out Bobby McKey's and get there early because when I showed up around 10:45, there was standing room only!  The bar was a blast with several piano players singing some mainstream music as well as familiar tunes with their own creative lyrics.  They did an amazing 1980s-1990s rendition of Billy Joel's 'We Didn't Start the Fire" and a pretty hilarious version of "Hey There Delila".  Toward the end of the night, what I assume to be a very drunk patron bought a round of shots for the ENTIRE bar!  I will definitely be revisiting Bobby McKey's in the future!
I finally got back to the hotel around 2:30 AM and was exhausted from the full day of friends and tourism so I crashed right away! Sunday morning, we checked out of the hotel and had breakfast at a cute little diner in Old Town Alexandria.  After filling our tummies, we drove to the Smithsonian National Air and Space Steven F. Udvar-Hazy Center near Dulles Airport.  This was by far the largest and most comprehensive collection of air and space memorabilia I have ever seen!  My favorite parts were the Discovery Space Shuttle and the Flight Simulator that we got to ride in.
It was an awesome trip and a very full weekend and we can't thank Robert and Crystal enough for their hospitality, generosity, and friendship!  I can't wait to go back and see even more!
Saturday night, I was in the mood for some pumpkin themed activities, so we headed over to Ian and Sarah's house for dinner, pumpkin carving, pumpkin seed roasting, and pumpkin beer tasting!
Sarah cooked the amazing dinner and I provided the pumpkin ales and pumpkins for drinking and carving.  Sarah made white bean vegetarian chili which was delicious.  It had the consistency of potato soup but the taste of chili and it was perfect for a breezy fall evening.  I brought over Rogue Pumpkin Patch Ale, Williamsburg Alewerks Pumpkin Ale (a Virginia beer!), and Smuttynose Pumpkin Ale which I picked up from Beer Run which always has an amazing beer selection!  Rogue and Smuttynose were both kind of spicy with hints of pumpkin and nutmeg while Williamsburg Alewerks was more sweet like pumpkin pie.
After dinner, we carved pumpkins with the help of Amy, Joel, Collin, Ian, and Ben.  Sarah opted for an awesome design created using the power tool pumpkin carving method.  She used a drill to create decorative holes all around the pumpkin's surface.  I of course had to go with a Texas theme!  Due to my lack of artistic ability, I had Ben draw the shape of Texas  freehand.  It looked great but we were worried it would be too difficult to carve, so he drew me a Texas Longhorns logo instead.  It came out great and the Texas themed jack-o-lantern is now being proudly displayed outside our front door.
We used the seeds from our pumpkins to roast cinnamon sugar pumpkin seeds and garlic pumpkin seeds and ended the evening feasting on them while watching Netflix.  It was a great night with great friends and the perfect way to celebrate Halloween weekend!
In my post yesterday, I talked about how my sister brought me some Saint Arnold's Oktoberfest from Houston.  Saint Arnold Brewing Company is Texas' oldest craft brewery.  My family and I have been to their old facility and their new one in Houston several times for the tastings and tours.  It's always a treat for me to get some of their beer since it's only available in Texas and Louisiana.  Every year, they produce a limited amount of their Christmas Ale and we tend to buy several 6 packs of it when we are home for the holidays.  A couple of years ago, my brother and I both packed up some Christmas Ale and brought it back with us in our suitcases to our respective non-Texan residences.  For my wedding, my friend Cody drove from Houston to Virginia to attend the party, so he brought me an assortment of Saint Arnold brews as a gift.
When you go in for a tasting, you pay $7 and get a souvenir Saint Arnold glass to keep.  You also get 4 tokens that you can trade in to have your souvenir glass filled with different draft beers brewed right there on the spot.  Patrons are encouraged to bring snacks and food and enjoy the company while sampling the different beers.  In addition, if you bring in the cardboard six pack cartons for them to recycle, you can trade them in for cool Saint Arnold swag.  You can also upgrade you souvenir glass to a larger pint glass or even larger boot glass or mug and use your tokens to have those filled instead.
It really is a great brewery in a great city in a great state and I always enjoy going there with friends and family.  Here are just a few pictures of some good times had enjoying tasty Saint Arnold beer.
There are still a ton of beers that Saint Arnold brews that I have yet to try.  I'd love to get my hands on some Winter Stout, Divine Reserve, Pumpkinator, and Endeavor (I believe named for the space shuttle) so I'll just have to keep making trips to the brewery whenever I'm in Houston visiting.  And for those who aren't crazy about the taste of beer or who prefer to indulge in non-alcoholic beverages, they brew a delicious Root Beer.
If you're not in Houston, be sure to check out the Saint Arnold Brewing Company website and if you are in Houston, get to the brewery ASAP!
A couple weeks ago, I joined my dad, brother, and sister for an impromptu trip to New York City to see the Houston Texans play the New York Jets for Monday Night Football.  It was an amazing trip and I absolutely loved getting to spend a weekend with my family.  The only way it could have been better was if my mom and husband were there but mom had to work and Ben was on a fishing trip in North Carolina.
We all met up at the airport on a Saturday afternoon.  Mikey flew in from Columbia, South Carolina, I flew in from Charlottesville, and Dad and Carrie flew in from Houston.  After a wild goose chase around Laguardia Airport and bumping into some other Texan fans in town for the game, we made it by taxi to our hotel in New York City.  We got settled in and then sat down at the hotel bar to discuss the evening's plans over drinks.
Since the Longhorns were playing West Virginia, we decided to find a pub to watch the game.  Mikey had heard about a place in New York called Hill Country Barbecue Market that Texas Exes go to watch the games so we headed that way.  Let me tell you, BEST.DECISION.EVER!  This place was straight outta Texas, complete with Shiner and Lone Star beer, Blue Bell ice cream, tons of Texas decor, and authentic Texas barbecue!  Mikey and I, having not lived in our dear home state for years, were in HEAVEN!  They even had their own Texas flag, a Pearl Brewery sign (located in San Antonio where I went to college, I attended one of the most amazing parties of my college career there), and the waiters all wore Longhorn shirts for the game.
We stuffed ourselves with barbecue and cheered on the Longhorns over 4 buckets of Lone Star beer!  Unfortunately the Longhorns lost, but man was it a good game and you never would have known you were in New York by the inside of that bar.  Almost every person was sporting burnt orange and after each touch down, the entire bar was yelling the University of Texas Fight Song at the top of their lungs.  Mikey swore we could have won had he thrown more chairs!
The next day, it was raining so we picked up some cheap, broken umbrellas.  Of course we didn't know they were broken when we bought them.  Mikey found a disgusting green paperclip on the streets of New York City that was just what he needed to MacGuyver his green umbrella to stay open.  Since it matched the umbrella perfectly, we dubbed it the "Green pooperclip of destiny".  Pooperclip was the appropriate term since that's probably what it had on it after laying in the streets of New York.
After standing in like in Time Square, we bought tickets to Chaplin on Broadway.  It was our last choice (if you ever go to New York, make sure to buy your Broadway musical tickets well in advance), but the play was spectacular and we learned alot about Charlie Chaplin that we hadn't known.  We had time to kill before the play, so we headed to an Irish pub near Time Square called the Pig 'n Whistle where we dined on appetizers, drank beer served by an authentic Irish bartender, and watched NFL.  We then headed to see Chaplin at the Ethel Barrymore Theatre which was amazing and I'd highly recommend to anyone looking to see a Broadway musical.  Afterward, we found McGee's Restaurant and Pub which is the bar that MacLaren's Pub in the show How I Met Your Mother was based on.  There we had more drinks and then headed to Stand Up NY, a famous comedy club where tons of comedic actors got their start doing stand up.  There was a 2 drink minimum so we drank cocktails and laughed until we cried.
The next day we all put on our Texans gear to represent our home team.  Carrie wanted to see the 9/11 Memorial and the Empire State Building, so we navigated our way through the subway to get to Manhattan.  I hadn't been to the site of the World Trade Center 9/11 terrorist attacks since 2005 when they were still cleaning up debris so I was blown away by the memorial that now sits in its place.  Although it is still not complete, the memorial and north and south pools were quite a site.  It was humbling to see the spot where thousands of innocent Americans died and I was thankful for the opportunity to honor them.
After that, we headed to the Empire State Building where we did what my dad would describe as a lot of standing in line.
We finally made it to the 86th floor after all of that waiting and it was definitely worth it.  I went to the top of the Empire State Building back in 2005, but that was at night time so it was cool to go up during the day and see the city from so high!  We splurged and joined the 102 club, going all the way to the 102nd floor!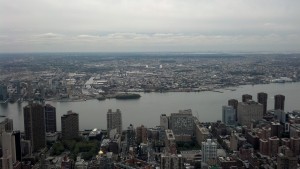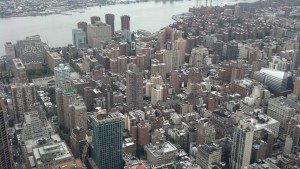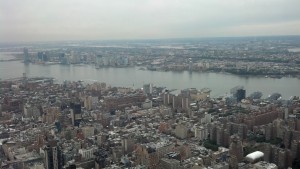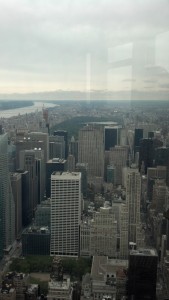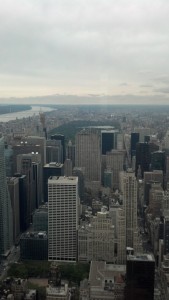 After all of that elevator riding, we were famished, so we walked to Keens Steakhouse for lunch.  Keens has the largest collection of churchwarden pipes in the world and their ceiling and walls were lined with them!  The food was amazing too and we were stuffed after dining on steak and a fine Cabernet Sauvignon.  After that, dad needed a rest before the game, so we headed back to the Doubletree to relax for a while.  I took advantage of the downtime to enjoy a Saint Arnold's Oktoberfest that my awesome sister brought me all the way from Houston (you can't get Saint Arnold's beer outside of Texas or Louisiana).  I also attempted to help my dad log into his iPad, but he forgot the password and I have to say it was quite comical watching him try to remember it!
Soon it was time to head to see our Texans beat the New York Jets at Met Life Stadium.  First, we headed to Stout to pre-game where we met some fellow Texans fans going to the game.  After seeing some other patrons doing Irish Car Bomb shots, we decided to do one as a family and convinced my dad it was a good idea.  Then we headed to Penn Station where we took the train to New Jersey where Met Life Stadium is located.  We met more Texans fans from Houston on the train and had a great time talking football with them!
When we got to the stadium, everyone was pumped.  There were alot more Texans fans there than we expected so there was lots of cheering and shouting of "Go Texans!" every time we passed other fans in their Texans jerseys!  The game was great and the Texans beat the Jets 23 to 17.  It was a pretty close game, but our undefeated Texans pulled through!
It was an amazing weekend and I'm so thankful for the opportunity to make such great memories with my loved ones.  A special shout out goes to my dad for footing the bill!  I can't wait for the next Elsaifi adventure!
Well Texas IS my #1 passion and the blog IS called Texas Lou!
A couple of weeks ago, Ben, my mother-in-law, and I attended the Heritage Harvest Festival at Monticello and I spotted these two gems:
Texas is everywhere I look folks!  I must have Texas On My Mind!
Have you ever heard of the Homesick Texan?  The other one, not me…haha!
The Homesick Texan is a blog written by fellow Texan, Lisa Fain, who now lives in New York.  Like me, I'm sure she had a hard time finding good Tex-Mex food outside of our beloved Texas, so she decided to make it herself and document it on her blog.  She even wrote a cookbook, The Homesick Texan Cookbook, that my Aunt Connie and Uncle Mike gave to me as a wedding gift!  It was such a surprise since I don't think I'd mentioned to anyone that I read her blog.  However, I'm sure it wasn't difficult for anyone who knows me to see that I would love and identify with the theme!  I mean I LOVE food, I LOVE  Texas, and I'm constantly homesick for the great state and all of the wonderful people in it!
So, why am I bringing up the Homesick Texan all of a sudden?  Well, besides the fact that she is awesome, right?  My friend Cara is having a birthday party/cookout tonight and she asked all of her guests to contribute something edible for the evening.  I  announced that I'd bring chicken for the grill, but I also wanted to make some sort of appetizer or dessert that was new, exciting, unique, and personal.  Well for me, what's more personal than a Texas themed recipe?  I headed over to my Pinterest "Cooking and Food" board to get some ideas for recipes I've found on the interwebz in the past that I've been saving for a special occasion.  As soon as I saw the Homesick Texan's Bacon-Jalapeño Cheese Ball, I knew I had to make it.
The recipe was really easy to make, the ingredients weren't complicated at all, and it didn't take me long to create the masterpiece.  The finished product also looks very pretty and festive.  I haven't tasted it yet, as I'm saving it for the birthday party tonight, but I did lick the bowl when I was finished and it was quite tasty!
If you are looking for something AMAZING to make, head on over to the Homesick Texan's blog and check out the recipe.  The main ingredients are jalapeños, bacon, pecans, and cheese so it can't be anything but awesome!  If I remember, I'll snap a picture of it before it's all gobbled up tonight and post it here tomorrow.
Translation: Oh My Gosh Thank God It's Friday YAY!
I'm so excited today and here's why!
It's Friday and the beginning of the weekend…DUH!
We are going to the Top of the Hops Beer Festival tomorrow where we will get to sample many awesome beers and spend time with lots of friends!  We went last year and it was a blast!
I feel like I am doing so much better at work.  I'm feeling more comfortable with my job, tasks, and asking my coworkers questions plus I am meeting new people and getting involved!
The weather has been wonderful and it is supposed to stay that way through the weekend.
I was really good this week at keeping up with my healthy eating and exercising (ran over 11 miles!).  I'm trying to remind myself constantly that this is important to keep me positive and help me mentally and emotionally in addition to keeping my body healthy.
Lastly, I found out that I MAY be able to spend a weekend in October with my brother, sister, and dad in New York AND go to a TEXANS game (special thanks to my awesome boss for giving me the time off)!  It's not definite yet, but we're working on it!
I hope everyone has a FABULOUS weekend!