Archive for the 'Outdoors' Category
Last weekend, our good friends Robert and Crystal invited us to spend the weekend with them at their time share in Washington D.C. .  We stayed at the lovely Wyndham in National Harbor which is just across the Potomac River from our nation's capital.
The weekend started out Friday night with Robert and Crystal picking us up and heading to dinner at the Bavarian Chef, a delicious German restaurant in Madison.  Bavarian Chef, which is authentic German food in a traditional German atmosphere, complete with the servers dawning lederhosen, used to cater our lunches about once a month when I worked for VGT and their food was always spectacular.  I ordered the Karlsbadener Sahnegoulasch, "a combination of tender pieces of veal, mushrooms, onions, tomatoes, and fresh cream" with a German style beer.  Both were AMAZING!  After stuffing ourselves, we headed north to DC.  We didn't get to our hotel until after 11 PM, so we got to bed so we could rest up for a long and exciting day in the capital.
Saturday morning, Ben and I went to the hotel gym for a quick workout while Robert and Crystal attended an owners' meeting.  After getting showered and dressed, we headed to Ketchup for breakfast and then caught the bus to the city.  It was a beautiful sunny day, but the wind was blowing strong which made for biting cold weather.  At least we had the sun to keep us a little warm.
First, we stopped by the capitol to take pictures.
Afterward, we headed to the Smithsonian's National Museum of the American Indian, where we spent several hours viewing exhibits, artwork, and readings.  The lobby of the museum had this beautiful prism that reflected sunlight into all of the colors of the rainbow.
After touring the museum, we walked to the Washington National Monument which is still closed for repairs due to the earthquake we had back in August 2011.
I wanted to visit the Texas pillar of the World War II Memorial and the Lincoln Memorial Reflecting Pool, so we kept on walking.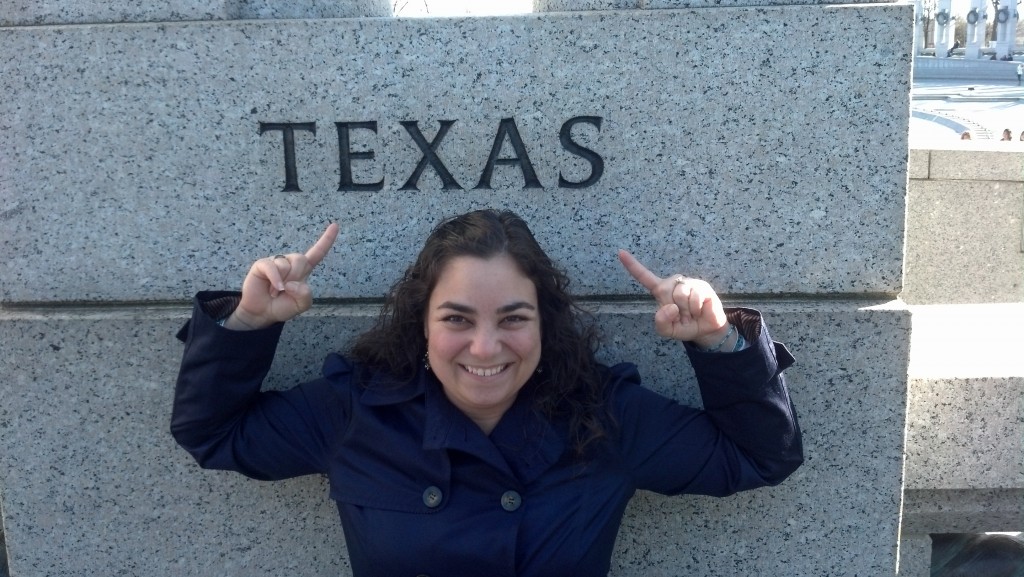 We headed back toward where our bus dropped us off and decided to stop into the very crowded Smithsonian National Museum of Natural History to see the Orchids of Latin America Exhibit.  Our next stop was to grab some lunch and then a quick walk around Union Station as we waited for our bus.  Upon arriving back at the hotel, we rested up before walking to Harrington's Irish Pub & Kitchen for dinner and drinks where Crystal tried (and LOVED) her first Guinness!
After dinner, I had some friends that just happened to be celebrating a birthday at Bobby McKey's Dueling Piano Bar right across the street from our hotel, so I made the quick walk over to join them.  If you're ever in National Harbor, I highly recommend checking out Bobby McKey's and get there early because when I showed up around 10:45, there was standing room only!  The bar was a blast with several piano players singing some mainstream music as well as familiar tunes with their own creative lyrics.  They did an amazing 1980s-1990s rendition of Billy Joel's 'We Didn't Start the Fire" and a pretty hilarious version of "Hey There Delila".  Toward the end of the night, what I assume to be a very drunk patron bought a round of shots for the ENTIRE bar!  I will definitely be revisiting Bobby McKey's in the future!
I finally got back to the hotel around 2:30 AM and was exhausted from the full day of friends and tourism so I crashed right away! Sunday morning, we checked out of the hotel and had breakfast at a cute little diner in Old Town Alexandria.  After filling our tummies, we drove to the Smithsonian National Air and Space Steven F. Udvar-Hazy Center near Dulles Airport.  This was by far the largest and most comprehensive collection of air and space memorabilia I have ever seen!  My favorite parts were the Discovery Space Shuttle and the Flight Simulator that we got to ride in.
It was an awesome trip and a very full weekend and we can't thank Robert and Crystal enough for their hospitality, generosity, and friendship!  I can't wait to go back and see even more!
Well Texas IS my #1 passion and the blog IS called Texas Lou!
A couple of weeks ago, Ben, my mother-in-law, and I attended the Heritage Harvest Festival at Monticello and I spotted these two gems:
Texas is everywhere I look folks!  I must have Texas On My Mind!
Saturday, Ben and I went to the Top of the Hops Beer Festival downtown.  It was a beautiful day to be outside and we enjoyed it while bumping into friends and tasting lots of new and different beers.  Some of the more unique brews we tried were Fish Paralyzer BPA of RJ Rockers Brewing Company (BPA stands for Belgian-Style Pale Ale), Chipotle Ale from Rogue Ale which had a very smokey taste to it, and Jacques Au Lantern of Evolution Craft Brewing Co. which is a seasonal pumpkin ale that Ben described as being very nutmeggy!  We also tried several ciders and cask ales.
After all that beer, we desperately needed some food, so we headed to the Whiskey Jar for some southern style cookin'!  Ben and I both had the Courthouse Sandwhich "Hicory Smoked Pork with a spicy Pepper and Onion blend topped with Housemade Cheese Sauce on a Po Boy Roll and served with Fries".  It was delicious and we washed it down with a famous Moonshine Punch!
Afterward we spent some time sobering up while playing cornhole at Chris and Cara's house.   It was the perfect Saturday spent with good friends!
And by "Winter Is Coming", I'm not just referring to one of my favorite shows, Game of Thrones, which I am really excited to see the third season of beginning in March.
Today is the last full day of summer and tomorrow is the Autumnal Equinox, or official beginning of fall.  And as fall leads to winter, I started thinking about my first winter here in Virginia.  It was my first real winter and my first real snow storm I had experienced.  We received 6 inches of snow in Charlottesville in early 2006 and the next day, I was like a kid on Christmas.  I headed outside with my camera to view the landscape covered in white powdery snow.  I think it was pretty obvious to others that I'd grown up someplace far away that never experiences such phenomenon.
I wanted to showcase one of my favorite photos from that day.  I lived in an apartment complex that had a lake, really a large pond, that often provided a sanctuary to local ducks, geese, and swans.  The reflection coming from the sun on the water as the geese basked in the sunlight after a long night of cold and cloudy snow really lets you feel the calm after the storm.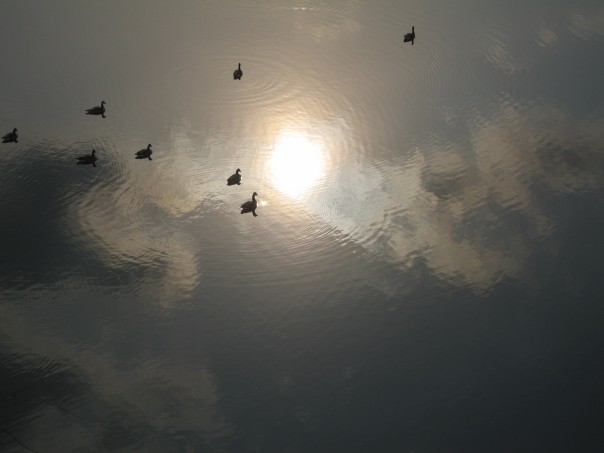 I'm hoping we get some snow this winter, especially after the uneventful winter we had last season.  I'm not a huge fan of winter time, but if it's going to be cold and dark and dreary, I'd rather had some beautiful snow to go with it.  After all, when everything's white, the world looks a little bit brighter!
Translation: Oh My Gosh Thank God It's Friday YAY!
I'm so excited today and here's why!
It's Friday and the beginning of the weekend…DUH!
We are going to the Top of the Hops Beer Festival tomorrow where we will get to sample many awesome beers and spend time with lots of friends!  We went last year and it was a blast!
I feel like I am doing so much better at work.  I'm feeling more comfortable with my job, tasks, and asking my coworkers questions plus I am meeting new people and getting involved!
The weather has been wonderful and it is supposed to stay that way through the weekend.
I was really good this week at keeping up with my healthy eating and exercising (ran over 11 miles!).  I'm trying to remind myself constantly that this is important to keep me positive and help me mentally and emotionally in addition to keeping my body healthy.
Lastly, I found out that I MAY be able to spend a weekend in October with my brother, sister, and dad in New York AND go to a TEXANS game (special thanks to my awesome boss for giving me the time off)!  It's not definite yet, but we're working on it!
I hope everyone has a FABULOUS weekend!
We are getting dangerously close to the end of summer, and although I LOVE fall and all of the beautiful colors and changing leaves and cool and crisp air it brings with it, I dread the shorter days and decrease in sunlight.  The fall colors are something that I never really saw growing up in Houston that I've really come to apreciate here in Virginia.  However, the shorter days where it gets dark around 5 PM is also something  that I never saw growing up that I really can't stand.  It brings on a serious case of Seasonal Affective Disorder (SAD

).
With these last few days of summer and late evenings still filled with dwindling sunlight, I'm trying to soak up as much of it as I can get before the time change.  The Meade Park Farmers Market that takes place every Wednesday afternoon from 3 PM until 7 in Charlottesville is about to come to a close for the season next week so I suggested to Ben that we go for a run to the market after work.  After a beautiful 2.75 mile run to the market in perfect temperatures, we arrived at the market where we bumped into some friends, got to sample some delicious and nutritious bread from the Great Harvest Bread Company, and ended up buying some fresh and local green beans and swiss chard.  We than ran the 2.75 miles back home along the Rivanna River where I cooked barbecue chicken (with authentic Texas Rudy's barbecue sauce – thanks to Cheryl and Dan), asparagus, and garlic parmesan sauteed zuccini.  After dinner, Ben and I watched 21 Jump Street, the movie and laughed our butts off!  I highly recommend it especially if you're looking for a good laugh.
It was a great day, made even better by the fact that rather than going and sitting in front of a computer all day, I got to spend the work day volunteering with my company for the Thomas Jefferson Area United Way Day of Caring.  We organized closets, separated donated childrens' clothing, and made goody bags for young families in the area at the Child, Youth, & Family Services in Charlottesville.  It was wonderful to learn about the organization, help out my community, meet lots of new people, and give my time and effort to such a great cause.  And you should have seen the amazing lunch they provided us!!!
I'd have to say it was definitely a summer day to remember!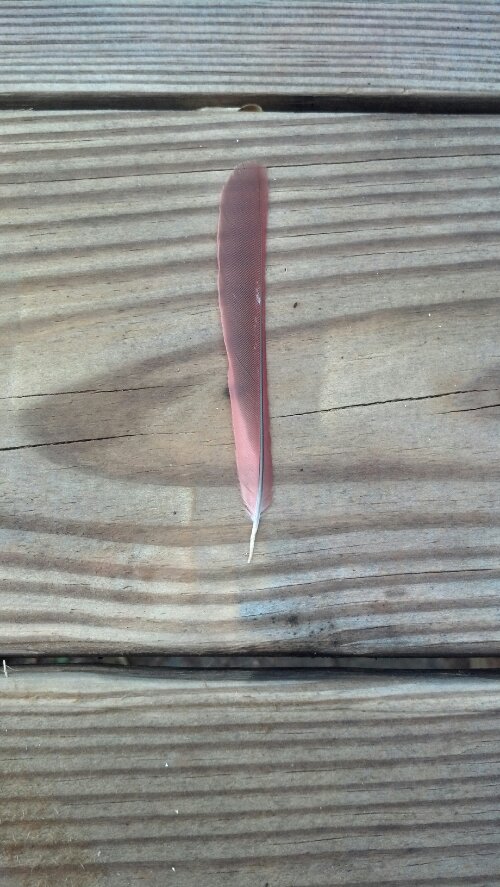 I found this neat red feather outside today and thought I'd share.
Hope everyone is enjoying their Sunday!
Doesn't this look like a work of art?  One of my favorite drinks to enjoy on a Sunday or with any breakfast, brunch, or lunch meal is the delicious Bloody Mary!  I personally like mine with worcestershire sauce, olive juice, horseradish, lime juice, and LOTS of hot sauce!  Sunday, Ben and I had no breakfast food in the house so I thought it was a great excuse to go to Beer Run, one of my favorite local places for food and beer for brunch.
We both had the El Guapo Breakfast Burrito:
El Guapo Breakfast Burrito
Scrambled local eggs, organic black beans, pepper jack cheese, sauteed red bell peppers wrapped in a flour tortilla. Served with spicy house-made Pico de Gallo and Texas Frites. 9.95
They were served with a slice of watermelon and honey dew.  Brunch was delicious, the company was great, and we snagged the last outdoor table so we could enjoy the first beautiful fall-like day of the season with our meal!  It was the perfect start to our Sunday!
On Saturday morning, I ran the Charlottesville Women's Four Miler for the 5th year in a row.  The race takes place every year on Labor Day weekend, and the money raised goes to support the University of Virginia Cancer Center Breast Care Program which helps  to fund breast cancer research and support local women fighting the disease.
I was really excited about my performance this year.  Despite it raining during the entire race, I beat my record for the course and crossed the finish line in just under 45 minutes.  In addition, I ran the first mile at 9 minutes and 19 seconds which is a HUGE record for me (I usually run between an 11 and 12 minute mile)!  Below are my results from the past 5 years and they definitely show what an improvement I've made!
To get ready for the race, the past couple of years, my friends Sarah and Wendy and I have made shirts to wear on race day.  This year, mine said:
T-shirt…$4

Race Registration…$45

E Racing Cancer…Priceless
Sarah and Wendy's shirts quoted lyrics from the Young MC song "Bust A Move" (get it…bust as in boobies…haha!).
Ben even came out to support us and I want to say a special thank you to him for holding all of our bags and waiting for us in the rain.
One of the best things about this race is all of the support it gets from the local community.  People come out rain or shine to volunteer and cheer on the runners and everyone gets all decked out in pink.  We even saw a man with three kids who all had their hair dyed pink (including the father's beard) and were wearing pink shirts in support of their wife/mom running the race!  It's the number 1 most popular race in Charlottesville and race registration has closed out in under 12 hours the past couple of years.  I was really lucky to get a spot this year since race registration was on my wedding day.  Lucky for me, my pal Wendy signed me up!  I love this race and I plan on running it every year as long as I'm able.  And one day, if I have daughters, I hope to have them run it with me!
Back around Easter, Ben's mom decided to buy some chicks.  As a 4th grade teacher, she had hatched many eggs in her classroom over the years and then brought the chicks home to raise as pets.  These are the first set of chickens that she has raised in a long time and we have all been eager for them to start laying eggs.
There are 3 roosters, Big Red (the alpha male), Roger, and Adam (he was originally Ms. Pretty until we discovered he was a male).  The 3 hens are named Briana, Evi II (aka Evi 2 or Evi Too named after our cat Eva who we call Evi), and Henna.
Sunday, when we were visiting Ben's mom, we discovered that one or more of the hens had laid their first eggs.  We found four eggs spread out in various spots between their hen house where they sleep and the fenced-in area where they eat and roost underneath an old Concord grape vine.  Unfortunately, before we were able to get to the fourth egg, the chickens all pecked it and devoured it.  That seemed like strange behavior to me, but I'm sure it's not the first time it has happened in the history of the world.
It's been really cool watching them grow and mature over the past few months.  I remember how exciting it was the first couple of times we heard Big Red crow!  And I learned that roosters will crow at any time of the day, not just in the mornings.  I'm looking forward to lots of eggs from these beautiful birds!