Archive for the 'Wine' Category
Good morning and what a thankful Thursday this is!
I'm thankful for a wonderful weekend spent with friends and family!  We got to see our niece win a soccer game on Saturday morning and visit with family.  Then that afternoon, we visited friends and met their new baby!  Sunday was spent on the lawn at Pippin Hill Farm & Vineyards with fun friends and cute babies sipping wine and making onesies!  I have many amazing people in my life!
I'm thankful for a husband who puts aloe on my back every day after getting a sunburn from the above mentioned winery lawn sitting!
I'm grateful that I have a wonderful husband who is also an involved father and has daddy-son days occasionally so I can get out and have a break (like today when I am getting my hair cut!).
I'm thankful for the rain we've had this week.  It may be a pain but we need it and it washes all that pollen away.
I'm grateful for my work friend who was so nice to bring me an Apricot flavored seltzer water this morning for me to try (in case you don't know, I'm addicted to seltzer water!).
Happy day friends!
Good morning and happy Thankful Monday!
Here's what I'm thankful for today:
I'm thankful for a WONDERFUL weekend with family.  My dad and brother came to visit me and we had the best time (and my dad brought me kolaches from the Kolache Factory)!  Friday evening, after giving my dad the tour of our new house, my mother-in-law, father-in-law, Ian, Sarah, Mikey, Ben, my dad, and I had dinner at the Clifton Inn, where Ben and I got married.  The food was great and it was really nice for my dad to get to know my Virginia family even better.  Saturday, my dad, Mikey, Ben, and I went to one of my favorite restaurants in town, Beer Run, for an early lunch and then we drove out for some skeet shooting at Ben's grandmother's farm since it was such a beautiful day.  Afterward, we stopped off at Barboursville Vineyards and Jefferson Vineyards so my dad and Mikey could sample some local wines.  We then had a great dinner at my in-laws.  Sunday morning, I made Lebanese Eggs for Mikey and dad before they had to hit the road.  Then Ben and I had a nice day together running errands and making pre-baby arrangements.  Afterward, we had another great family dinner with my in-laws, Ian, and Sarah followed by watching The Walking Dead before bed.  It was such a fun and happy weekend!  I love my family so much and am so thankful to have them in my life.  I hope I am able to instill the wonderful sense of family and closeness in my own children that Ben and I have grown up with.
I'm thankful for the warm and amazing weather we had this past weekend.  After last Monday's snow storm, it was so nice to finally have some beautiful, warm days to enjoy.  Both Saturday and Sunday were sunny with temperatures in the 60s and it was perfect for my dad and Mikey's visit.
I'm thankful for yet another clean bill of health from my endocrinologist.  Typically, during pregnancy, women with thyroid problems have to be closely monitored and often have to take a higher dose of medication to help keep up with the demands on their body.  Thankfully, my thyroid levels are still normal in my 6th month of pregnancy, despite the fact that I am having twins.  My doctor is surprised and I am very grateful!  I'm also thankful for a clean bill of health from the dentist late last week as well.
I'm thankful for more discounted baby gear and advice last week.  I found some amazing deals at the Here Wee Grow Again consignment sale last Friday, including a Snuza for $30 (they are normally $120)!  I also got a gently used double jogging stroller for only $50 from another twin mom (these normally start at around $200)!  And I got a rocker/bouncer for $10 from a lady on Craigslist!  I am very grateful for all of the opportunities to save money when it comes to our double bundles of joy.
Here's me at Beer Run on Saturday after lunch with my family (buying some rare beer finds to drink AFTER the babies come):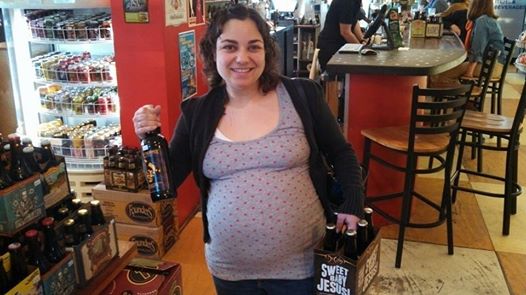 Have a great day!
I had a wonderful holiday celebrating with my family and hope that everyone else did as well!  Here's how it went!
Saturday morning, I woke up early to finish cleaning before my family got here.  My brother, Mikey, got in around 2 so he, Ben, and I decided to go have a late lunch at Brixx Wood Fired Pizza.  Afterwards, we did a little Christmas shopping and then went over to my friend Collin's house for a Christmas get-together with friends.  After a fun night and a white elephant gift exchange, we headed home.  My mom and Carrie didn't get in until about 3:30 AM.  Ben and I woke up to let them in and gave them the tour of the new house since they hadn't seen it yet.  After a short visit, we all went to bed to rest up for the next day.
Sunday morning, we got up and took it easy.  I made everyone coffee and cooked bacon, eggs, and toast for breakfast while Mikey made us all bloody marys.  After breakfast, we watched our Texans play and hung around the house visiting and looking at the fun stuff that my mom brought from Texas that she'd been storing for years.  We decided we needed to get out of the house for dinner and went to The Local since it is one of the few restaurants in Charlottesville that Mikey, Carrie, and Mom had never been to.  We had a great dinner and all ordered something different so we could each try a few bites of everyone else's dinner.  Afterward, we stopped by our condo to show them how the renovations looked and then watched for Christmas lights on our way home.
Monday morning, we got up and all enjoyed some light breakfast and visited.  After everyone had showered and gotten ready for the day, we headed out for lunch.  We went to Basil to have some great Mediterranean food complete with tabouli, hummus, baba gannoush, lebne, grape leave, and complimentary baklava.
It was a delicious lunch and we were all stuffed!  Then we went to see the movie American Hustle.  We enjoyed the movie and then headed to Pier One to exchange some gifts and then to the grocery store to buy ingredients for Christmas dinner.  When we got home, we all helped to make sausage balls and pralines.  Then we sat down to watch National Lampoon's Christmas Vacation (one of my favorite Christmas movies).
Tuesday was my birthday and we headed over to one of my favorite restaurants, Beer Run, for brunch.  I got my favorite dish, nachos, and we all enjoyed bloody marys and beers.
We did a little Christmas Virginia wine and beer shopping before leaving and then headed home to make some baklava and caprese kabobs to take over to my in-laws house where we celebrated Christmas and my birthday.  My mother-in-law Virginia Mom made the most amazing spread of food…she had everything and it was all so delicious!  Then we ate some of this amazing cake:
My Virginia Mom made the cake out of black beans but it tasted just like chocolate and it had layers of chocolate and Reese's Peanut Butter cups on the inside!  It was delicious AND full of protein!
The family sang happy birthday to me: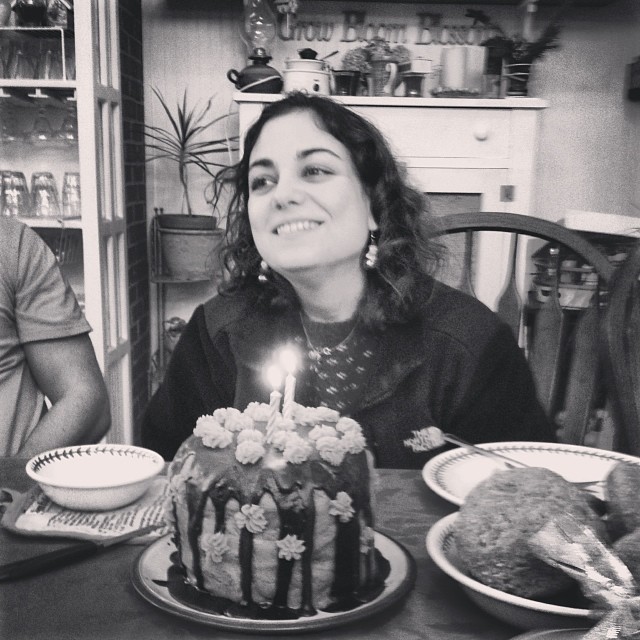 And I blew out my candles making a wish (it's a secret):
Then we opened gifts and enjoyed each other's company for the rest of the evening.  We went home and everyone scrambled to finish putting the last minute touches on their gifts and complete their wrapping.  Our tree looked like this:
Christmas morning, we awoke to this:
And my mom surprised Ben by hand-making him a stocking to match the ones she made my sister, brother, and I as babies:
We all opened presents, enjoyed mimosas, and ate sausage balls and had a wonderful Christmas morning!
Then we went to work on dinner.  Mom made augratin scalloped potatoes, tenderloin, creamy horseradish sauce, bacon-wrapped green beans, rolls, Granny Scott's Wilted Leaf Lettuce Salad, and blackberry cobbler for dessert!  It was all so delicious and she outdid herself once again!  Ian, Sarah, and Phyllis joined us for dinner: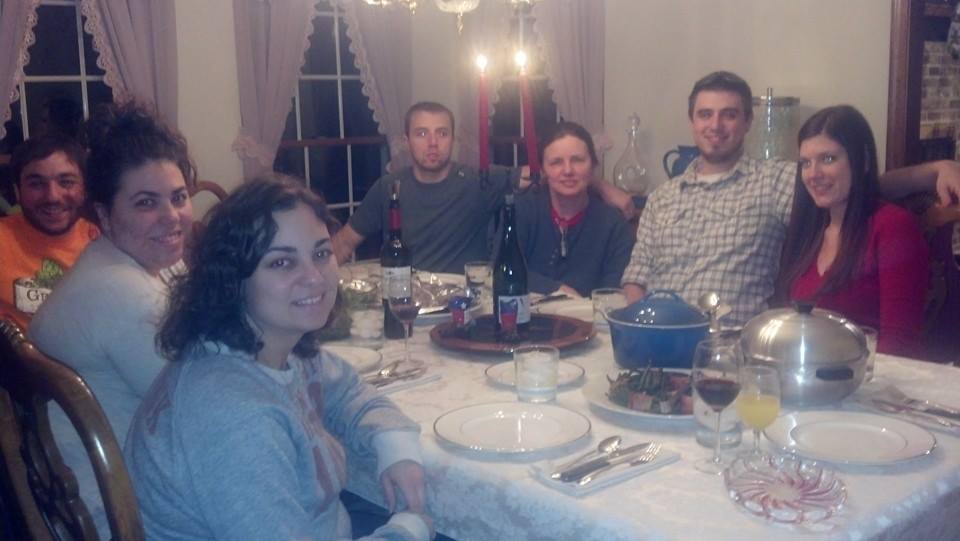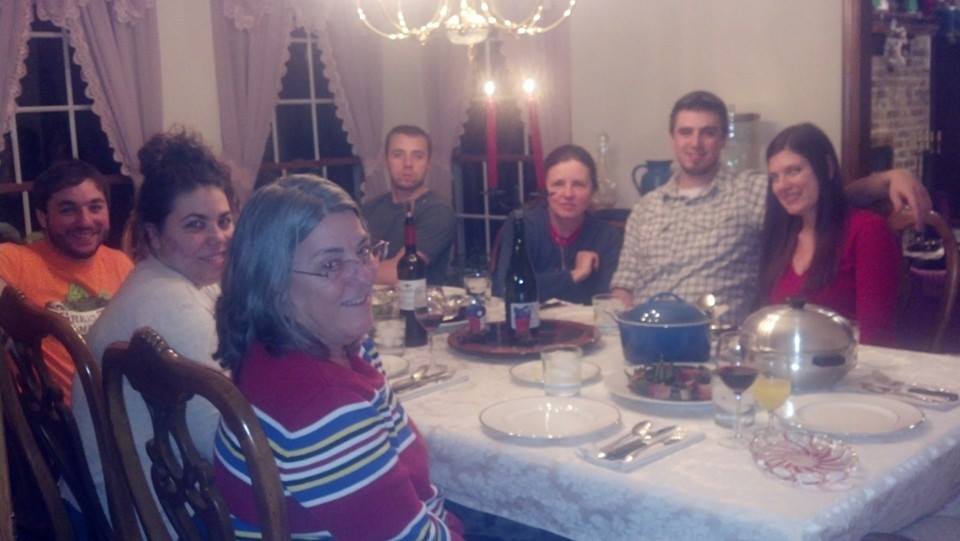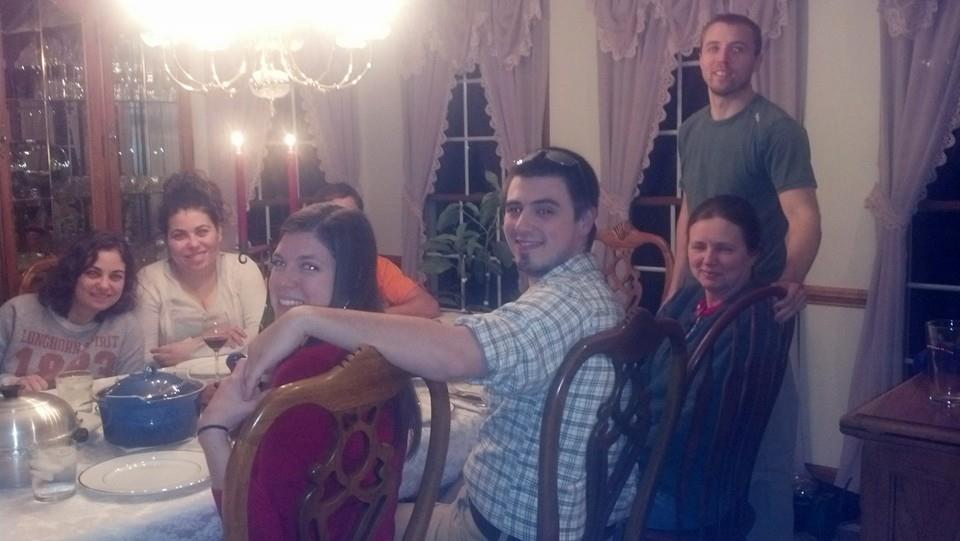 We finished the evening by spending time together and Skyping with some family in Texas.  In was the most amazing holiday and now I am so sad that it is over and so sad that my family had to leave.  However, I am so happy and grateful they could be here and can't wait to see them again soon!
Merry Christmas everyone and happy New Year!
P.S.  Thanks to Sarah, Mikey, and Carrie for many of the pictures!
Happy Thankful Monday!
Here's what I'm thankful for today:
I'm thankful for a wonderful day Christmas shopping with Ben yesterday, and I'm very thankful and happy about our very first Christmas tree (pictures to come once it's decorated).  I'm also thankful for a strong husband who is able to lift and move the tree and also knows how to take care of it (Ben wants to root the tree outside after Christmas is over).
I'm thankful for a wonderful weekend with family.  Friday night, Ben and I joined his parents and two nieces for our annual holiday trip to Richmond for the Lewis Ginter Botanical Gardens' Dominion GardenFest of Lights.  Then Saturday, I spent the day baking and doing Christmas crafts with my mother-in-law and nieces.  I made two terrariums that I'm very proud of!
I'm sooooo very thankful that I got to spend a day with my cousin Jennifer!  Her husband was in Baltimore for business so she came with him and drove down for the day on Wednesday.  We started off by catching up over lunch at Timberwood Grill, then headed to Monticello to do the tour since she had never been.  Then we went to the Downtown Mall, bought some Virginia Wine at Market Street Wine Shop, and met Ben for dinner at South Street Brewery.  We ended the evening by baking brownies at home.  Thursday morning, we had breakfast at Bodo's before Jennifer headed back to Maryland.  I was sad to see her go but soooo happy that we got to spend precious time together.  I love my family!
I'm thankful for the wood stove in our house and for a husband who has been building fires to keep us warm.  Our heater broke again on Friday morning so we were forced to start using our wood stove.  Wow does that thing work great!  It heats the house almost well enough that we don't need the heater!
Lastly, I'm thankful for the holidays and family to spend them with.  Last year I was somewhat of a scrooge because we couldn't have a Christmas tree, I didn't have much PTO saved up yet (and I work in retail), I was turning the dreaded 30, and I couldn't go home for Christmas.  This year, we have a beautiful house to spend the holidays in, I can take a few days off of work, my family is coming to spend Christmas with us since we have plenty of room in the new house, we have our first Christmas tree together (after being together for seven and a half years), and I'm not turning 30 this year 😉 !
Have a great week and enjoy the this time of year!
Good morning and welcome to my weekly Thankful Monday post.
Here's what I'm thankful for today:
I'm very grateful that my work is sending me to a 4-day training course covering ASP.NET, web application development, JQuery Mobile, and many other tools and technologies.  Since I have no formal training in web development (everything I know, I taught myself or learned from coworkers), I think this class is going to greatly benefit me!  Thanks to my job for the wonderful opportunity!
I'm thankful for good friends!  Over the past week, I was able to spend a lot of time with great friends.  Last Wednesday, I went to the free beer tasting at Market Street Wine Shop with Sarah and my friend Marian who I hadn't seen in months.  Then Marian, her daughter Katie, and I checked out the new Livery Stable for dinner.  I also got to spend a wonderful evening drinking wine, eating Lindsey's homemade chili, enjoying music, and watching the sunset at Carter Mountain Orchard's Sunset Series.  It was great to hang out with Sarah, Ian, Lindsey, Greg, and their family!  Then Saturday, we got to hang out with my friend Becky and her family at the race we participated in.  To top it all off, we had lunch with Robert and Crystal at Olive Garden on Saturday!  What a wonderful week filled with great friends!
I'm thankful that a lot of important people in my life have made it through surgeries safely lately.  My dad and some friends have had recent surgeries and though they are still recovering, I'm very grateful they made it through risky medical procedures and are on the mend.
I'm thankful for the opportunity to help raise money for a little girl in need.  Saturday, Ben and I ran the Benefit 5K for Shiloh Thompson.  It was a really fun race with great prizes and they had a skydiver show at the end of the race where we got to watch 3 skydivers jump from a plane and land in the neighborhood where the race took place.  Ben even won 4th place in the race and 1st place in his age group!  Most importantly, it was great to help a little girl in need and her family!
Lastly, I'm thankful for a close family.  My brother got to go to Houston for his birthday this weekend and even though I wasn't there to help him celebrate, I'm very happy that the rest of my family was there to help him enjoy his birthday weekend!
Have a wonderful week!
Good morning!  Yesterday was Memorial Day and my brother was in town visiting for the long weekend, so I didn't have a chance to log in and write my weekly Thankful Monday post so here it is for Thankful Tuesday:
First and foremost, I am so thankful for all of the men and women who have given their lives and those who continue to serve to allow us to live in a wonderful and free country.  Words will never be sufficient to honor them, but I am grateful for the sacrifices of them and their families.

Secondly, I am so thankful for a weekend with my little brother, Mikey.  He drove up from South Carolina to spend the weekend with us and see our new house.  We had such a blast hiking and swimming in Sugar Hollow, hanging out on the farm and shooting skeet, trying different beers and wines at local breweries and wineries all over the area, and of course watching Arrested Development!  I'm so grateful to get to spend time with my family and also very thankful that Ben's family embraces my family and that we all get along.  I love my brother and can't wait until we get to have another sibling weekend!
I'm thankful for the beautiful weather this weekend that allowed us to spend some time in nature and the outdoors.
I'm thankful for family, friends, and fun times.  We had a blast at the Market Street Wine Shop Free Wine Tasting, Fridays After Five, Beer Run, Timberwood Grill, the Beer Hound Brewery, Sugar Hollow, the Whiskey Jar, Commonwealth Skybar, Mountfair Vineyards, Jefferson Vineyards, and Stinson Vineyards.  I'm also thankful for the opportunity to live in such an amazing place with so many things to do.
Lastly, I'm thankful for the 3 day weekend and a short week!
Have a good one!
It's starting to feel like fall!
After the sweltering heat that we've endured this summer, I'm welcoming the autumn season with open arms.
Fall always reminds me of new beginnings: starting school, starting a new job, entering into a new relationship.  These significant events in my life have almost always happened during fall, so the familiar smell of the air and feel of the breeze cooling you as the sun warms your skin perfectly always makes me happy and nostalgic.
Tomorrow, I'm attending the Harvest Wine Festival At The Plains and will happily be sipping local wines while enjoying the company of friends and the feel of the grass beneath my body.  Next weekend, I'll be attending and "starring in" the autumn harvest themed wedding of two dear friends.  I can't think of a better way to welcome the season!
A few weeks ago, when I was in Dallas for my cousin Megan's bridal shower and bachelorette party, we wanted to buy some wine to enjoy on Friday evening.  After browsing the wine aisles at her local grocery store we finally decided on two bottles.  One was named Little Black Dress, which we chose for its name, and the other, pictured above, was Mission de San Antonio Valero from Fall Creek Vineyards in Texas, which we chose for its label.
Normally, I don't judge wines by their covers, and I usually purchase based on taste or recommendation, but I guess being in Texas made me feel a little crazy, and I decided to trust my instinct!
The wine was good, but the label was even better!
Why do I love the label you ask?
Well I shall tell you:
First, I love San Antonio because it is beautiful, full of culture, and its where I spent my 4 years during college.  I miss it greatly!
Second, it has an image of the Alamo on it and in GOLD no less!  The Alamo is only one of the most defining images of Texas!
Third, the Alamo, pictured on the label, has much personal significance to me, besides the fact that it is a part of Texas history.  When I was a freshman in college, I got "stuck" in a semester-long class about the Alamo.  It was ALL Alamo, ALL the time!  At first, I was not enthusiastic about this class, as it had been my last choice.  But it grew on me.  I learned alot, met some great people in the class (some of my first friends in college), and had the opportunity to learn from one of my favorite professors, Dr. Linda Salvucci.  In addition, this class introduced me to genealogy.  As out final project, we had to write a 10 page paper on any topic relating to the Alamo.  I had a great, great, great (ok lots of "great"s) uncle named Edward F. Mitchusson from Kentucky who was the surgeon at the Alamo and fought and died for Texas' independence!  I got to do research at the Daughters of the Republic of Texas Library where I read old letters from my ancestors and I compiled the largest document of facts on my relative.  Not only did I get an A in the class, I also learned alot about my heritage, genealogy, research in general, and Texas!  I also contributed to documenting my family history!
So now you know why I just HAD to buy the wine when I saw the label!
Last night was a blast!
Cheryl, Jennifer, Kristen, and I headed out to the Charlottesville Pavillion to celebrate the first day of summer and see Colbie Caillat and Sheryl Crow play!
We started out the evening at my apartment with a quick glass of wine and then headed to the downtown mall.  You may remember me writing about Ventana a few months ago and their very unique margaritas.  Well Ventana was offering a discount to all Sheryl Crow ticket holders so we decided to stop in for a pre-concert cocktail.  I finally got to try the cucumber margarita.  It was delicious!  It wasn't as good as the jalapeno margarita, but it was definitely the perfect refreshing beverage for a hot summer day.  Jennifer tried the strawberry margarita and Cheryl had the habanero margarita which I tried the last time I was at Ventana.
After drinks, we headed to the Pavillion for the music.  We enjoyed some awesome Star Hill Lucy as we chatted and listened to Colbie Caillat play.
When Sheryl Crow took the stage, we got to hear all of our old favorites and some new ones too!  We danced and sang and had a great time and even bumped into some more friends!
Overall, it was an awesome first day of summer.  We definitely started Summer 2010 off right!
Yesterday I attended the Crozet Music Festival with some friends from work.  We went to support a group of guys from VGT who have a band called Coal River.  These guys were AWESOME!  They sang some really good cover songs as well as some of their own unique tunes.  If you've got some free time and feel like hearing some great local music, check out their MySpace page.
In addition to listening to some great bands, there were several local wineries and breweries there.  Hill Top Berry Farm & Winery (mentioned in an earlier post) was there and had a newly bottled wine called Lavender Metheglin.
From Hill Top Berry Farm & Winery's website:
Metheglin is derived from the Welsh word "meddyglyn" which means healing drink.  In ancient times, healing spices were added to mead resulting in a  drink with healing powers.  Lavender, believed to promote good health, is also soothing and relaxing and is associated with romance and seduction.  Possessing a beautiful golden color and a bouquet of fresh lavender flowers, this slightly sweet mead can be enjoyed heated or paired with desserts such as blackberry cobbler.
This wine was amazing and hopefully it really does have healing powers since I've been fighting a cold.  I loved it so much that I bought 3 bottles of it.
In addition, I sampled wines from Well Hung Vineyard (love the name and their label) and Flying Fox Vineyard which had some really good wines (and really cute labels).  I'm going to have to make it out to Flying Fox's tasting room to try their 2006 Petit Verdot which won a Gold Medal in the 2009 Virginia Governor's Cup wine competition.  It tied for first place with Barboursville Vineyards ' Octagon 2005 and Jefferson Vineyards' 2006 Meritage (according to the owner) and I loved both of these wines.
Local breweries in attendance included Starr Hill, Blue Mountain Brewery (was really sad I missed out on their Humpback Oktoberfest but will have to make a trip out to Nelson County to try it and their up-and-coming Chocolate Pumpkin Porter), and Devils Backbone Brewing Company (I had the Gold Leaf Lager which was delicious).
In the end, it was an awesome night with lots of friends, good music, good food, and great wine and beer (despite my cold).  I will definitely be attending again next year and you should too!