Archive for the 'Seasons' Category
Good morning and welcome to my Monday morning Thankful Monday post!
I feel like everyone is especially thankful this week because Thanksgiving is on Thursday.  Here's my thankful list for today:'
I am thankful for my husband Ben.  He made me french toast for breakfast yesterday, and even though he has this week off of work and didn't have to get up early, he got up at 6:30 AM and offered to make me breakfast before work.  He made me french toast again (DELICIOUS) and it's the first time in a long time I can remember eating my breakfast at home and not taking it with me to work!  He is also coming to meet me for lunch today since he has the day off!  I love him and I'm so lucky to have him!
I'm thankful for having a working heater and for modern heating systems.  It was 17 degree this morning when I left the house and yesterday the high was only 35 degrees.  I am definitely not a fan of winter and cold weather so to be able to stay nice and warm inside is something I appreciate greatly!
I'm thankful for a healthier mind, body, and outlook on life this year.  This time last year, I was very depressed and anxious.  I knew I was going to have to spend the holidays (both Thanksgiving, my birthday, AND Christmas) without my family for the first time ever and I wasn't adjusting well to having to leave my old job and everyone that I loved working with as well as my wedding being over.  Thanks to a great deal of hard work, research, soul searching, and mindfulness techniques that I learned (including these Thankful Monday blog posts), I am learning how to be happy and find happiness from within.  I still have a long way to go and recognize that this is a lifetime process that I can't just stop once I think I've mastered it.  I'm just so happy to be in a much better place than I was a year ago.
I'm thankful for wonderful friends who brighten up my life.  Tuesday, I enjoyed girls night with two good friends and their lovely daughters.  It's always fun to see their babies growing up and to catch up with them.  Then Friday, I had frozen yogurt (YUM) with Sarah, Meghan, and Meghan's cut little baby at Bloop, followed by dinner with lots of friends at Miller's to bid farewell to my awesome friend Wilson before she moves to the west coast.  Then I got my Bodo's fix (I hadn't had Bodo's in way tooo long) while visiting with Ian, Sarah, and Cris.  My life is full of wonderful friends!
Lastly, I'm thankful for a family to spend the holidays with.  I know that alot of people don't have anyone close to them to spend Thanksgiving with or can't afford to travel home to be with the ones they love, so I am thankful that I married a man whose family loves me and lives nearby.  I always remember a man that I worked with at VGT named Charles.  Every year, he and his wife would invite everyone in the company (there were at least 250 of us) to his home for Thanksgiving dinner.  Alot of people at VGT relocated for the job so I think this gesture was especially generous because so many people were living far from their families.  Sadly, Charles died not too long ago, but I will always remember his generosity, especially around Thanksgiving time.
Happy Thanksgiving and have a wonderful week!
I love dark beers, particularly porters and stouts, however in the summer, its usually just too damn hot to imbibe in them.  If I happen to catch myself out on a relatively cool summer night or come across a rare dark brew that I have been dying to try, I'll drink it, but I usually stick to lighter beers when the weather's hot.
I'm not a huge fan of winter as I've written before, mostly because I loathe the dark, short days and can't stand the cold weather.  However, one great thing the cold weather ushers in is my taste for darker beers which also seem to be more widely available in the winter months.
One of my favorite breweries, Terrapin Beer Company, out of Athens, Georgia was recently featured in an episode of one of my favorite shows, The Walking Dead (also filmed in Georgia) and makes one of my favorite dark beers, the seasonal Moo-Hoo Chocolate Milk Stout.  My guess is that Moo-Hoo takes its name from the chocolaty milk beverage called Yoo-hoo due to its smooth, creamy texture and chocolate flavor that comes from the use of cocoa nibs, cocoa shells, and lactose in the brewing process.  In my opinion, Moo-Hoo is a thousand times better than Yoo-hoo ever was, but I am a bit biased seeing as I've become quite the beer snob.
Terrapin makes some really amazing beers including Pumpkin Fest, Hopsecutioner IPA, and a number of rare Side Project beers like the Liquid Bliss I wrote about last year.  In addition, they have some of the most creative and entertaining artwork bringing their labels alive!
I recently picked up a 4 pack of Moo-Hoo at the weekly free beer tasting we go to at Market Street Wine Shop.  I'm really looking forward to enjoying this thick, dark beer now that the days are getting colder.  If you are a fan of beer in just the tiniest amount, I highly recommend checking this brew out while its in season!
Good morning and happy Thankful Monday!
Today, I am thankful for the following:
I am thankful for a wonderful week with friends!  Tuesday, I met some of the VGT girls at Brixx for dinner and catching up.  Thursday, I made this crock-pot chicken taco soup recipe and we had all of Ben's family over for a fun family dinner.  Friday night, Sarah, Amy, and I had a lovely girls night just chatting and relaxing.  Then, Saturday night, I went to Carolyn's Halloween party where I laughed all night long at the outrageous costumes everyone had!  It was a week filled with lots of the people I love.
I am thankful for my cats.  They have been catching mice left and right.  I'm guessing we've been seeing more mice because it's been getting colder and they are looking for a warm place to spend the winter.  I'm thankful my cats are taking care of them before I have to deal with them.  And I'm also very thankful for Ben since he is the one who takes care of disposing of the dead mice the cats have caught.
I am thankful for free movies and date nights.  Wednesday, Ben and I got tickets to a free advanced screening of the move About Time which was really good and we prefaced the movie with dinner at a new Thai restaurant, Bangkok '99 that had really great food and wonderful service.  I love date nights with my husband, especially when they involve free movies!
I'm grateful for a restful weekend.  I took two naps and spent a ton of time bundled up on the couch watching American Horror Story, my current Netflix obsession.  It was the perfect activity for a cold fall weekend.
Lastly, I'm excited for something very special that I can't reveal on the blog yet as its a surprise.  But I can say that it makes me very happy and I count my blessings for it every day!
Have a great week!
Good morning and welcome to my weekly Thankful Monday blog post!
Here's what I'm thankful for today:
I'm thankful that I got to watch the Houston Texans game on TV here even if they did lose against the Baltimore Ravens.  Very rarely do they show the Texans games here but since they were playing a team that is based not too far from where I live, the game was shown on CBS.
I'm thankful for winning the Big Greasy Office Pool last week!  I've played the last two years and never won, but last week, I had the most accurate NFL picks for the week and won a $30 McGrady's Gift Certificate, a Wild Wolf Brewery Prize Pack, a Gift Pack from Century Link, a $30 University Dive & Hobby Center Gift Card, and 4 passes to the Virginia Chili Brews n' Brews Festival in Waynesboro!  Sarah, Ben, and I went to the Chili Cookoff/Festival on Saturday and even though it rained, we had a blast and tasted some interesting chili!
I'm thankful that my husband is so handy and seems to have fixed our TV!  With everything that we've had break in the past couple of months, it's nice that there is something that seems to have been an easy fix (fingers crossed it is actually fixed and will stay that way)!
I'm thankful for the opportunity to start mentoring at Computers 4 Kids again.  I've mentored two students in the past and had taken a break during wedding planning and house searching but now I am ready for student number 3!
Lastly, I'm thankful for the cooler weather.  Although I'm not crazy about the shorter days and it getting dark earlier, I am loving the cooler weather, especially with two broken AC units!
Have a great week!
Good morning!  Spring is actually FINALLY here and we've been having beautiful weather so that is definitely something to be thankful for!
In addition to my gratefulness that spring has arrived, I'm also thankful for the following:
I'm so thankful that Ben and I close on our new house this week!  I can't wait to live in a house again…it's been 8 years since I've lived in an actual house!  So long apartment living!

I'm very happy for my cousin Jennifer and her new husband Eric.  They got married in Florida this weekend and I'm extremely thankful for Facebook and all of her friends and family who posted pictures of the beautiful event and lovely family so that I could share in the celebration.
I'm thankful for the new friends I've made at work who have made working here feel much more comfortable and happy.
I'm thankful for all of the wonderful people who have offered to help us move and fix up our condo to get it ready to rent.  We are lucky to have such kind and generous people in our lives.
I'm thankful that in less than two weeks, I will be a first-time home owner AND I'll be in Texas visiting my family!
BONUS:  I'm thankful that the Farmers Market is finally back in season.  I went early Saturday morning to enjoy it and missed it so much!  I'm glad its back for another 9 months!
Have a wonderful and beautiful week.  I hope everyone is lucky enough to enjoy some warm and beautiful spring weather (sans allergies of course)!
Good morning and welcome to this week's Thankful Monday blog post!
I'm thankful for the following (and lots of other things not listed here as well):
I'm thankful for modern medicine, especially allergy medicine.  It's spring time and with that time of year comes seasonal allergies.  Mine are as bad as ever so I'm very happy to have some Allegra, Zyrtec, Flonase, Nasonex, etc. for some sweet relief.

I'm thankful for my in-laws, especially my mother-in-law  Virginia Mom, who helped us celebrate a lovely Easter Sunday with a delicious lunch, great company, and Easter egg dying!
I'm thankful that we were officially approved for our mortgage loan on the house we have under contract.  I'm also very thankful for the wonderful inspection and appraisal that it received, the great deal we are getting on it, and the nice and friendly couple who are selling it to us and have taken such great care of the house.
I'm sad that one of my favorite shows, The Walking Dead, is over until October, but very happy and grateful that its Sunday night spot will be replaced with another one of my favorite shows, Game of Thrones.
I'm thankful for another Monday and a new month to start fresh!
Happy April, happy week, happy everything!
Good morning and welcome to my Thankful Monday post!
Today, I'm thankful for the following:
I'm thankful for a wonderful day with friends yesterday.  First, we had breakfast at the Tavern on the James and then we went to the James River Brewing Company that I've been wanting to try for a long time.  It was great company, great food, and great fun!
I'm thankful that I have amazing women in my life who are all willing to put in the effort to keep in touch.  Friday night, I met up with several of the ladies I used to work with at VGT for dinner and drinks.  It was so nice to catch up with everyone and I'm always grateful to have another Girls' Night to look forward to!
I'm thankful to have so many friends who are pregnant or who have recently had babies.  Not only am I thankful that their pregnancies all seem to be going well, but I'm also so happy to see so many wonderful friends bringing new life into this world.
I'm thankful that Spring is here!  Although we had about 3 inches of snow last night, we had a beautiful, sunny, and warm day on Saturday that Ben and I enjoyed by running 5 miles along the river.  I think this is the last of the snow we will have this season.
I'm thankful again for the opportunity to work from home today.  As I mentioned before, we had snow overnight and it is supposed to continue to snow until this evening so I'm very glad I have a job that allows me the flexibility to work from home so that I don't have to risk my safety and others' on the roads.
Have a terrific week!
Good morning and welcome to this week's Thankful Monday blog post!
Today I am thankful for the following:
I'm thankful that Spring is almost here and we are already starting to see some pretty purple and yellow flowers blooming.  Although we haven't had a ton of snow this winter, it has felt so dark, cold, and long so the idea that Spring and longer days are on the horizon makes me so happy!

I'm thankful that our longest training run for the Charlottesville Ten Miler is finished.  We did 11 miles yesterday (ok I only did 10.8). and it feels so good to know that the race will be shorter!
I'm thankful that we finally have a house under contract.  I know it is not ours yet, but it's the closest we've gotten so far to finding our new home.  My fingers are crossed that inspection, appraisal, and closing all go as planned.
I'm thankful for a weekend that was filled with fun and many friends, including Nita, Sarah D., Collin, Sarah W., Scott, Kennith, Courtney, Deb, Robert, and Crystal.  I also got to see lots of family this weekend including my sister-in-law, mother-in-law, father-in-law, and nephew.
I'm thankful for sunshine because it makes me feel so good and happy!
I hope you have a great week filled with lots of sunshine!
Saturday night, I was in the mood for some pumpkin themed activities, so we headed over to Ian and Sarah's house for dinner, pumpkin carving, pumpkin seed roasting, and pumpkin beer tasting!
Sarah cooked the amazing dinner and I provided the pumpkin ales and pumpkins for drinking and carving.  Sarah made white bean vegetarian chili which was delicious.  It had the consistency of potato soup but the taste of chili and it was perfect for a breezy fall evening.  I brought over Rogue Pumpkin Patch Ale, Williamsburg Alewerks Pumpkin Ale (a Virginia beer!), and Smuttynose Pumpkin Ale which I picked up from Beer Run which always has an amazing beer selection!  Rogue and Smuttynose were both kind of spicy with hints of pumpkin and nutmeg while Williamsburg Alewerks was more sweet like pumpkin pie.
After dinner, we carved pumpkins with the help of Amy, Joel, Collin, Ian, and Ben.  Sarah opted for an awesome design created using the power tool pumpkin carving method.  She used a drill to create decorative holes all around the pumpkin's surface.  I of course had to go with a Texas theme!  Due to my lack of artistic ability, I had Ben draw the shape of Texas  freehand.  It looked great but we were worried it would be too difficult to carve, so he drew me a Texas Longhorns logo instead.  It came out great and the Texas themed jack-o-lantern is now being proudly displayed outside our front door.
We used the seeds from our pumpkins to roast cinnamon sugar pumpkin seeds and garlic pumpkin seeds and ended the evening feasting on them while watching Netflix.  It was a great night with great friends and the perfect way to celebrate Halloween weekend!
And by "Winter Is Coming", I'm not just referring to one of my favorite shows, Game of Thrones, which I am really excited to see the third season of beginning in March.
Today is the last full day of summer and tomorrow is the Autumnal Equinox, or official beginning of fall.  And as fall leads to winter, I started thinking about my first winter here in Virginia.  It was my first real winter and my first real snow storm I had experienced.  We received 6 inches of snow in Charlottesville in early 2006 and the next day, I was like a kid on Christmas.  I headed outside with my camera to view the landscape covered in white powdery snow.  I think it was pretty obvious to others that I'd grown up someplace far away that never experiences such phenomenon.
I wanted to showcase one of my favorite photos from that day.  I lived in an apartment complex that had a lake, really a large pond, that often provided a sanctuary to local ducks, geese, and swans.  The reflection coming from the sun on the water as the geese basked in the sunlight after a long night of cold and cloudy snow really lets you feel the calm after the storm.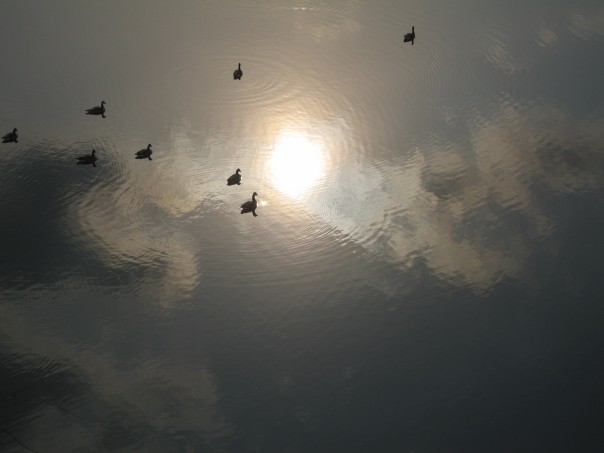 I'm hoping we get some snow this winter, especially after the uneventful winter we had last season.  I'm not a huge fan of winter time, but if it's going to be cold and dark and dreary, I'd rather had some beautiful snow to go with it.  After all, when everything's white, the world looks a little bit brighter!