Archive for the 'Beer' Category
Happy Tuesday to whoever might be reading this!
Here's what I'm grateful for today:
I'm thankful for a fun weekend with my boys which involved playing at Pen Park, Friday lunch with Daddy at Zoe's, the Farmer's Market, an awesome twin birthday party, and watching Zootopia!  It feels like we lived life to the fullest this weekend and I'm thankful for that opportunity.
I'm thankful for the nice pedicure I got on Thursday afternoon and the sweet lady who did my toes.  She is a twin and was telling me how much she loves her twin sister and this made me feel happy and hopeful for my boys and their future relationship.
I'm thankful for my mother-in-law and father-in-law for watching the boys so Ben and I could try out the new Random Row Brewing Co. on Sunday and see a movie.
I'm thankful to live in a great city that seems to always have so much to offer.  I'm usually overwhelmed with options for things to see and do and luckily, most of them are kid friendly!
Last but not least, I'm grateful for the opportunities I have to grow and learn at work.  I've been learning so many new things lately, ajax, Knockoutjs, database design, and I'm so thankful for the opportunity and the help and experience from my coworkers!
Have a great day!
Oh wow!  It's been a while since my last post!  Summer has been busy yall!  I need to remember to be grateful and keep a positive outlook on life so here's a few nuggets of gratitude!
I'm thankful for the opportunity to fly to Texas with Ben and the boys back in July and introduce Carter and Morgan to so many friends and family and the place that I first (and will forever) called home!  They got to meet so many people who are some of the most important people in my life and that makes me so happy!
I'm thankful for an amazing summer so far!  We've done so much, including but not limited to, graduated from swimming lessons, tried out our first splash park, flew to Texas and back, ate authentic Tex-Mex, went to the Richmond Zoo, met and visited uncles, aunts, and cousins (in both Texas and Virginia), attended 2 beer festivals, went to King Family Polo with awesome friends, had so many awesome play dates, went swimming, visited new wineries and breweries, tried lots of new foods and restaurants, and went on lots of fun walks!  If I have time, I'll do a detailed recap of the boys' big summer.  What a blast it has been and I thank my boys and everyone involved for making it so much fun!
I'm thankful for a new restaurant in town I've discovered, Brazos Tacos.  It is owned and run by Texans, serves authentic Texas-style tacos and awesome salsas and guac, and is totally kid friendly!  I'm so thankful for a little taste of home here in Virginia.
I'm grateful for awesome coworkers and cool people I have the opportunity to work with.  I'm lucky to be surrounded by such talent and amazing personalities.
I'm grateful for all of the moms in my life…they make being a mom myself so much easier and so much more fun!
Love to you all!
Today I've got made thanks for the following:
I'm thankful that both boys slept all night because all 3 of us really needed it with fighting these colds!
I'm thankful we got through the time change this weekend without any major sleep issues.
I'm thankful for celebrations coming up…lots of fun baby showers and my boys' first birthday party!
I'm thankful for a fun weekend that included brunch with my husband at World of Beer (awesome breakfast tacos) followed by the movie Chappie.  Then I got to meet awesome friends for dinner and drinks at Timberwood Grill for Collin's birthday followed by cake and beer at his house.  Timberwood had Three Notch'd Brewery's new Biggie S'mores Imperial Stout that I've been wanting to try!  And to top it off, we took the boys to brunch at Fellini's (they have a Make Your Own Bloody Mary Bar) with our awesome pals, Robert and Crystal, followed by a sunny, warm stroll on the Downtown Mall!
I'm grateful for my husband!  I love him so much and the older the boys get, the better partners in parenting we are becoming!
Happy day friends!
I'm thankful for a free moment to write this post! 😉
I'm a busy woman but not too busy for gratitude!  Here are some of my thankful things today:
I'm thankful my boys are 7 months old today!  They started out as tiny premature babies, but they are now big and healthy little guys!
I'm thankful for a fun and relaxing week last week and the opportunity for my boys to enjoy their first Thanksgiving!  We spent the day Skyping with my family in Texas, visiting their grandparents, spending time with their aunt, uncle, and cousin, eating a new kind of squash that their grandma grew, and trying their first meat, turkey.
I'm thankful for technology, Skype in particular, for allowing me to spend time with my family over the holidays even though we live far apart.  I'm also thankful my boys are getting to know their Texas family via Skype!
I'm thankful for good friends and good times!  My friend Lindsey came over to bake pies Wednesday night and it was so nice to get to visit with her.  Then on Monday, Sarah and I took all the babies on an almost 2 hour long walk and enjoyed the unusually warm weather!  I don't get to spend as much time with friends as I used to so I'm even more thankful for those opportunities now.
Lastly, I'm thankful for the fun date night Ben and I had Saturday and also thankful to my mother-in-law for watching the boys.  Ben and I went to South Street Brewery where we had our first date a few years ago.  It was recently bought out by another local brewery so they had a renovated space, new menu, and lots of new beers to try.  So of course we went all out by ordering an appetizer with our meals and trying a flight of all the beers.  Then we saw Interstellar which was an awesome movie!  I miss these date nights but it's nice that we still get the opportunity to have them occasionally as I know there are many parents out there who do not have that option.
Happy day friends!
I had a wonderful holiday celebrating with my family and hope that everyone else did as well!  Here's how it went!
Saturday morning, I woke up early to finish cleaning before my family got here.  My brother, Mikey, got in around 2 so he, Ben, and I decided to go have a late lunch at Brixx Wood Fired Pizza.  Afterwards, we did a little Christmas shopping and then went over to my friend Collin's house for a Christmas get-together with friends.  After a fun night and a white elephant gift exchange, we headed home.  My mom and Carrie didn't get in until about 3:30 AM.  Ben and I woke up to let them in and gave them the tour of the new house since they hadn't seen it yet.  After a short visit, we all went to bed to rest up for the next day.
Sunday morning, we got up and took it easy.  I made everyone coffee and cooked bacon, eggs, and toast for breakfast while Mikey made us all bloody marys.  After breakfast, we watched our Texans play and hung around the house visiting and looking at the fun stuff that my mom brought from Texas that she'd been storing for years.  We decided we needed to get out of the house for dinner and went to The Local since it is one of the few restaurants in Charlottesville that Mikey, Carrie, and Mom had never been to.  We had a great dinner and all ordered something different so we could each try a few bites of everyone else's dinner.  Afterward, we stopped by our condo to show them how the renovations looked and then watched for Christmas lights on our way home.
Monday morning, we got up and all enjoyed some light breakfast and visited.  After everyone had showered and gotten ready for the day, we headed out for lunch.  We went to Basil to have some great Mediterranean food complete with tabouli, hummus, baba gannoush, lebne, grape leave, and complimentary baklava.
It was a delicious lunch and we were all stuffed!  Then we went to see the movie American Hustle.  We enjoyed the movie and then headed to Pier One to exchange some gifts and then to the grocery store to buy ingredients for Christmas dinner.  When we got home, we all helped to make sausage balls and pralines.  Then we sat down to watch National Lampoon's Christmas Vacation (one of my favorite Christmas movies).
Tuesday was my birthday and we headed over to one of my favorite restaurants, Beer Run, for brunch.  I got my favorite dish, nachos, and we all enjoyed bloody marys and beers.
We did a little Christmas Virginia wine and beer shopping before leaving and then headed home to make some baklava and caprese kabobs to take over to my in-laws house where we celebrated Christmas and my birthday.  My mother-in-law Virginia Mom made the most amazing spread of food…she had everything and it was all so delicious!  Then we ate some of this amazing cake:
My Virginia Mom made the cake out of black beans but it tasted just like chocolate and it had layers of chocolate and Reese's Peanut Butter cups on the inside!  It was delicious AND full of protein!
The family sang happy birthday to me: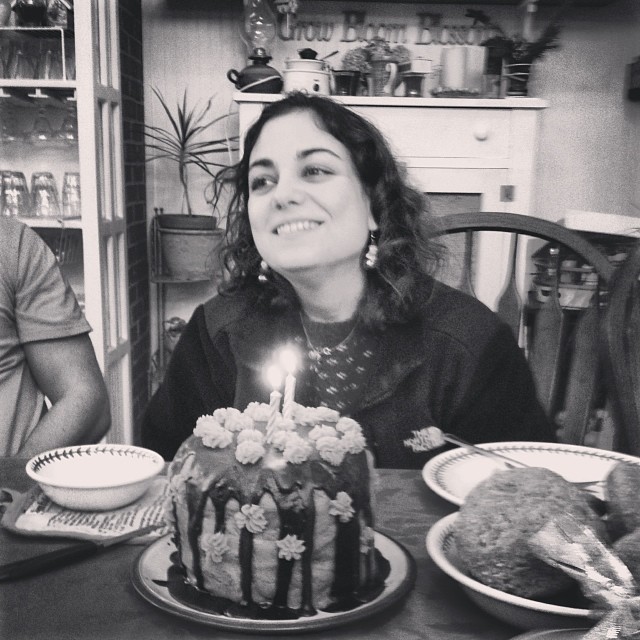 And I blew out my candles making a wish (it's a secret):
Then we opened gifts and enjoyed each other's company for the rest of the evening.  We went home and everyone scrambled to finish putting the last minute touches on their gifts and complete their wrapping.  Our tree looked like this:
Christmas morning, we awoke to this:
And my mom surprised Ben by hand-making him a stocking to match the ones she made my sister, brother, and I as babies:
We all opened presents, enjoyed mimosas, and ate sausage balls and had a wonderful Christmas morning!
Then we went to work on dinner.  Mom made augratin scalloped potatoes, tenderloin, creamy horseradish sauce, bacon-wrapped green beans, rolls, Granny Scott's Wilted Leaf Lettuce Salad, and blackberry cobbler for dessert!  It was all so delicious and she outdid herself once again!  Ian, Sarah, and Phyllis joined us for dinner: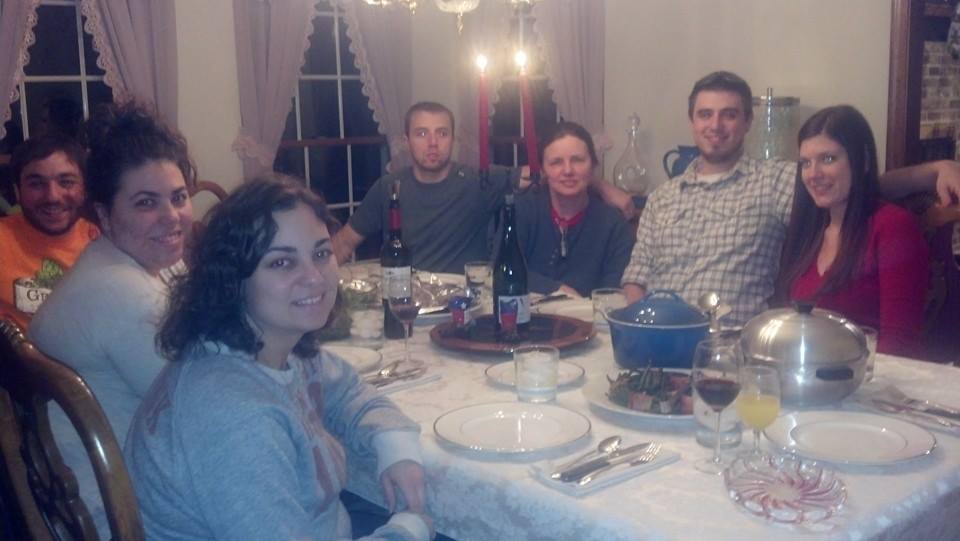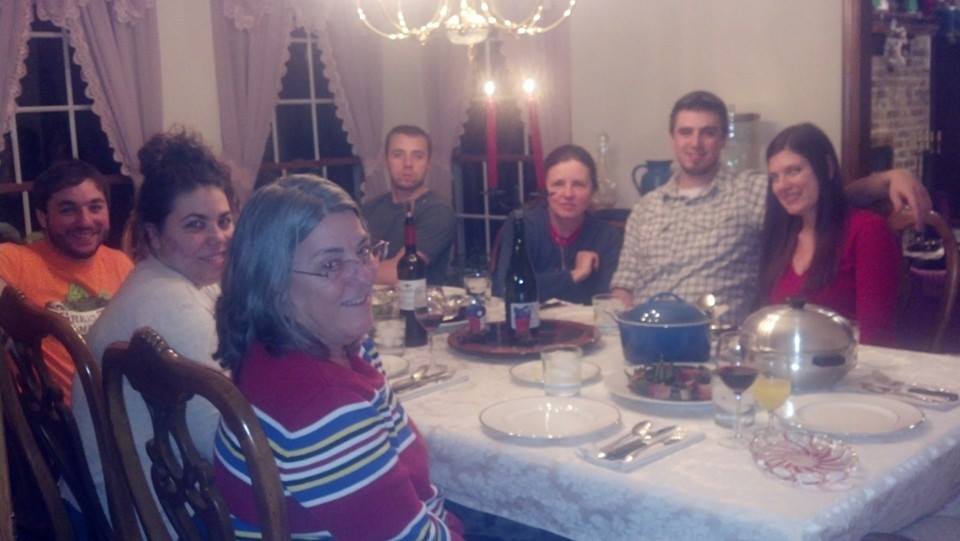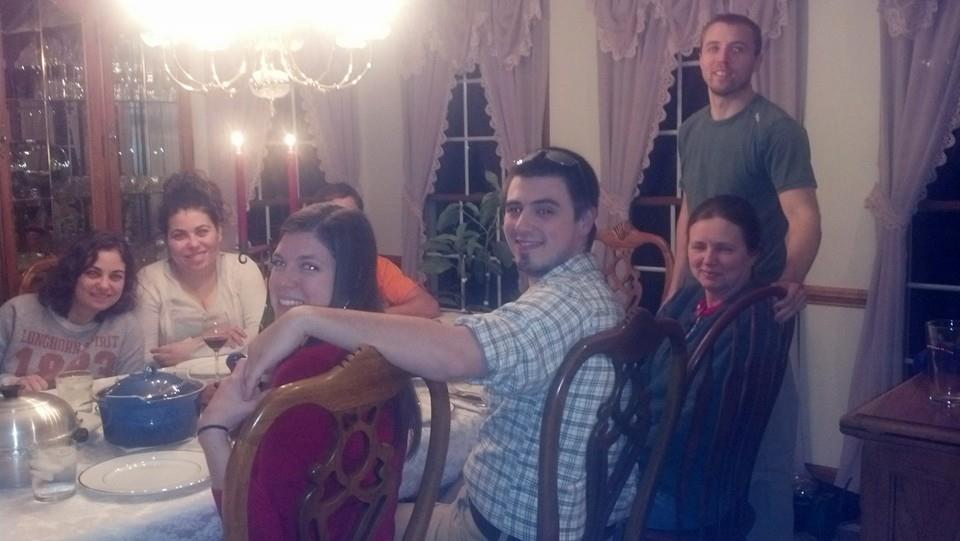 We finished the evening by spending time together and Skyping with some family in Texas.  In was the most amazing holiday and now I am so sad that it is over and so sad that my family had to leave.  However, I am so happy and grateful they could be here and can't wait to see them again soon!
Merry Christmas everyone and happy New Year!
P.S.  Thanks to Sarah, Mikey, and Carrie for many of the pictures!
I love dark beers, particularly porters and stouts, however in the summer, its usually just too damn hot to imbibe in them.  If I happen to catch myself out on a relatively cool summer night or come across a rare dark brew that I have been dying to try, I'll drink it, but I usually stick to lighter beers when the weather's hot.
I'm not a huge fan of winter as I've written before, mostly because I loathe the dark, short days and can't stand the cold weather.  However, one great thing the cold weather ushers in is my taste for darker beers which also seem to be more widely available in the winter months.
One of my favorite breweries, Terrapin Beer Company, out of Athens, Georgia was recently featured in an episode of one of my favorite shows, The Walking Dead (also filmed in Georgia) and makes one of my favorite dark beers, the seasonal Moo-Hoo Chocolate Milk Stout.  My guess is that Moo-Hoo takes its name from the chocolaty milk beverage called Yoo-hoo due to its smooth, creamy texture and chocolate flavor that comes from the use of cocoa nibs, cocoa shells, and lactose in the brewing process.  In my opinion, Moo-Hoo is a thousand times better than Yoo-hoo ever was, but I am a bit biased seeing as I've become quite the beer snob.
Terrapin makes some really amazing beers including Pumpkin Fest, Hopsecutioner IPA, and a number of rare Side Project beers like the Liquid Bliss I wrote about last year.  In addition, they have some of the most creative and entertaining artwork bringing their labels alive!
I recently picked up a 4 pack of Moo-Hoo at the weekly free beer tasting we go to at Market Street Wine Shop.  I'm really looking forward to enjoying this thick, dark beer now that the days are getting colder.  If you are a fan of beer in just the tiniest amount, I highly recommend checking this brew out while its in season!
Good morning and welcome to my weekly Thankful Monday post.
Here's what I'm thankful for today:
I'm very grateful that my work is sending me to a 4-day training course covering ASP.NET, web application development, JQuery Mobile, and many other tools and technologies.  Since I have no formal training in web development (everything I know, I taught myself or learned from coworkers), I think this class is going to greatly benefit me!  Thanks to my job for the wonderful opportunity!
I'm thankful for good friends!  Over the past week, I was able to spend a lot of time with great friends.  Last Wednesday, I went to the free beer tasting at Market Street Wine Shop with Sarah and my friend Marian who I hadn't seen in months.  Then Marian, her daughter Katie, and I checked out the new Livery Stable for dinner.  I also got to spend a wonderful evening drinking wine, eating Lindsey's homemade chili, enjoying music, and watching the sunset at Carter Mountain Orchard's Sunset Series.  It was great to hang out with Sarah, Ian, Lindsey, Greg, and their family!  Then Saturday, we got to hang out with my friend Becky and her family at the race we participated in.  To top it all off, we had lunch with Robert and Crystal at Olive Garden on Saturday!  What a wonderful week filled with great friends!
I'm thankful that a lot of important people in my life have made it through surgeries safely lately.  My dad and some friends have had recent surgeries and though they are still recovering, I'm very grateful they made it through risky medical procedures and are on the mend.
I'm thankful for the opportunity to help raise money for a little girl in need.  Saturday, Ben and I ran the Benefit 5K for Shiloh Thompson.  It was a really fun race with great prizes and they had a skydiver show at the end of the race where we got to watch 3 skydivers jump from a plane and land in the neighborhood where the race took place.  Ben even won 4th place in the race and 1st place in his age group!  Most importantly, it was great to help a little girl in need and her family!
Lastly, I'm thankful for a close family.  My brother got to go to Houston for his birthday this weekend and even though I wasn't there to help him celebrate, I'm very happy that the rest of my family was there to help him enjoy his birthday weekend!
Have a wonderful week!
Good morning and welcome to my weekly Thankful Monday blog post!
Here's what I'm thankful for today:
I'm thankful that I got to watch the Houston Texans game on TV here even if they did lose against the Baltimore Ravens.  Very rarely do they show the Texans games here but since they were playing a team that is based not too far from where I live, the game was shown on CBS.
I'm thankful for winning the Big Greasy Office Pool last week!  I've played the last two years and never won, but last week, I had the most accurate NFL picks for the week and won a $30 McGrady's Gift Certificate, a Wild Wolf Brewery Prize Pack, a Gift Pack from Century Link, a $30 University Dive & Hobby Center Gift Card, and 4 passes to the Virginia Chili Brews n' Brews Festival in Waynesboro!  Sarah, Ben, and I went to the Chili Cookoff/Festival on Saturday and even though it rained, we had a blast and tasted some interesting chili!
I'm thankful that my husband is so handy and seems to have fixed our TV!  With everything that we've had break in the past couple of months, it's nice that there is something that seems to have been an easy fix (fingers crossed it is actually fixed and will stay that way)!
I'm thankful for the opportunity to start mentoring at Computers 4 Kids again.  I've mentored two students in the past and had taken a break during wedding planning and house searching but now I am ready for student number 3!
Lastly, I'm thankful for the cooler weather.  Although I'm not crazy about the shorter days and it getting dark earlier, I am loving the cooler weather, especially with two broken AC units!
Have a great week!
Good morning and happy Monday!
Here's what I'm thankful for today:
I'm thankful for a healthy body and strong legs that allowed me to have a wonderful 6.2 mile run on Saturday morning in support of the Special Olympics.  Ben, Sarah, and I ran the Gene Arnold Memorial Special Olympics Pepsi 10K.  The weather was beautiful, the temperature was perfect, and the company was great!  And we got to catch up with our friend Jamie who we hadn't see in a long time!  My time was an hour, 4 minutes, and 53 seconds which I think is pretty great!
I'm also thankful for free tickets to the Charlottesville Top of the Hops Beer Festival.  Ben and I went the previous 2 years and had a blast but we decided not to go this year because tickets are pretty expensive.  Well last week, I won tickets on Facebook from Champion Brewing Company, one of the newer local breweries, so we were able to go for free.  We had a great time together, tasted some amazing beers, saw a lot of friends at the festival, and even tried a new restaurant, Now & Zen, for some delicious sushi!
I'm grateful for my in-laws and the endless supply of fresh eggs and homegrown vegetables they give us.  This weekend, they sent us home with 3 dozen eggs laid by their chickens, basil, salad greens, and beans.
I'm thankful for such a hard working husband.  Ben works hard as a programmer every day and then comes home and spends hours taking care of our yard, house, plants, and cats.  And he always finds time to workout too!  He is my superman!
I'm grateful to get the chance to see good friends for dinner tomorrow night at the Tavern on the James!
BONUS:  I'm thankful the Texans won yesterday!  I didn't get to watch the game because it wasn't shown here, but I hear it was a close game ending in overtime!  Go Texans!
Have a great week!
Good morning!  Yesterday was Memorial Day and my brother was in town visiting for the long weekend, so I didn't have a chance to log in and write my weekly Thankful Monday post so here it is for Thankful Tuesday:
First and foremost, I am so thankful for all of the men and women who have given their lives and those who continue to serve to allow us to live in a wonderful and free country.  Words will never be sufficient to honor them, but I am grateful for the sacrifices of them and their families.

Secondly, I am so thankful for a weekend with my little brother, Mikey.  He drove up from South Carolina to spend the weekend with us and see our new house.  We had such a blast hiking and swimming in Sugar Hollow, hanging out on the farm and shooting skeet, trying different beers and wines at local breweries and wineries all over the area, and of course watching Arrested Development!  I'm so grateful to get to spend time with my family and also very thankful that Ben's family embraces my family and that we all get along.  I love my brother and can't wait until we get to have another sibling weekend!
I'm thankful for the beautiful weather this weekend that allowed us to spend some time in nature and the outdoors.
I'm thankful for family, friends, and fun times.  We had a blast at the Market Street Wine Shop Free Wine Tasting, Fridays After Five, Beer Run, Timberwood Grill, the Beer Hound Brewery, Sugar Hollow, the Whiskey Jar, Commonwealth Skybar, Mountfair Vineyards, Jefferson Vineyards, and Stinson Vineyards.  I'm also thankful for the opportunity to live in such an amazing place with so many things to do.
Lastly, I'm thankful for the 3 day weekend and a short week!
Have a good one!