Good morning!  I'm thankful for another new week and fresh start!
Here's what I'm thankful for this week:
I'm thankful for a positive diagnosis from the doctor on Friday.  Although my situation hasn't gotten better in a week, it hasn't gotten worse either, and for now, the medication I am taking seems to be preventing further causes of preterm labor and my babies and I have made it to 30 weeks as of today.  Just 6 more weeks until their lungs are fully developed and hopefully I can make it 8 weeks to an ideal delivery time.  I'm thankful for my doctor, Dr. T, and his expertise and the medication they have prescribed me.
I'm thankful for a wonderful weekend with family and friends.  Friday evening, we dined at Beer Run with my mother-in-law, father-in-law, sister-in-law, and brother-in-law for dinner before heading to see my niece in her elementary school's production of 101 Dalmatians.  Afterward, we celebrated my niece's birthday with chocolate cake and ice cream and my nieces and sister-in-law gave us two beautifully hand-made blankets and a handmade soft block for the babies.  Then Saturday morning, I cheered on Ben, Sarah, and lots of friends and fellow runners at the VIA 5K.  It was a beautiful day for a race and even though I would have preferred to be running or walking, I was glad to be there to support everyone running and walking for such an amazing cause and organization.  Plus I got to run into so many awesome people!  Afterward,  Ben and I attended my niece's soccer game and got to spend more amazing time outdoors.  Then Sunday, we attended the visitation for one of my best friends, Crystal's, mother.  Although it was due to sad circumstances, it was nice to see our good friends and run into some old familiar faces.  I'm so grateful for all of these people that make my life so full!
I'm thankful that I got to spend so much quality time with my mom last weekend and early last week.  She left Tuesday afternoon after we had lunch at Timberwood Grill.  I enjoyed her being here so much and she did so much for us as well including cooking us a roast dinner, helping me grocery shop, and cleaning our stove.  For anyone who knows my mom well, you'll know that cleaning the stove is HUGE for her since my mom is not a fan of cleaning anything.
I'm thankful for Ben.  He has been so helpful lately with driving me places and doing things for me that I'm not able to do because of my pregnancy.  Most importantly, he has been the most calm, confident, and collective expectant father I've ever met which has really helped calm my nerves and anxiety about being a new mom to twins.  I love him and am so thankful he'll be the daddy to my babies.
Lastly, I'm thankful for simple things that most people take for granted, like going to the bathroom.  Pregnancy combined with my medication has done a number on my intestines so I'll just say without getting too detailed that any day I can feel like a fraction of my old self if a good day.
Have a beautiful spring day!
Good afternoon and happy Thankful Monday!
Today I am thankful for the following:
I'm thankful for a wonderful visit from my mom that isn't over yet!  My mom flew into Charlottesville on Thursday afternoon and after picking her up, we met Sarah and her mom for lunch at the new Zinburger where we enjoyed some delicious burgers (and I got a bananas foster shake for the babies).  After that, we spent a quiet night at home with Ben.  Friday morning, I made mom breakfast in bed and then we ventured out so I could  show her some of the University of Virginia grounds and then we went to the Downtown Mall and had lunch at a local diner, the Nook.  We then met Ben at the hospital for our most recent ultrasound and then followed up with dinner at Ben's parents' house with his parents and sister and nieces who were in town from Ohio.  Saturday, we went to the opening Farmer's Market of the season where we tried some delicious food and bumped into lots of friends.  Afterward, we got dressed up for my amazing baby shower where we celebrated with awesome people, crafts, food, games, and gifts!  Mom's visit would not be complete without a trip to one of our favorite places so Sunday, we continued our weekend by having brunch and the best blood mary's in town (virgin for me) at Beer Run followed by shopping for the babies.  Then we came home and had a delicious roast and veggies that mom had made us in the crock pot.  She's still here until tomorrow so we have some more fun times ahead of us.  I love my mom and love when she comes to visit!
I'm thankful for getting more done to prepare for the babies' arrival.  Last week, I got some more gifts and hand-me-down items from generous friends and family.  I also got my TDAP shot and think I found the babies' pediatrician.  In addition, I found a dress for my baby shower that I actually liked (I thought I was going to have to wear maternity jeans after searching for a maternity dress unsuccessfully at both Old Navy and Target).  I also had my glucose screening and passed which means I don't have gestational diabetes…HOORAY!  In addition, Ben and I attended our first child birth and baby basics class last Wednesday which was exciting and informative!  Things are all starting to come together!
I'm thankful my babies are still safe and growing.  Although the doctor says there is now a higher chance I may deliver early, both my Tex and my Virg are doing well.  Tex is head down (YAY) and weighed an estimated 2 pounds and 13 ounces on Friday.  Virg is still transverse near my ribs and weighed an estimated 3 pounds and 2 ounces.  Both had strong normal heartbeats and are growing at the same rate.  Even though the doctor had some not so good news about me, I am very thankful I do not (yet) have to go on bed rest and also so thankful that my babies are healthy and have made it this far.  If they were to be born now, they'd most likely be ok after lots of time spent in the NICU (but I pray this doesn't happen).
I'm thankful for beautiful warmer weather we had all weekend while my mom was in town.  It was so nice to do things outdoors with her and walk around on the Downtown Mall.  It's also been nice to show her some of our plants and springtime blooms since the only other time she's been to our new house was when everything was dormant and wintery at Christmas time.
Lastly, I'm thankful for an AMAZING baby shower on Saturday!  I'm grateful for my sister-in-law, mother-in-law, and good friend Crystal who all worked so hard to make the day so special for me.  I'm also so grateful that so many wonderful friends and family attended to help me celebrate my babies.  I'm thankful my mom could visit for the occasion, and I'm so thankful for all of the generous gifts from my friends and family.  Ben, Tex, Virg, and I are also so lucky and blessed to have all of these wonderful people in our lives.  I leave you with some lovely photos (courtesy of Sarah) from the shower:
Happy Thankful Monday!  It's been a busy day so I'm just now getting around to posting.
Here's what I'm thankful for today:
I'm thankful for a good checkup with my OB on Friday and getting to hear both my babies' heartbeats!  I'm also thankful that I only have to wait 4 more days until our next ultrasound (it's been 5 weeks) and that my mom gets to attend this one!
I'm thankful for an awesome girls day yesterday!  Pedicures with Sarah and Crystal were so relaxing and then we picked up Chipotle and watched an awesome season finale of the Walking Dead.  What a fun evening with great people!
I'm so so so so VERY thankful for all of the baby gifts we've received.  Of course I'll be sending out thank you notes, but people are just so generous and I have to express my gratitude here as well!  And again I'm so thankful for the generosity of local moms who have donated so much free baby gear to us and sold us so many things for really cheap!  We are blessed!
I'm thankful that Ben and I FINALLY agreed on 1 baby name (just the first name) that we both really like.  Now we just need 1 more first name and two middle names!
I'm so grateful my mom is coming to visit on Thursday for my baby shower and staying a few days.  It will be wonderful to have her here!
I'm thankful that we are finally getting some warmer weather, even if it does involve rain (as long as it's not snow)!
I'm thankful that Ben did so well at the Charlottesville Ten Miler on Saturday.  He did an amazing job and finished in an hour and 25 minutes, 57th out of 105th in his division, and 510th overall and he didn't even train this year!  Plus he rubbed my belly (instead of a high five) at the finish line!
I'm thankful for a great dinner with our friends Robert and Crystal last week.  We always have a blast with them!
Ok, I couldn't stop thinking of things to be thankful for.  Plus there are even more but I can't post them.
Have a great day!  Love you all!
Good morning and happy Thankful Monday!
Today, I am thankful for the following:
I'm thankful for making it to 27 weeks (today) and so far keeping myself and my babies healthy with no known complications.  If I can just make it 10 more weeks!
I'm thankful for having savings that allowed me to pay my car off early so that I won't have that $660 monthly bill hanging over my head after the babies are born.  I got the title to my Subaru in the mail yesterday!
I'm grateful for all of the wonderful gifts we have received so far for our babies including but not limited to a temporal thermometer (I tried it out yesterday on myself), baby bath towels, a diaper bag, and a humidifier for the nursery.  My friends and family are so wonderful and generous!
I'm thankful for a great boss, coworkers, and company who have been very supportive throughout my pregnancy.
I'm thankful for warmer weather.  Although we are supposed to get more snow tomorrow, I'm so grateful for the few 60 and 70′s days (particularly on the weekends) that have given us a break from the cold.  I know long-lasting warm weather is just around the corner and I will be able to wear my flip-flops again!
Have a great day!
Good morning and happy Thankful Monday!
Today I am thankful for:
I'm thankful for my husband who helped me finish painting the nursery this weekend despite the fact that he never wanted to take on the project in the first place.  I'm also thankful for the initial help of my mother-in-law, sister-in-law, and brother-in-law in picking out paint colors and getting the project started.  It feels so good to be done painting the room and it looks so much better than it did with pink walls and ceilings!
I'm thankful for wonderful friends and family who are throwing me a baby shower and I'm also grateful for all of the friends and family who are coming from near and far to help me celebrate the arrival of my boys.
I'm thankful for the daily movements and kicks that I get to feel from my boys.  They may not always be the most comfortable sensations but they remind me that there are two miracles growing inside of me.
I'm thankful that my mom is able to come from Texas to attend my baby shower and spend a long weekend with me.  She might even get to see her grand babies on ultrasound at our next appointment.
I'm thankful for answering services and a doctor who calls me back right away on weekends for even the smallest concerns.
I'm thankful for the generous baby shower gifts we've received so far including a diaper bag, temporal thermometer, bath mat kneeler, hooded bath towels, and a humidifier.
I'm thankful for health insurance and all of the costs it has covered so far including $220 of my $300 breast pump I received last week!
Have a great day!
Here's a great video entitled "Shawn Achor: The Happy Secret to Better Work" that talks about rewiring your brain to be a happier person:
I thought this slide from his presentation was great at describing the things a person can do each day to rewire their brain so that they become a more positive thinker ultimately allowing them to be happier, more successful, and more efficient at learning: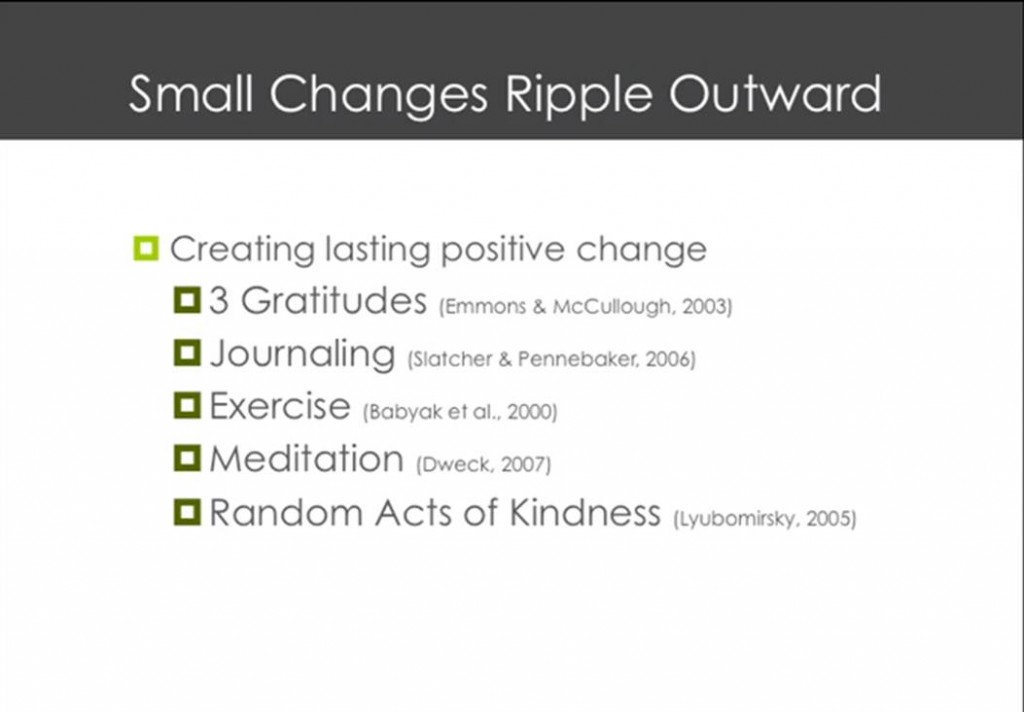 The video is only about 12 minutes long and the speaker is engaging and funny (plus he's from Texas).  Give it a watch!
A friend posted this article entitled "37 Life Lessons in 37 Years" that I really think has some great guidelines on how to be happy.
A couple of my favorites:
1. Happiness comes from within. We spend way too much of our lives looking for outside validation and approval that eludes us. Turns out, it's been an inside job all along. Go inward.
8. Never take things personally. What others do is a reflection of what's going on in their own life and probably has little or nothing to do with you.
12. Perfectionism is an illusion. A painful one at that. Ease up. Strive for excellence, sure, but allow yourself room to make mistakes and permission to be happy regardless of outcome.
27. Fear is often a very good indicator of what we really want and need in our life. Let it be your compass and enjoy the exciting adventure it leads you on.
30. Let those that you love know it often and enthusiastically. You can never say it or show it too much. Your time, total presence, love, and genuine concern for their wellness is the greatest gift of all.
But they are all work reading!
Good morning and happy Thankful Monday!
Here's what I'm thankful for today:
I'm thankful for a WONDERFUL weekend with family.  My dad and brother came to visit me and we had the best time (and my dad brought me kolaches from the Kolache Factory)!  Friday evening, after giving my dad the tour of our new house, my mother-in-law, father-in-law, Ian, Sarah, Mikey, Ben, my dad, and I had dinner at the Clifton Inn, where Ben and I got married.  The food was great and it was really nice for my dad to get to know my Virginia family even better.  Saturday, my dad, Mikey, Ben, and I went to one of my favorite restaurants in town, Beer Run, for an early lunch and then we drove out for some skeet shooting at Ben's grandmother's farm since it was such a beautiful day.  Afterward, we stopped off at Barboursville Vineyards and Jefferson Vineyards so my dad and Mikey could sample some local wines.  We then had a great dinner at my in-laws.  Sunday morning, I made Lebanese Eggs for Mikey and dad before they had to hit the road.  Then Ben and I had a nice day together running errands and making pre-baby arrangements.  Afterward, we had another great family dinner with my in-laws, Ian, and Sarah followed by watching The Walking Dead before bed.  It was such a fun and happy weekend!  I love my family so much and am so thankful to have them in my life.  I hope I am able to instill the wonderful sense of family and closeness in my own children that Ben and I have grown up with.
I'm thankful for the warm and amazing weather we had this past weekend.  After last Monday's snow storm, it was so nice to finally have some beautiful, warm days to enjoy.  Both Saturday and Sunday were sunny with temperatures in the 60s and it was perfect for my dad and Mikey's visit.
I'm thankful for yet another clean bill of health from my endocrinologist.  Typically, during pregnancy, women with thyroid problems have to be closely monitored and often have to take a higher dose of medication to help keep up with the demands on their body.  Thankfully, my thyroid levels are still normal in my 6th month of pregnancy, despite the fact that I am having twins.  My doctor is surprised and I am very grateful!  I'm also thankful for a clean bill of health from the dentist late last week as well.
I'm thankful for more discounted baby gear and advice last week.  I found some amazing deals at the Here Wee Grow Again consignment sale last Friday, including a Snuza for $30 (they are normally $120)!  I also got a gently used double jogging stroller for only $50 from another twin mom (these normally start at around $200)!  And I got a rocker/bouncer for $10 from a lady on Craigslist!  I am very grateful for all of the opportunities to save money when it comes to our double bundles of joy.
Here's me at Beer Run on Saturday after lunch with my family (buying some rare beer finds to drink AFTER the babies come):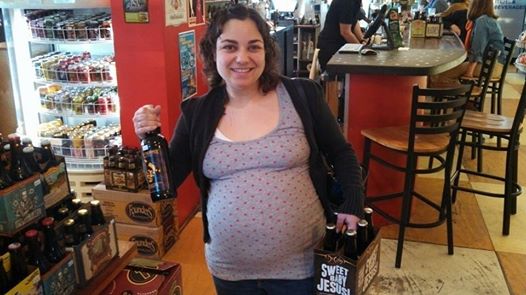 Have a great day!
Good morning and happy Thankful Monday!
Here's what I'm thankful for today:
I'm thankful that despite having a pretty scary fall down the stairs on Monday, both my babies and I are ok.  I got pretty banged and bruised up but had no serious injuries despite hitting my head against the brick on our house.  I'm also so thankful that the doctors and ultrasound office were able to fit me in last minute to check on the babies to make sure they were ok.
I'm grateful for a job that allows me to work from home on days like today when we are having a snow storm and the roads are not safe to drive on.
I'm thankful to live in a city that has such wonderful resources for expecting mothers.  On Saturday morning, we attended the Charlottesville Birth Expo where I learned so much and met so many supportive people and organizations.  Charlottesville definitely has its fair share of natural birth advocates and I'm grateful to live here.
I'm once again so thankful for all of the supportive moms out there who have been giving me advice, support, and free and discounted baby gear, especially the twin moms who have been sharing their stories and advice with me.  This week, I received a free double snap-n-go stroller from a fellow twin mom who's babies have outgrown the car seats that work with it.  I'm so thankful for her generosity.  I'm also thankful for the constant help from another twin mom in helping me find good and cheap baby gear for twins.  Last Thursday she took time out of her busy schedule as a twin mommy to help me shop for great finds at the Here Wee Grow Again consignment sale.  I am really lucky to have so many great people around me.
I'm thankful for my continued energy and productivity which has allowed me to get alot done before the babies arrive (sorting, organizing, and filing 5 years worth of papers) and has also allowed me to spend time with friends before I take a sabbatical to raise newborns (like enjoying dinner with Robert and Crystal for Robert's birthday last Wednesday at the Smokehouse Grille in Scottsville).
Hope everyone has a great day!