Archive for the 'Wedding' Category
Good morning!  It's been a while but I keep coming back!
Here's what I'm grateful for today:
I'm grateful that I live in a country where we all have the right to vote on this election day!  I voted this morning and regardless of who the winners are, I'm just grateful that I am a citizen of the greatest country in the world!
I'm grateful for a beautiful fall weekend filled with family time!  Saturday, Ben, the boys, and I ran the Wolanski 2 Miler to celebrate the retirement of my awesome OBGYN.  We then bought lots of goodies at the Farmer's Market and continued on to Carter Mountain Orchard for some apple picking.  The boys had such a great time and I'm thankful I can give them fun and awesome experiences like these!
 I'm grateful to live in a city with such amazing preschool options!  We've been touring preschools to enroll the boys in next fall and there are so many great schools around that it's overwhelming to choose one!
I'm thankful for the extra hour we got this weekend.  While I'm not a fan of it getting dark super early, it was nice to get that extra hour on Sunday especially when there are never enough hours in the day!
I'm grateful for a sweet sister.  She sent me a sweet card and beautiful bracelet to ask me if I'd be her matron of honor in her wedding!  I'm so excited for her and thankful to be her sister.
Happy day friends!
Good morning and happy Thankful Monday!
Here's what I'm thankful for today:
I'm thankful for a WONDERFUL weekend with family.  My dad and brother came to visit me and we had the best time (and my dad brought me kolaches from the Kolache Factory)!  Friday evening, after giving my dad the tour of our new house, my mother-in-law, father-in-law, Ian, Sarah, Mikey, Ben, my dad, and I had dinner at the Clifton Inn, where Ben and I got married.  The food was great and it was really nice for my dad to get to know my Virginia family even better.  Saturday, my dad, Mikey, Ben, and I went to one of my favorite restaurants in town, Beer Run, for an early lunch and then we drove out for some skeet shooting at Ben's grandmother's farm since it was such a beautiful day.  Afterward, we stopped off at Barboursville Vineyards and Jefferson Vineyards so my dad and Mikey could sample some local wines.  We then had a great dinner at my in-laws.  Sunday morning, I made Lebanese Eggs for Mikey and dad before they had to hit the road.  Then Ben and I had a nice day together running errands and making pre-baby arrangements.  Afterward, we had another great family dinner with my in-laws, Ian, and Sarah followed by watching The Walking Dead before bed.  It was such a fun and happy weekend!  I love my family so much and am so thankful to have them in my life.  I hope I am able to instill the wonderful sense of family and closeness in my own children that Ben and I have grown up with.
I'm thankful for the warm and amazing weather we had this past weekend.  After last Monday's snow storm, it was so nice to finally have some beautiful, warm days to enjoy.  Both Saturday and Sunday were sunny with temperatures in the 60s and it was perfect for my dad and Mikey's visit.
I'm thankful for yet another clean bill of health from my endocrinologist.  Typically, during pregnancy, women with thyroid problems have to be closely monitored and often have to take a higher dose of medication to help keep up with the demands on their body.  Thankfully, my thyroid levels are still normal in my 6th month of pregnancy, despite the fact that I am having twins.  My doctor is surprised and I am very grateful!  I'm also thankful for a clean bill of health from the dentist late last week as well.
I'm thankful for more discounted baby gear and advice last week.  I found some amazing deals at the Here Wee Grow Again consignment sale last Friday, including a Snuza for $30 (they are normally $120)!  I also got a gently used double jogging stroller for only $50 from another twin mom (these normally start at around $200)!  And I got a rocker/bouncer for $10 from a lady on Craigslist!  I am very grateful for all of the opportunities to save money when it comes to our double bundles of joy.
Here's me at Beer Run on Saturday after lunch with my family (buying some rare beer finds to drink AFTER the babies come):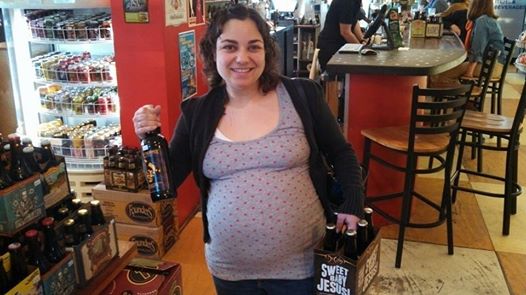 Have a great day!
Good morning and welcome to this week's Thankful blog post…on Tuesday!  I was traveling all day yesterday so I didn't have a chance to post my regular Monday morning Thankful post.
Here's what I'm thankful for today:
I'm thankful for a wonderful long weekend in Cape Cod!  I'm grateful that I got to see a new part of the country I'd never visited, got to see where my husband spent his summers as a child, got to visit with family that we don't see very often, and got to meet new family members.
I'm thankful to my in-laws for planning the trip, booking the hotel, renting the car, paying for way too much, and allowing us all to have a nice family vacation together.  They were more than generous on this trip and I'm grateful to them for the whole experience!
I'm thankful that our cousin Kimberly found her best friend and soul mate in Matt and that we were able to help them celebrate this weekend.  They both seemed so happy to be joining each others' families and I am ecstatic for them!  And Kimberly sure knows how to pick them…Matt is a wonderful and funny guy!  They had an amazing and beautiful rehearsal dinner, fabulous wedding complete with ceremony, cocktail hour, and reception, and Sunday brunch at the beautiful Wequassett Resort .  It was a wonderful place to stay and to hold the festivities!  I'm also grateful that Kimberly and Matt gave us the opportunity to help them celebrate their marraige to one another!
I'm thankful that I finally got to meet Ben's Uncle David and Aunt Dee.  They were both so hospitable and nice and shared many pictures and family heirlooms with us when we visited.  I probably learned more about Ben's extended family in one weekend than I have in the seven and a half years we have been together.  I'm also so very grateful to get to visit with and get to know Ryan, Olya, Marcia, Kimberly, Matt, and all of their friends and family.  Family, friends, and relationships are the most important thing in the world to me, so I'm always grateful for the chance to nurture them and allow them to grow.
I'm thankful that we all made it safely to Cape Cod and back despite thunderstorms and winter storms all along the way.  We were lucky that we didn't run into any terribly slippery roads or extreme weather conditions and I'm also thankful to be home now and see our kitties that we missed so much!
Have a wonderful week!
P.S.  Here's a picture of Ben and I from the wedding on Saturday!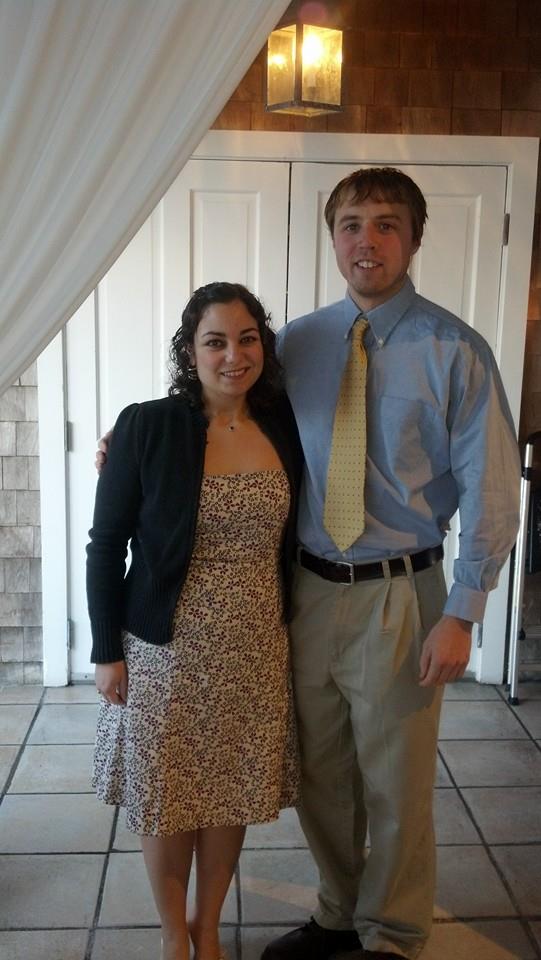 Good morning and welcome to this week's Thankful Monday blog post!
Here's what I'm thankful for today:
I'm thankful for the opportunity to attend the wedding of Scott and Shelly this past weekend and share in their special day as well as getting to hang out with so many awesome people who I don't get to see often enough.  Scott and Shelly threw a beautiful and amazing wedding and the weather was perfect for the outdoor ceremony and reception.  I'm so happy for them and am thankful they allowed me to celebrate with them on Saturday.
I'm so grateful for a husband that knows what is important to me and accompanies me to events even when I know he'd rather be doing something else.  Ben attended the third wedding of the summer with me (1 in June, 1 in July, and 1 in August) and they were all for my friends or family members.  He's a pretty strong introvert so I know going to these big social gatherings takes alot out of him.  I'm just so thankful that he realizes how important it is for me to attend and how thankful I am for him to be there with me.
I recently stopped taking a medication that I've been taking for over ten years and I am so happy and grateful to report that I feel a thousand times better both mentally and physically!  I was especially worried that the side effects and coming off a medication I'd been on for so long would be adverse so I am very thankful that the side effects have been virtually non-existent.  I feel so good that I wish I had stopped taking it years ago!
I'm thankful for wonderful friends!  After the past week and weekend of spending time with awesome people, I look around and realize how lucky I am to be surrounded by these amazing friends.  I'm so happy to have them all in my life!
I'm thankful for a successful surgery for my dad.  He had back surgery recently to remove a very painful cyst he had on his back for a long time.  He seems to be recovering quickly and successfully and I'm so grateful for that!
Have a great week!
Good morning!  I apologize that I haven't written a Thankful Monday post in TWO WEEKS!  But, I've been a very busy girl.  I spent 10 days in Seattle and Victoria, Canada celebrating my cousin's wedding, site-seeing, and spending time with family, came home for 5 days, and then left for a 4 day weekend at the beach in Nags Head.  I'm feeling refreshed but I'm super sad my fun trips and time with family and friends are over.  I think being grateful will help cheer me up, so here's what I'm thankful for today:
I'm thankful for an amazing trip to Seattle and much cherished time with my family.  I LOVE my family and just saying that makes me feel that it doesn't give my feelings about them justice.  I'm such a lucky person to have these people in my life!
I'm thankful for a wonderful trip to Nags Head in the Outer Banks with Sarah and Cris.  We had the best time celebrating girls weekend and I'm extra grateful to Cris and her parents for letting us use their condo at the beach!
I'm thankful for my husband who has spent so much time traveling with me and then putting up with me being gone on trips without him.  He is very supportive of me and my love for family and traveling and has even been a wonderful shoulder to cry on when I'm sad that my trips are over.
I'm thankful for my family.  I can't say how much they mean to me and spending time with them only makes me realize how lucky I am to have them.  I wish I lived closer to all of them.
I'm thankful for a very smart and skilled friend who helped us diagnose a problem with our air conditioning so we didn't have to pay to have someone look at it (I'll of course buy him dinner as a thank you).  Between the new house, fixing up the condo, my car payment, and Ben's car being in the shop for the past month, we need to save as much as possible!
Hope you have a wonderful week!
Hey everyone!  Welcome to Thankful Monday/Tuesday (really it should be called Thankful 24/7)!
I was enjoying an amazing long weekend with family in Texas this weekend so that's why I'm late posting.
Here's this week's list:
I'm thankful that we got to celebrate my cousin Jennifer's marriage to her best friend Eric this weekend in Houston, and I'm also thankful that I got to see so many family and friends that I hadn't seen in years/months!  It was like a wonderful family reunion!

I'm thankful that in addition to seeing much of my dad's side of the family at the wedding reception, I got to see a ton of my mom's side of the family too!  How lucky am I that I got to be surrounded by so many of my loved ones on a rare trip home to Houston!  I'm very grateful for the effort everyone made to be together!
I'm grateful that we could afford the plane tickets to Texas and also that we ran into minimal bad weather and travel delays along the way, especially since there has been so much bad weather happening lately.
I'm thankful for the opportunity to visit an old family favorite restaurant, Gaido's, for a delicious meal with my family.  My parents used to take us here all the time when I was little and I have lots of wonderful childhood memories of eating here so it was nice to walk down memory lane.
I'm thankful that my husband was able to come along on the trip and spend time with my family and I and meet many family members whom he hadn't yet met.  It's always extra special to me when I can have him as a travel companion with me.
Have a wonderful day!
There were many surprises that my family and friends planned for me the weekend of my wedding and I hope to eventually showcase all of the amazing surprises that made my heart melt here on the blog.
At my wedding reception, my maid of honor and sister, Carrie, and my matron of honor and cousin Megan, spoke with the DJ while Ben and I were taking post-ceremony pictures.  They asked if he could play "You're the One That I Want" from the musical Grease, a childhood favorite of ours, on their cue.  I had no clue this was coming and when they were done with their dual speech, they cued the music and asked that all of "Lou's Ladies" (all of my awesome girlfriends) join them on stage.  They had blue sunglasses for all of the girls to wear and everyone began singing, dancing, and putting on an amazing show for the wedding guests.  They said they had planned to sing to me while I watched, but of course I couldn't help but join in.
The whole scene which made me so giddy went like this (thanks to Megan's husband B for filming and posting on YouTube):
I always loved the Chris Brown wedding entrance video that one couple did at their wedding and the spoof of it that the Office did for Pam and Jim's wedding and wanted to do something similar and creative like it at our wedding, but couldn't get introverted Ben to commit to anything and I was honestly out of ideas after all of the wedding planning so this surprise was perfect!  I love my friends and family and will always remember this amazing and very special moment!

Chris Brown Wedding Entrance

Office Spoof from Pam and Jim's Wedding
A couple of weeks ago, September 8th to be exact (I know I am really late posting about this), we attended the wedding of my friends Amy and Joel in Crozet, Virginia.
The wedding was outdoors at the beautiful home of Joel's mother.  About an hour before the ceremony was to begin, a thunderstorm rolled through the area which gave the bride and groom and their bridal party a scare, but thanks to awesome bridesmaids, groomsmen, and ushers, everything got put back together just in time.  I think the storm was a blessing in disguise because it brought in some cooler air which made for a perfect night that wasn't too hot.
The wedding was beautiful and the bride was gorgeous.  You could see all of the hard work that Amy and Joel put into planning the event with every little detail and personal touch of the ceremony and reception!  We had a great time dining and dancing with friends and celebrating the beginning of Mr. and Mrs. Harrigan's new life as a married couple!
Check out a few of the lovely pictures from the evening below!
I also want to give a shout out to my sister-in-law/best friend/sister, Sarah, and my brother in law, Ian.  Today is their two year wedding anniversary and I still remember their beautiful wedding like it was yesterday!  Here's to countless more years of happiness and love for both Sarah and Ian and the newlyweds, Amy and Joel!