Happy Thankful Monday!
Today, I am thankful for the following:
I am thankful I was able to finish the Charlottesville Ten Miler on Saturday despite the rain and the difficult hills.  I can honestly say that I think this was the hardest race I've ever run.  I'm not sure if it was the rain, the hills, my mindset, or being exhausted from the time change and traveling the previous weekend, but I doubted my will to finish it several times during the second half of the race.  I was so glad when I crossed the finish line and I am grateful that my body and mind were able to get me that far.
I am thankful for a nice relaxing weekend with my family.  Saturday, we made dinner, bloody marys,  and Irish Car Bomb Cupcakes with Ian, Sarah, Collin, and Ben and then Sunday we had a nice dinner with Ian, Sarah, Brandon, Peter, and Phyllis.  I'm thankful for wonderful loving people in my life.
I am thankful to hear some good news from a friend last week.  It's  not my place to say what their news is, but I know they have had a couple of years of trouble and they now seem to be past the end of that tunnel.  Many people's prayers have been answered!
I'm thankful that I have a close family.  My 2 aunts, 2 uncles, cousin, and great aunt visited my mom this past week at the beach for Spring Break and I'm so happy that all of my family makes the effort to spend time with one another.  I'm also thankful I got to spend some virtual time with them via Skype!
I'm thankful for a new week and a fresh start.  Last week was a little rough at work, but I'm hoping my anxiety will subside and I will be able to kick ass and take names again in the office this week!
Have a wonderful week!
Good morning and welcome to this week's thankful post!
I was in New Orleans this weekend for my cousin Jennifer's bachelorette party and I didn't get back home until yesterday evening so this week's post is on Tuesday.
Here's what I'm thankful for this week:
I am beyond grateful that I was able to spend the weekend in New Orleans with so many amazing and fun ladies!  We had such a blast and I made so many great memories on the trip, caught up with family, and even made some new friends!

I am so thankful that I got to catch up with my aunt and cousins.  I've missed them so much and being around them was as if no time had passed at all.  My aunt was my second mom growing up and my cousins were more like sisters so getting to see them and spend the weekend with them was very special.
I am very thankful for an understanding husband who was not only totally cool with me going to New Orleans for a girls weekend and spending the money on the trip while we are trying to by a house, but he also genuinely missed me and wanted to spend all evening with me when I got back yesterday.  I even got an "I love you" text from him while I was gone and he NEVER texts!
I am thankful that I will get to see my family all over again in June for my cousin Jennifer's wedding reception.  It made it less sad for the trip to be over knowing that we have plans for the future.
I'm thankful for a wonderful boss and flexible work environment that allowed me to take the day off yesterday so I could enjoy a longer weekend with my family.
I've said it before and I'll say it again, I am truly blessed to be surrounded by such wonderful people and have such a nice life.
Have a great week!
Good morning and welcome to the first Thankful Monday post of March!
Here's what I'm thankful for today:
I'm thankful that the inspection on the house we are trying to buy went very well.  The inspector was quite impressed with the quality of building and the upkeep and maintenance done by the current owners.

Again I am thankful for a weekend full of family, friends and fun times.  Friday night, Ben and I had dinner at Panera Bread with Ian, Sarah, and Meghan and then we all went to Four County Players to see their production of Into The Woods.  Then Saturday, after the house inspection, we spent the day with Ben's parents.  Sunday morning, we had a great seven mile run with Deb and Becky and then that night, Sarah and Ian came over for dinner and Walking Dead.  I am blessed to have so many wonderful people brighten my life!
I am thankful that I will be going to New Orleans this weekend to celebrate my cousin Jennifer's bachelorette party!  It's going to be so fun to go to New Orleans again and I'm really excited about seeing some friends and family there that I haven't seen in way too long!
I am thankful for the opportunity to sleep in a warm and comfortable bed every night.  My days would be difficult without that good night of sleep and I am very lucky to have a safe environment to rest.
I am thankful for the wellness program at work.  We are learning to meditate and it has been very eye-opening so far.  I really think that meditation will help with some of my stress and anxiety.
Have a great week!
P.S.  Happy belated Texas Independence Day (March 2nd)!
Good morning and welcome to this week's Thankful Monday blog post!
Today I am thankful for the following:
I'm thankful that Spring is almost here and we are already starting to see some pretty purple and yellow flowers blooming.  Although we haven't had a ton of snow this winter, it has felt so dark, cold, and long so the idea that Spring and longer days are on the horizon makes me so happy!

I'm thankful that our longest training run for the Charlottesville Ten Miler is finished.  We did 11 miles yesterday (ok I only did 10.8). and it feels so good to know that the race will be shorter!
I'm thankful that we finally have a house under contract.  I know it is not ours yet, but it's the closest we've gotten so far to finding our new home.  My fingers are crossed that inspection, appraisal, and closing all go as planned.
I'm thankful for a weekend that was filled with fun and many friends, including Nita, Sarah D., Collin, Sarah W., Scott, Kennith, Courtney, Deb, Robert, and Crystal.  I also got to see lots of family this weekend including my sister-in-law, mother-in-law, father-in-law, and nephew.
I'm thankful for sunshine because it makes me feel so good and happy!
I hope you have a great week filled with lots of sunshine!
Many strange things have been happening lately.
On Friday, a meteor exploded over Russia, an event being described as a "once in a decade" occurrence.  The meteor that damaged hundreds of buildings and injured over 500 people happened on the same day that an asteroid named 2012 DA14 came closer to Earth than our own orbitting communications satellites.
Then on Friday, I heard a loud flushing noise at work and blue fluid erupted from a drain underneath my desk.  The strong-smelling chemical was, according to the facilities manager at work, non-toxic and the result of air being unintentionally pumped into the pipe that connects the outside to this drain.  The blue fluid is a chemical used in place of water (due to its ability to evaporate) to neutralize sewage stench.
Friday night, I went to the grocery store and while I was there for less than 20 minutes, I encountered two separate people (they were not together) who were each missing a leg and walking with the aid of crutches.
Saturday morning, Ben was cooking breakfast and encountered this: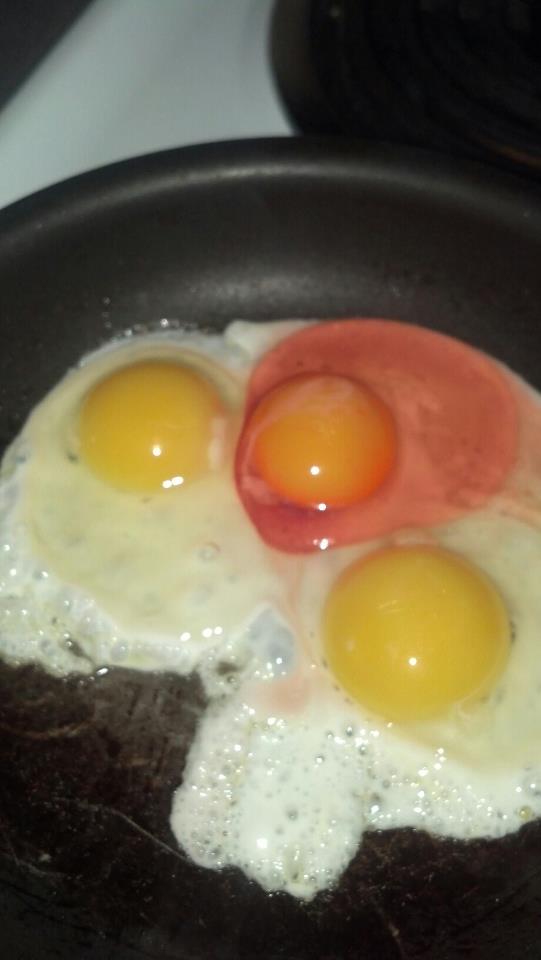 According to Google, the bloody egg was most likely the result of a stressed-out hen breaking a blood vessel as she simultaneously laid her egg causing the blood to become trapped inside the shell.  Unfortunately, Ben decided to eat it anyway.  A friend says the Chinese consider finding one of these good luck since they are extremely rare.
Then, after 9 months of searching endlessly for a house, and a day away from submitting an offer for a piece of land on which we hoped to build, we found the perfect house (for us) in the perfect location (for us).  Of course that perfect house is not ours yet but my fingers are crossed!
The odds of all of these things happening, especially within such a short period of time, seems extremely low.  Needless to say, I'm still waiting for something weird to happen!
Good morning and welcome to this week's Thankful Monday blog post!
This is what I'm thankful for this week:
I'm thankful for smart and wise parents (and parent-in-laws) who give great advice and are always there to assure me of my actions and choices in difficult decisions.

I'm thankful that I live in "the south" and only have to deal with this ridiculously cold weather for a couple of months a year!
I'm thankful that the Russian Meteor last week did not kill anyone and was small enough not to cause widespread damage.  I'm also thankful that the asteroid that passed near by Earth last week did not hit us!
I'm thankful for modern technology and the heat pump in our condo.  It's 19 degrees this morning and I'm very grateful that we have technology that so easily keeps us warm.
Lastly, I'm thankful for the free wellness program at work where I have been learning about so many new things that are beneficial to my health like juicing, meditating, practicing mindfulness, and drinking the adequate amount of water.
Have a great day!
Last weekend, our good friends Robert and Crystal invited us to spend the weekend with them at their time share in Washington D.C. .  We stayed at the lovely Wyndham in National Harbor which is just across the Potomac River from our nation's capital.
The weekend started out Friday night with Robert and Crystal picking us up and heading to dinner at the Bavarian Chef, a delicious German restaurant in Madison.  Bavarian Chef, which is authentic German food in a traditional German atmosphere, complete with the servers dawning lederhosen, used to cater our lunches about once a month when I worked for VGT and their food was always spectacular.  I ordered the Karlsbadener Sahnegoulasch, "a combination of tender pieces of veal, mushrooms, onions, tomatoes, and fresh cream" with a German style beer.  Both were AMAZING!  After stuffing ourselves, we headed north to DC.  We didn't get to our hotel until after 11 PM, so we got to bed so we could rest up for a long and exciting day in the capital.
Saturday morning, Ben and I went to the hotel gym for a quick workout while Robert and Crystal attended an owners' meeting.  After getting showered and dressed, we headed to Ketchup for breakfast and then caught the bus to the city.  It was a beautiful sunny day, but the wind was blowing strong which made for biting cold weather.  At least we had the sun to keep us a little warm.
First, we stopped by the capitol to take pictures.
Afterward, we headed to the Smithsonian's National Museum of the American Indian, where we spent several hours viewing exhibits, artwork, and readings.  The lobby of the museum had this beautiful prism that reflected sunlight into all of the colors of the rainbow.
After touring the museum, we walked to the Washington National Monument which is still closed for repairs due to the earthquake we had back in August 2011.
I wanted to visit the Texas pillar of the World War II Memorial and the Lincoln Memorial Reflecting Pool, so we kept on walking.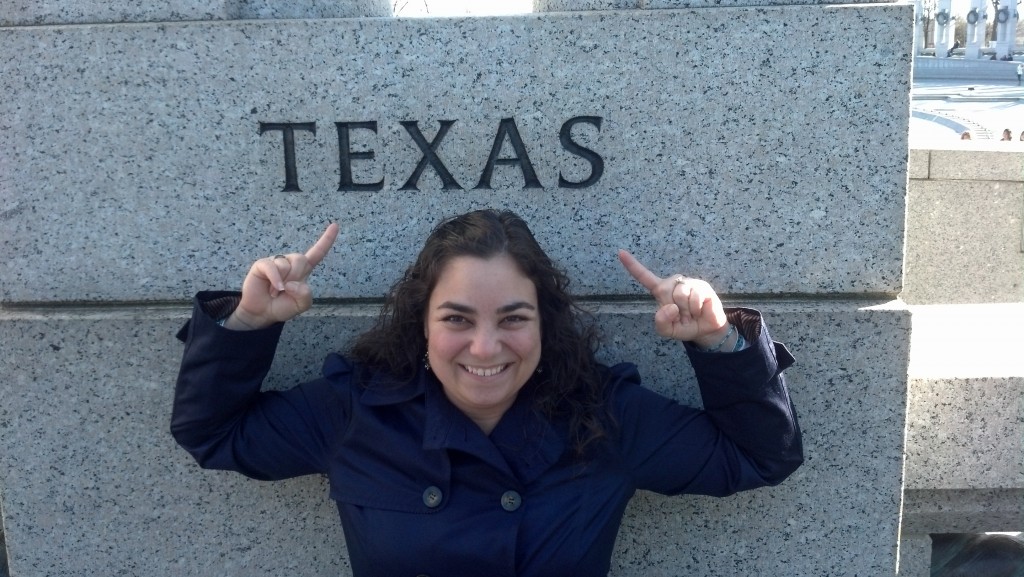 We headed back toward where our bus dropped us off and decided to stop into the very crowded Smithsonian National Museum of Natural History to see the Orchids of Latin America Exhibit.  Our next stop was to grab some lunch and then a quick walk around Union Station as we waited for our bus.  Upon arriving back at the hotel, we rested up before walking to Harrington's Irish Pub & Kitchen for dinner and drinks where Crystal tried (and LOVED) her first Guinness!
After dinner, I had some friends that just happened to be celebrating a birthday at Bobby McKey's Dueling Piano Bar right across the street from our hotel, so I made the quick walk over to join them.  If you're ever in National Harbor, I highly recommend checking out Bobby McKey's and get there early because when I showed up around 10:45, there was standing room only!  The bar was a blast with several piano players singing some mainstream music as well as familiar tunes with their own creative lyrics.  They did an amazing 1980s-1990s rendition of Billy Joel's 'We Didn't Start the Fire" and a pretty hilarious version of "Hey There Delila".  Toward the end of the night, what I assume to be a very drunk patron bought a round of shots for the ENTIRE bar!  I will definitely be revisiting Bobby McKey's in the future!
I finally got back to the hotel around 2:30 AM and was exhausted from the full day of friends and tourism so I crashed right away! Sunday morning, we checked out of the hotel and had breakfast at a cute little diner in Old Town Alexandria.  After filling our tummies, we drove to the Smithsonian National Air and Space Steven F. Udvar-Hazy Center near Dulles Airport.  This was by far the largest and most comprehensive collection of air and space memorabilia I have ever seen!  My favorite parts were the Discovery Space Shuttle and the Flight Simulator that we got to ride in.
It was an awesome trip and a very full weekend and we can't thank Robert and Crystal enough for their hospitality, generosity, and friendship!  I can't wait to go back and see even more!
Good morning friends and welcome to my weekly Thankful Monday blog post!
I'm thankful for the following this morning:
I'm thankful for a wonderful weekend and for generous and good friends that invited us to DC to share the weekend with them and stay in their time share.  Again, I am so lucky to be surrounded by so many amazing, fun, and wonderful people.  Thanks Robert and Crystal for a great weekend! (More on the trip in another post.)

I'm thankful for the possibility of a little clarity in the house hunt.  I won't say much for fear of jinxing things, but rest assured that when we finally find our home, I'll be shouting it from the rooftops and this blog!
I'm thankful for the opportunity to fly home in April, as well as the flight technology and cheap airplane tickets I found that will allow it.  Ben and I are going to Padre in April to spend a long weekend with my mom and brother at the beach and I really can't wait!
I'm thankful that every week I feel a little less anxious about my job and a little more comfortable with my daily responsibilities and skills.  It's been a tough transition for me and feeling more confident is something I've waited months for.
I'm thankful for my kitties.  It's always no fun coming home from a long exciting weekend, but having our kitties there waiting for us gives me so much to look forward to!
Hope you all have an AMAZING week!
Good morning and happy February!   Can you believe we are already in the second month of 2013?!?!  It seems like January flew by!
Here's what I'm thankful for this week:
I'm thankful for an invitation to a Super Bowl party last night that gave me the opportunity to spend time with new and old friends!

I'm thankful for a mother-in-law Virginia Mom who is so crafty and planned a day with family to make Valentine's Day Houses!  It was tasty, fun, and best of all, I got to be crafty with my family!
I'm thankful for a husband that enjoys running with me (and motivates me to keep from quitting).  Yesterday morning we ran 9 miles in preparation for the Charlottesville Ten Miler in March!
I'm thankful for the opportunity to get to spend time with so many good friends and family last week (running with Becky and Ben on Sunday, restaurant week  with Kristen, Tim, and Ben on Wednesday, dinner with Ashley and Dana on Thursday, Shopping with Sarah on Saturday, making Valentine's Day houses with Peter, Phyllis, Ben, Robin, Sarah, Abby, and Elise on Sunday, and James' Super Bowl party last night with lots of new friends and Kelly and Marian who I miss so much).  My life is certainly rich because of the wonderful people who are in it!
I'm thankful that for the past couple of weeks, I've finally started to feel like my happy self again with less anxiety and worry and more happiness and joy.  Maybe these posts are helping!  :)
Good morning and happy thankful Monday!
This week, I'm thankful for the following:
I'm thankful for the opportunity and affordable plane tickets to travel to New Orleans in March for my cousin Jennifer's bachelorette party!  It's going to be AWESOME!

I'm thankful for another great long run with a new friend on Sunday.  We ran 8.3 miles!
Again, I am sooooo VERY thankful for the option to work from home.  We have had ALOT of winter weather in the past week and I am very lucky to be able to stay warm and safe while working from home and avoiding the accident-prone roads.
I am thankful for wedding gift cards and the lovely friends and family that gave them to us.  They allowed us to buy a new Breville Juicer this weekend while only spending $17 out of pocket (after gift cards and a 20% off coupon).  Juicing is my new favorite thing, especially after watching the touching documentary, Fat Sick and Nearly Dead.
I'm thankful for living in a country where I can go to the grocery store any day and buy most fruits and vegetables at a decent price to use with my new juicer and stay healthy and energized.
Have a great week and don't forget to remember to be grateful!