Good morning and happy thankful Monday!
This morning, I am thankful for the following:
I am thankful for a fun day yesterday painting and celebrating Dana's birthday at Wine & Design.  It was so much fun and I always enjoy getting to catch up with friends.  Plus we got to meet Dana's adorable kitten Pippi!        I definitely can't wait to do this again!
I'm thankful for a fun evening with Ian and Sarah last night.  I made chili for us and we watched the mid-season premier of one of our favorite shows, the Walking Dead.  I'm lucky to have family on both mine and my husband's side that I also consider to be my best friends.
I'm thankful for a great weekend with my husband.  Friday night, we finally tried Tavola, an Italian restaurant in town that had been highly recommended to us.  It was delicious and we finished the meal with homemade chocolate hazelnut gelato.  Then we went to Babies 'R Us to check out baby gear and headed home to watch the Winter Olympics.  Saturday, we had a busy day together starting with Beer Run for breakfast tacos and a virgin bloody mary,  shopping at Leftover Luxuries, Lowes, Pet Food Discounters, Sam's Club, and Giant, followed by lunch at Sticks Kebob Shop.  And since I accidentally left my wallet at home, my gracious husband paid for everything.  I'm so lucky to have him!
I'm grateful that I can finally feel my babies moving!  I was so anxious to feel them move for so long as I've been told that this experience is one of the coolest parts of being pregnant.  I have been feeling them for over a week and I have to say I definitely agree that feeling them move is my favorite part!  I love my baby boys!
I'm thankful for the new twin moms I have met and all of the advice they have given me and cheap baby gear they have sold me.  I feel so lucky to have such friendly and generous people in my community who have reached out to me.  Hearing their stories makes me feel alot more confident about having twins.
BONUS:  I'm thankful for the extra energy I seem to have found lately.  I had a super productive week and weekend and finally picked a color to paint the nursery.  After weeks of feeling exhausted and having little energy, I am glad I am getting some because I have so much to do before my boys get here!
Have a great week!
Well there is a BIG secret I have been keeping and most people who know me well, know my secret by now so I feel confident in sharing it here.  Today I am 20 weeks pregnant with TWIN boys!  This is the biggest thing I have to be thankful for!  In relation to my boys, I am thankful for the following:
I am thankful for these 2 beautiful gifts from God!  They are truly the greatest gifts I have ever received and I now can't imagine life without them even though they have not been born yet.
I am thankful for a healthy pregnancy and healthy babies thus far.  All three of us are doing well, gaining weight appropriately, and growing as we should.
I am thankful for a wonderfully supportive husband who has been my calm rock through the news that it was not 1 baby but 2 babies we are expecting.  I am also so grateful for him for taking care of me when I've been sick and making sure I am as comfortable as possible while I carry and nourish our little boys.
I am so thankful for supportive and generous friends, family, and coworkers.  People have been so eager to celebrate our news and hear our updates and they have donated so many baby and pregnancy items to us.  We've received Pack N' Plays, maternity clothes, a baby swing, baby clothes, a cradle, a high chair, a rocking chair, baby books, and so many other items and there are still offers coming in.  In addition, people helped us out with food, words of encouragement, advice, and such when I was too sick to stomach cooking regular meals and feeling like morning sickness all-day sickness would never end.  Ben, Baby A, Baby B, and I are all so lucky to be surrounded by such generous and loving people.
I am so grateful to my workplace for offering me the best maternity leave options I have ever heard of and allowing me to come back to work part time so I can spend more time with my babies and save on childcare.  I truly feel like they care about me as a person.
I know we are about to embark on a wild and crazy ride soon but I am already thankful for the opportunity.  I'm sure there will be sleepless nights, tears, and stress, but I wouldn't change it for anything.
Good morning and happy Thankful Monday!
Today, I am thankful for the following:
I'm thankful for my mother-in-law mom and sister-in-law sister taking time out of their weekend to help me pick out paint and figure out a plan for painting one of the rooms in my house.  I was totally lost and they gave me some really good advice and guidance.  Now I think I've found my color!
I'm thankful for dinner out with our good friends, Robert, Crystal, Cria, Megan, and their kiddos.  We got to try out Plaza Azteca which wasn't too bad for Mexican food in Charlottesville and we had a great time catching up with friends and seeing how much their kids have grown!
I'm grateful for a very productive week and weekend.  I've been in kind of a lazy winter slump made even worse by the bad cold I had all last weekend and last week so I'm very thankful to finally be feeling better and to squeeze some productivity out of my days.  I finally got all of our Christmas decorations and wrapping materials organized and put away, cleaned the house pretty well, cleaned up the 2 guests rooms and washed all of the linens, and did a ton of laundry.  I still have quite a bit of work to do but I feel like it will be easier to tackle now that I'm on a roll.
I'm thankful to be feeling better after one of the worst colds/coughs I've had in a long time.  It lasted over a week and I still have a residual cough and congestion but I'm so glad to be feeling and sleeping better.  Hopefully I can avoid all of the other bugs going around for the rest of the season.
I'm thankful for a great recommendation from my friend Crystal for a really good stylist at a local salon.  My hair has become so thin and I was in desperate need of a cut and style that would bring back some life to my hair.  Crystal recommended Sam at the Hair Cuttery in Barracks Road and he did an AMAZING job!  I love my haircut and my hair feels and looks alot healthier!
Have a great week and remember to be thankful!
Good morning and welcome to my Thankful Monday post.  Here's what I'm thankful for today:
I'm thankful for a husband who took great care of me all weekend while I was sick.  He brought me food, went to the store for me, and comforted me.  I really am a lucky girl to have him!
I am thankful again for my husband for consoling me after some not-so-good news on Friday and also for running into a good friend and her kiddos who helped cheer me up and distract me as well.
I'm so thankful for 2 girls nights in a row.  Tuesday, I met up with my former women coworkers at Travinia for a girl's night out and we had so much fun catching up and enjoying each other's company.  Then Wednesday, I enjoyed an impromptu happy hour at Bonefish Grill with 2 friends from work.  I always count my blessings for the wonderful women in  my life!
I'm grateful that my husband's car, which has continued to have problems, had an easy and cheap fix this week.  Luckily the tow truck driver who came to tow it to the mechanic found and fixed the problem and only charged us for the mileage after several other people (mechanics included) had looked at it and failed to diagnose the problem.
I'm grateful for longer days and more daylight.  I've noticed that the days are slowly but surely getting longer and I am so thankful for this!  Can't wait for spring!
Have a wonderful day!
Good morning and welcome to my weekly Thankful Monday post!
Here's what I'm thankful for today:
I'm thankful for a wonderful weekend spent with people I love!  Friday night, I had a nice quiet evening at home with my husband and kitties.  Then Saturday morning, I went with Sarah to support her school, the Virginia Institute of Autism, by participating in a pancake breakfast!  I met several of Sarah's coworkers and we enjoyed playing with all of the cute babies that came along with their mommies.  Afterward, Sarah and I had a girls day and did some shopping.  We found alot of post-Christmas deals at the mall and then headed to a new restaurant in town, Pasture, to belatedly celebrate Sarah's birthday!  As if that wasn't enough fun, when I got home, Ben and I went to his parents house to visit with our nephew Brandon and two nieces Abby and Elise.  It was a great day spent with my Virginia family!  Sunday, I got to spend the entire day running errands which wasn't bad at all because I got to do it with my husband.
I'm thankful for a great lunch catching up with my good friend Kristen at Baja Bean on Thursday.  I rarely go out to lunch and spend most days eating at my desk while working so it was a nice change of pace to take a long break from work with a friend.  Plus Kristen and I rarely get together since we are both so busy so I love getting to hang out with her whenever I have the chance.
I am thankful for a clean bill of health from my endocrinologist.  Another appointment last Monday revealed that my thyroid levels are perfectly normal which is great news!
I am thankful for working for such a wonderful company.  I recently talked with my boss and the Human Resources department at work about taking some important upcoming leave from work and coming back to work part-time.  I am more than thrilled with the options they have provided me and they have proved that they really do care about me as a person.  I am truly blessed to work at such a great company that treats their employees so well and recognizes the importance of a work-life balance.
I am thankful for the kindness of the people around me.  My husband and I are soon going to have a dramatic change in our lifestyle and people have been so wonderful to offer help, advice, support, and items that will help us along the way.
I hope you have a wonderful day!
It's been a little over a year now since I wrote my first Thankful Monday post.  This originally started out as an experiment so I could see if practicing gratefulness would help make me a happier person.  I think I can say that after a year, practicing gratefulness at least once a week has without a doubt helped me to be a happier and more positive person.  As a result of this conclusion, I think I will continue to write my Thankful Monday blog posts indefinitely.  So without further delay, here is the first Thankful Monday post of 2014:
I'm thankful for a fun craft night on Friday evening with Amy and Sarah.  It was Sarah's birthday, so we celebrated her day and I made her this

flourless nutella cake

.  I had so much fun just chatting with the girls, watching them make scarves, learning about different sewing techniques, and

creating an ornament from the trunk of our first Christmas tree

.



I always cherish these fun and creative times with friends.

I'm thankful for a nice long phone date with my cousin and best friend Megan!  Whenever we have phone dates, we end up chatting for hours.  It's always so much fun to catch-up and talk to the people I love!

I'm thankful for a very generous gift from my boss.  She was about to donate some belongings to Goodwill when she found out that I would be needing them soon so she gave them to me!  I'm so grateful to be surrounded by generous and helpful people!

I always say it, but I don't think it is ever enough – I am so thankful for my husband Ben!  He is always helping me and taking care of me!  This weekend, he stacked wood and continuously made sure the fire in our wood stove was burning to keep us warm (he even taught me how to operate it).  He also did several things on my honey-do list including but not limited to changing all of the burnt out light bulbs in the house and helping me fold a tablecloth.  I love him so much and still can't believe how lucky I am to have found him.

I'm thankful for my days off.  Though I work in retail and don't get as many days off during the holidays as I'd like, I am very thankful for the ones I do get.  Last Wednesday was a nice day off spent celebrating the New Year.
Have a great week and happy New Year!
I fount this great infographic on the Science of Happiness on this website.  Check it out!
I found another great article "10 Simple Habits to Help You Become Happier" on lifehack.org.  Some of these are the same ones found on other lists (exercise, enjoy friendship, etc.) but it also has some new ones like eating bananas.  I'm saving this here so I can refer back to it in the future and also so others can check it out.
Good morning and happy Thankful Monday!
Since tomorrow marks the end of the 2013 and Wednesday marks the beginning of 2014, I thought I do a special 2o13 Recap of the things I am thankful for this year!
I'm thankful for a very productive year.  At the end of 2012 and when I turned 30 a week before 2013, I made myself a promise that I'd make 2013 a very productive and memorable year.  Though it wasn't productive in the ways that I thought it would be, I think the improvements I made were even better than the ones I imagined.  They include the following:
Bought my dream house with my husband!
Traveled alot (10 out of the 12 months):

DC in February with good friends
New Orleans for my cousin Jennifer's bachelorette party in March
Padre Island in April to visit my mom and spend time with family
Houston and Galveston in June for my cousin Jennifer's wedding and to spend time with family
Nashville in June to visit good friends
Baltimore for a fun girl's weekend to celebrate Independence Day
Seattle and Victoria, Canada in July for my cousin Catie's wedding and to visit family
Nag's Head in August to have a girl's weekend at the beach
DC in September to see the Book of Mormon with friends
DC in October for a great training course for work
Massanutten with good friends in November
Cape Cod in December for my husband's cousin's wedding and to spend time with his family

Did alot of work to improve my happiness and mental health (reading, learning to meditate, cognitive behavioral therapy, online learning, exercise).

Trained for and ran the

Charlottesville 10 Miler

in March with my husband!

Got a great review and a raise at work and also learned to be more experienced and confident in my job.

Spent alot of very important time with family and friends.

Ran 1 race in June (

4 the Wounded 5K

), 4 races in the month of September (

Charlottesville Women's 4 Miler

,

9/11 Heroes Run

,

Special Olympics Pepsi 10K

, and 

Benefit 5K for Shiloh Thompson

) and 1 race in November (

Shelter For Help in Emergency 5K

) and greatly improved my running, pace, and personal records.

Lost 25 pounds (FINALLY – this had been a goal for a long time)!

Won tickets to the

King Family Vineyards Pink Ribbon Polo Classic

,

Top of the Hops Beer Festival

,  

Virginia Chili Blues & Brews Festival

,

 and an entry to the

4 the Wounded 5K

 – it was a lucky year (maybe it was that

red egg

we found)!

Helped several friends welcome sweet babies into this world!

Bought several pieces of furniture and large appliances for our first house (couch, book shelves, washer and dryer).

Bought and decorated our first Christmas tree together and celebrated our first Christmas in our new house with our families!

Created 2 amazing gifts that are still in the works (more on those later)!

Many more!
It was an amazing year and although there were ups and downs as there always will be, the wonderful things listed above will be the things I remember about 2013 and am grateful for when I look back on this year in the future!  I know 2014 is going to be one of the hardest but most rewarding and amazing years of my life thus far and I am truly looking forward to the challenge.
Happy New Year!  I'm wishing everyone a happy and amazing 2014 and please remember to try and be thankful.  I will continue to be!
I had a wonderful holiday celebrating with my family and hope that everyone else did as well!  Here's how it went!
Saturday morning, I woke up early to finish cleaning before my family got here.  My brother, Mikey, got in around 2 so he, Ben, and I decided to go have a late lunch at Brixx Wood Fired Pizza.  Afterwards, we did a little Christmas shopping and then went over to my friend Collin's house for a Christmas get-together with friends.  After a fun night and a white elephant gift exchange, we headed home.  My mom and Carrie didn't get in until about 3:30 AM.  Ben and I woke up to let them in and gave them the tour of the new house since they hadn't seen it yet.  After a short visit, we all went to bed to rest up for the next day.
Sunday morning, we got up and took it easy.  I made everyone coffee and cooked bacon, eggs, and toast for breakfast while Mikey made us all bloody marys.  After breakfast, we watched our Texans play and hung around the house visiting and looking at the fun stuff that my mom brought from Texas that she'd been storing for years.  We decided we needed to get out of the house for dinner and went to The Local since it is one of the few restaurants in Charlottesville that Mikey, Carrie, and Mom had never been to.  We had a great dinner and all ordered something different so we could each try a few bites of everyone else's dinner.  Afterward, we stopped by our condo to show them how the renovations looked and then watched for Christmas lights on our way home.
Monday morning, we got up and all enjoyed some light breakfast and visited.  After everyone had showered and gotten ready for the day, we headed out for lunch.  We went to Basil to have some great Mediterranean food complete with tabouli, hummus, baba gannoush, lebne, grape leave, and complimentary baklava.
It was a delicious lunch and we were all stuffed!  Then we went to see the movie American Hustle.  We enjoyed the movie and then headed to Pier One to exchange some gifts and then to the grocery store to buy ingredients for Christmas dinner.  When we got home, we all helped to make sausage balls and pralines.  Then we sat down to watch National Lampoon's Christmas Vacation (one of my favorite Christmas movies).
Tuesday was my birthday and we headed over to one of my favorite restaurants, Beer Run, for brunch.  I got my favorite dish, nachos, and we all enjoyed bloody marys and beers.
We did a little Christmas Virginia wine and beer shopping before leaving and then headed home to make some baklava and caprese kabobs to take over to my in-laws house where we celebrated Christmas and my birthday.  My mother-in-law Virginia Mom made the most amazing spread of food…she had everything and it was all so delicious!  Then we ate some of this amazing cake:
My Virginia Mom made the cake out of black beans but it tasted just like chocolate and it had layers of chocolate and Reese's Peanut Butter cups on the inside!  It was delicious AND full of protein!
The family sang happy birthday to me: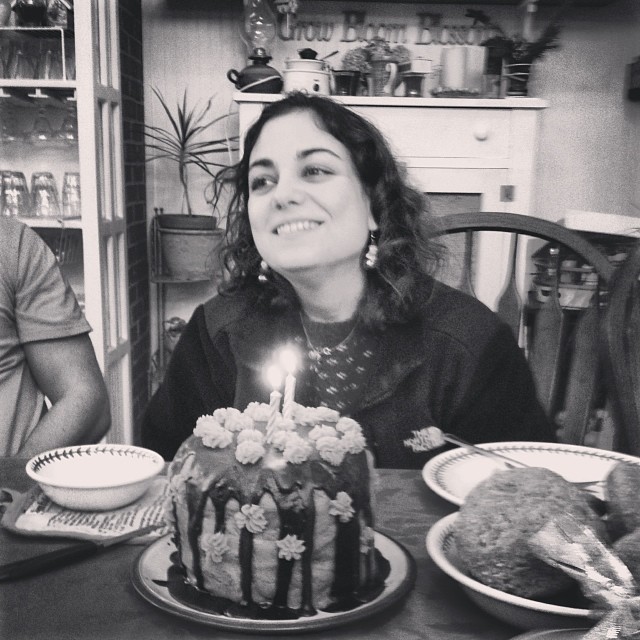 And I blew out my candles making a wish (it's a secret):
Then we opened gifts and enjoyed each other's company for the rest of the evening.  We went home and everyone scrambled to finish putting the last minute touches on their gifts and complete their wrapping.  Our tree looked like this:
Christmas morning, we awoke to this:
And my mom surprised Ben by hand-making him a stocking to match the ones she made my sister, brother, and I as babies:
We all opened presents, enjoyed mimosas, and ate sausage balls and had a wonderful Christmas morning!
Then we went to work on dinner.  Mom made augratin scalloped potatoes, tenderloin, creamy horseradish sauce, bacon-wrapped green beans, rolls, Granny Scott's Wilted Leaf Lettuce Salad, and blackberry cobbler for dessert!  It was all so delicious and she outdid herself once again!  Ian, Sarah, and Phyllis joined us for dinner: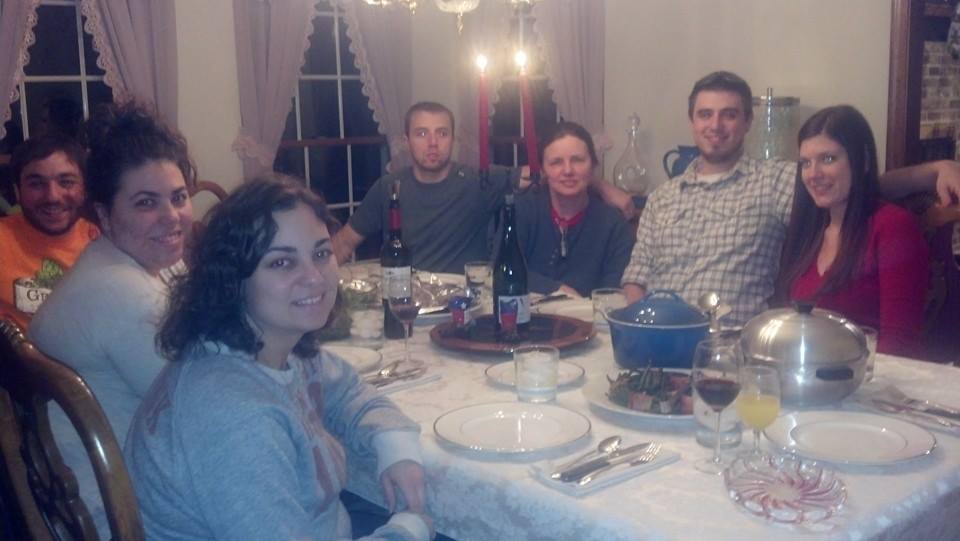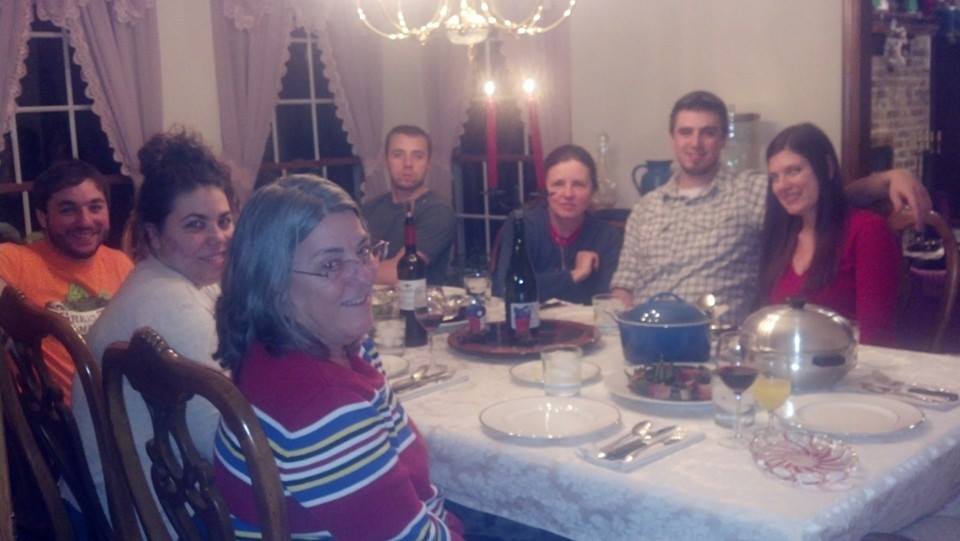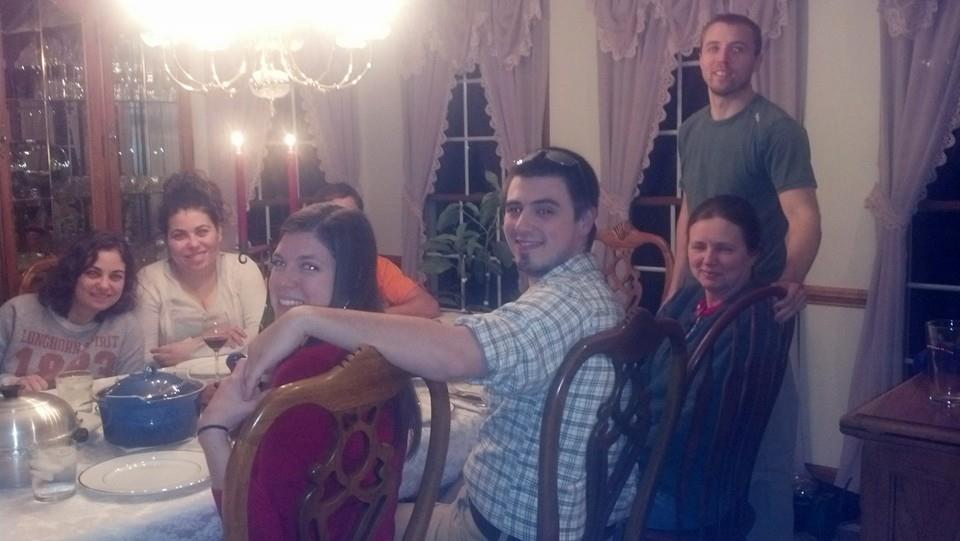 We finished the evening by spending time together and Skyping with some family in Texas.  In was the most amazing holiday and now I am so sad that it is over and so sad that my family had to leave.  However, I am so happy and grateful they could be here and can't wait to see them again soon!
Merry Christmas everyone and happy New Year!
P.S.  Thanks to Sarah, Mikey, and Carrie for many of the pictures!