Good morning and welcome to this week's Thankful blog post…on Tuesday!  I was traveling all day yesterday so I didn't have a chance to post my regular Monday morning Thankful post.
Here's what I'm thankful for today:
I'm thankful for a wonderful long weekend in Cape Cod!  I'm grateful that I got to see a new part of the country I'd never visited, got to see where my husband spent his summers as a child, got to visit with family that we don't see very often, and got to meet new family members.
I'm thankful to my in-laws for planning the trip, booking the hotel, renting the car, paying for way too much, and allowing us all to have a nice family vacation together.  They were more than generous on this trip and I'm grateful to them for the whole experience!
I'm thankful that our cousin Kimberly found her best friend and soul mate in Matt and that we were able to help them celebrate this weekend.  They both seemed so happy to be joining each others' families and I am ecstatic for them!  And Kimberly sure knows how to pick them…Matt is a wonderful and funny guy!  They had an amazing and beautiful rehearsal dinner, fabulous wedding complete with ceremony, cocktail hour, and reception, and Sunday brunch at the beautiful Wequassett Resort .  It was a wonderful place to stay and to hold the festivities!  I'm also grateful that Kimberly and Matt gave us the opportunity to help them celebrate their marraige to one another!
I'm thankful that I finally got to meet Ben's Uncle David and Aunt Dee.  They were both so hospitable and nice and shared many pictures and family heirlooms with us when we visited.  I probably learned more about Ben's extended family in one weekend than I have in the seven and a half years we have been together.  I'm also so very grateful to get to visit with and get to know Ryan, Olya, Marcia, Kimberly, Matt, and all of their friends and family.  Family, friends, and relationships are the most important thing in the world to me, so I'm always grateful for the chance to nurture them and allow them to grow.
I'm thankful that we all made it safely to Cape Cod and back despite thunderstorms and winter storms all along the way.  We were lucky that we didn't run into any terribly slippery roads or extreme weather conditions and I'm also thankful to be home now and see our kitties that we missed so much!
Have a wonderful week!
P.S.  Here's a picture of Ben and I from the wedding on Saturday!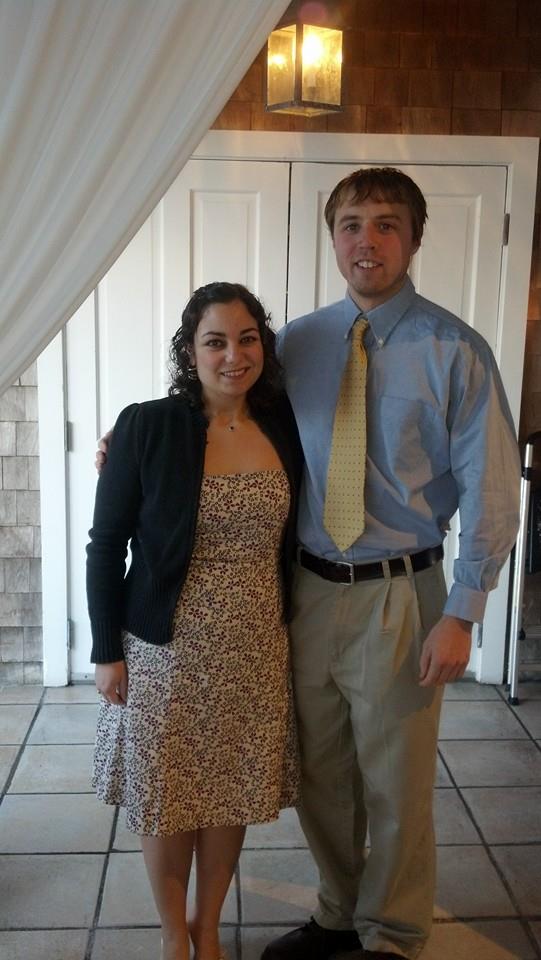 Considering that my job is tied to computers and the internet and my company does a fair share of marketing driven development, I thought this was an interesting infographic posted by lifehack.org:
Good morning and happy Thankful Monday!
I hope everyone had a wonderful Thanksgiving!  Tuesday night, my friend Kristen came over to visit while I cooked this cranberry sauce recipe and my mom's Broccoli Cheese Casserole.  Wednesday, I worked from home and then we enjoyed Thanksgiving dinner with Ben's parents, Ian, Sarah, and Sarah's family.  Everything was delicious and I ended up stuffed!  I especially LOVED the citrus apple cider that Ben's mom made…best apple cider I've ever had!  Thursday, Ben and I watched the Macy's Thanksgiving Day parade and then I enjoyed a nap before heading over to have Thanksgiving lunch with his mom.  Then I  had a great phone date with my best friend/cousin Megan.  I worked from home again on Friday and then went to Friendsgiving for more yummy food and fabulous friends at Collin's house.  Saturday, Ben, Sarah, and I went to see Hunger Games: Catching Fire which was much better than the first one and I splurged on movie popcorn. Sunday I was very productive and got some more boxes unpacked.  Even though I had to work, it was a nice holiday filled with wonderful people.
Here's what I'm thankful for today:
I'm thankful that in less than a month, my family will be here to celebrate Christmas with me.  I'm so thankful that they are able to travel to Virginia this year for the holiday, especially since last year was the first year the four of us were not all together on Christmas.
I'm thankful that my dad, step mom, and three little brothers made it home safely from France and had a nice vacation.
I'm thankful that my mom made it safely to Dallas last night and got to spend some time with family.  I'm also thankful for a great opportunity she has.
I'm thankful for loving family and friends that I was able to spend the Thanksgiving holidays with.
I'm thankful for my new bookshelves and my husband who put them together for me.
Happy December!
Good morning and welcome to my Monday morning Thankful Monday post!
I feel like everyone is especially thankful this week because Thanksgiving is on Thursday.  Here's my thankful list for today:'
I am thankful for my husband Ben.  He made me french toast for breakfast yesterday, and even though he has this week off of work and didn't have to get up early, he got up at 6:30 AM and offered to make me breakfast before work.  He made me french toast again (DELICIOUS) and it's the first time in a long time I can remember eating my breakfast at home and not taking it with me to work!  He is also coming to meet me for lunch today since he has the day off!  I love him and I'm so lucky to have him!
I'm thankful for having a working heater and for modern heating systems.  It was 17 degree this morning when I left the house and yesterday the high was only 35 degrees.  I am definitely not a fan of winter and cold weather so to be able to stay nice and warm inside is something I appreciate greatly!
I'm thankful for a healthier mind, body, and outlook on life this year.  This time last year, I was very depressed and anxious.  I knew I was going to have to spend the holidays (both Thanksgiving, my birthday, AND Christmas) without my family for the first time ever and I wasn't adjusting well to having to leave my old job and everyone that I loved working with as well as my wedding being over.  Thanks to a great deal of hard work, research, soul searching, and mindfulness techniques that I learned (including these Thankful Monday blog posts), I am learning how to be happy and find happiness from within.  I still have a long way to go and recognize that this is a lifetime process that I can't just stop once I think I've mastered it.  I'm just so happy to be in a much better place than I was a year ago.
I'm thankful for wonderful friends who brighten up my life.  Tuesday, I enjoyed girls night with two good friends and their lovely daughters.  It's always fun to see their babies growing up and to catch up with them.  Then Friday, I had frozen yogurt (YUM) with Sarah, Meghan, and Meghan's cut little baby at Bloop, followed by dinner with lots of friends at Miller's to bid farewell to my awesome friend Wilson before she moves to the west coast.  Then I got my Bodo's fix (I hadn't had Bodo's in way tooo long) while visiting with Ian, Sarah, and Cris.  My life is full of wonderful friends!
Lastly, I'm thankful for a family to spend the holidays with.  I know that alot of people don't have anyone close to them to spend Thanksgiving with or can't afford to travel home to be with the ones they love, so I am thankful that I married a man whose family loves me and lives nearby.  I always remember a man that I worked with at VGT named Charles.  Every year, he and his wife would invite everyone in the company (there were at least 250 of us) to his home for Thanksgiving dinner.  Alot of people at VGT relocated for the job so I think this gesture was especially generous because so many people were living far from their families.  Sadly, Charles died not too long ago, but I will always remember his generosity, especially around Thanksgiving time.
Happy Thanksgiving and have a wonderful week!
Good morning and happy Thankful Monday!
Today, I am thankful for the following:
I am grateful for our wonderful friends Robert and Crystal who invited us to stay with them at their timeshare this weekend in Massanutten.  We went to the awesome indoor waterpark that has slides, a lazy river, hot tubs, and a really cool surfing rider.  We had a blast and I am always grateful to Robert and Crystal for inviting us on such fun weekends.  I can't wait until we have our next adventure with them!
I am thankful for my husband Ben.  I know I mention him often on my Thankful Monday list, but I really can't say it enough.  I am so lucky to have found this man who loves and understands me and I'm even luckier to get to spend the rest of my life with him.  I love him so much and am so grateful for everything he does for me.
I am thankful for my wonderful in-laws.  Wednesday night, we stopped by Ben's parents' house and his mom made us a delicious dinner of beef stew and homemade bread.  She always welcomes us for any meal and makes the most delicious food.  In addition, she is constantly sending home fresh eggs, fresh herbs, fresh veggies, homemade pasta and pesto, and freshly baked bread with us.  I'm so grateful and lucky to have married into a family that I like AND love!
I am thankful for my parents.  They always give me the best advice and love me unconditionally.  My mom is my best friend and with that, she always tell me what I need to hear (not what I want to hear).  Both my parents are so smart when it comes to life and business and they always have a wonderful way of explaining why something does or does not make sense.
Lastly, I am thankful for my job.  I know I have said it before and I'm sure I'll say it again.  I don't love my job and I don't always enjoy it, but I have learned so much in the past year and a half that I'm sure will help me throughout my career and I am lucky to work with really nice, down-to-earth people.  I am also very lucky to work somewhere that has a flexible schedule and recognizes the importance of family and the work-life balance.  I am grateful that they took a chance on me when I had very little web and database programming experience.
Have a wonderful week!
Good morning and happy Thankful Monday!
Today, I'm very thankful for the following:
I'm so proud of and thankful for my hard-working husband.  Not only does Ben keep our house, indoor and outdoor, in top-top shape, he does it all while working a full time job, renovating our condo, and fitting in a workout every single day.  He really is my super man.  This weekend he spent hours stacking firewood for the winter, ripping up carpet in the condo to prepare for new carpet installation, and making the weekly trip to Lowe's for supplies.  He even managed to fit in an evening of hunting and go to the grocery store for me.  I'm so happy he is in my life and I hope he knows how grateful I am for everything he does.
In honor of today being Veterans Day, I am thankful today and every day for all of the men and women and their families who have dedicated their lives and hard work toward this country.  It is the ultimate sacrifice and they do not receive enough gratitude in my opinion.  Thank you to them all past, present, and future.
I'm thankful for our kitties, Revolver Ocelot and Eva.  They turned 5 on Saturday and while I can't believe we've had them almost 5 years (it will be 5 years in February that we adopted them), I also can't remember a time without them.  They make us smile every day and I love them so much!
I'm thankful for the opportunity to mentor again with Computers 4 Kids.  I am mentoring my third student and she is so funny and clever and has a great eye for fashion.  I have been enjoying getting to know her and in the few short meetings we have had I believe we have both already taught each other several new things!
Lastly, I'm thankful for a clean bill of health from my Endocrinologist.  When I went to see her last, my thyroid was somewhat over-performing.  While that did help me to some degree to lose weight (22 pounds so far), it is not a good thing.  With this most recent appointment, she said my levels are right back to normal which makes me glad.
Have a wonderful day!
Good morning and happy Thankful Monday!
I've noticed that now that it's November, the month of Thanksgiving, a bunch of my friends are posting what they are thankful for each day on Facebook as they've done in past years.  I think this is a great idea and I wonder if any of them will take a look at their happiness and gratitude levels now and then again at the end of the month to see if there has been any improvement.  I definitely feel like I've seen a difference in the few months that I've been writing these thankful posts.
So without further delay, here's what I'm thankful for today:
 I'm thankful for a week of getting to catch up with good friends.  Last week, I joined Kristen for dinner and got to see Meredith who I haven't run into in months!  I also finally got to meet Kristen's boyfriend and we all had a great night enjoying homemade carnitas and pumpkin creme brulee which I got to torch myself!  Kristen is quite the chef and she even sent me home with fresh baked banana bread and a spaghetti squash!  Friday, I was lucky enough to meet Cara and baby Zachary for lunch.  I hadn't seen either of them since Zachary was born over 4 months ago so it was so nice to catch up and get to hold that sweet baby!  Then Saturday morning, we joined Robert and Crystal for breakfast at The Nook where lots of laughs were had!  I've said it before and I'll say it again, I have amazing people in my life.
I'm thankful for a strong body and mind that allowed me to run the Shelter For Help in Emergency 5K for the third time Saturday morning.  This race supports a great cause and Ben and I ran it together.  It wasn't my best time but I felt like it was a good race and I didn't feel the desire to walk once despite the steep hills on the course.  Check out our results here!  My awesome husband got 26th place out of 271 people!
I'm thankful that my good friend Lauren had her baby girl Annabelle on Halloween night and very happy to hear that both Lauren and Annabelle are doing well!  Lauren told me she was expecting her first baby on April Fool's Day so of course I thought she was playing a joke on me!  I'm so excited for Lauren and JR to welcome their baby girl…they are going to be amazing parents!
I'm thankful for a wonderfully close family.  Even though I didn't get to join them, this past weekend, my mom's side of the family had a mini-reunion since my Great Aunt Pat (AKA Mary F***ing Poppins) was in town.  My mom was able to drive up for the weekend and visit with everyone and it makes me so happy that she has family around.
I'm thankful for having a fixed heater now that its getting colder.  Out heater was broken last week, and even though it cost a pretty penny to fix, it was still cheaper than fixing our air conditioning units that are still in need of repair.  I have always said I'd rather be hot than cold!  I guess that's the Texan in me!  I'm really grateful for my husband for getting the heater fixed so fast!
BONUS:  Lastly, I still can't mention details, but as I said last week, I'm very thankful for something that isn't quite official yet.  It has to do with our condo and if it goes through, it could save us alot of money.  But of course I don't want to jinx it so I'll keep my mouth shut for now.  :)
Happy Monday and happy November!  Stay warm and remember to give thanks!
I love dark beers, particularly porters and stouts, however in the summer, its usually just too damn hot to imbibe in them.  If I happen to catch myself out on a relatively cool summer night or come across a rare dark brew that I have been dying to try, I'll drink it, but I usually stick to lighter beers when the weather's hot.
I'm not a huge fan of winter as I've written before, mostly because I loathe the dark, short days and can't stand the cold weather.  However, one great thing the cold weather ushers in is my taste for darker beers which also seem to be more widely available in the winter months.
One of my favorite breweries, Terrapin Beer Company, out of Athens, Georgia was recently featured in an episode of one of my favorite shows, The Walking Dead (also filmed in Georgia) and makes one of my favorite dark beers, the seasonal Moo-Hoo Chocolate Milk Stout.  My guess is that Moo-Hoo takes its name from the chocolaty milk beverage called Yoo-hoo due to its smooth, creamy texture and chocolate flavor that comes from the use of cocoa nibs, cocoa shells, and lactose in the brewing process.  In my opinion, Moo-Hoo is a thousand times better than Yoo-hoo ever was, but I am a bit biased seeing as I've become quite the beer snob.
Terrapin makes some really amazing beers including Pumpkin Fest, Hopsecutioner IPA, and a number of rare Side Project beers like the Liquid Bliss I wrote about last year.  In addition, they have some of the most creative and entertaining artwork bringing their labels alive!
I recently picked up a 4 pack of Moo-Hoo at the weekly free beer tasting we go to at Market Street Wine Shop.  I'm really looking forward to enjoying this thick, dark beer now that the days are getting colder.  If you are a fan of beer in just the tiniest amount, I highly recommend checking this brew out while its in season!
Good morning and happy Thankful Monday!
Today, I am thankful for the following:
I am thankful for a wonderful week with friends!  Tuesday, I met some of the VGT girls at Brixx for dinner and catching up.  Thursday, I made this crock-pot chicken taco soup recipe and we had all of Ben's family over for a fun family dinner.  Friday night, Sarah, Amy, and I had a lovely girls night just chatting and relaxing.  Then, Saturday night, I went to Carolyn's Halloween party where I laughed all night long at the outrageous costumes everyone had!  It was a week filled with lots of the people I love.
I am thankful for my cats.  They have been catching mice left and right.  I'm guessing we've been seeing more mice because it's been getting colder and they are looking for a warm place to spend the winter.  I'm thankful my cats are taking care of them before I have to deal with them.  And I'm also very thankful for Ben since he is the one who takes care of disposing of the dead mice the cats have caught.
I am thankful for free movies and date nights.  Wednesday, Ben and I got tickets to a free advanced screening of the move About Time which was really good and we prefaced the movie with dinner at a new Thai restaurant, Bangkok '99 that had really great food and wonderful service.  I love date nights with my husband, especially when they involve free movies!
I'm grateful for a restful weekend.  I took two naps and spent a ton of time bundled up on the couch watching American Horror Story, my current Netflix obsession.  It was the perfect activity for a cold fall weekend.
Lastly, I'm excited for something very special that I can't reveal on the blog yet as its a surprise.  But I can say that it makes me very happy and I count my blessings for it every day!
Have a great week!
7 Scientifically Proven Ways to Be the Happiest Person on Earth, an article on Lifehack, explains exactly why I write my Thankful Monday blog posts every week.  The first item on their list, "Practice gratitude once a week." says that "Expressing gratitude, or counting your blessings, does not just make you happy—it also improves your health."  I wholeheartedly agree and have noticed a big difference in my health and happiness since I started practicing my gratitude weekly.
I also agree with every other item on their list, particularly number 2 "Make friends and invest in your relationships." and number 4 "Take care of your body."  I used to exercise because I wanted to look thin and feel good physically, but these days, my motivation to exercise is driven more by my desire to feel happy and mentally healthy.  I also used to be extremely introverted and didn't have too much desire to put the work into relationships, but now I realize how wonderful they are despite the hard work that goes into maintaining them.
I'd definitely read the article…its a quick read but its full of wonderful advice!