Good morning!  Welcome to this week's thankful Monday blog post!
Today, I am thankful for the following:
I'm thankful for the fit body and sufficient health that allowed me to run 8 miles and walk another yesterday morning with my husband and a new friend.  We are all training for the Charlottesville 10 Miler this spring and we had a great training run!
I am thankful for the various free educational opportunities out on the web.  I've been taking online courses, lectures, and seminars from Code Academy, Coursera, and I Will Teach You To Be Rich since the new year started and I am learning so much valuable information as well as building my experience base, and it's all FREE!
I am thankful for birthdays because they give us an excuse to celebrate and a chance to come together with new and old friends.
I'm thankful for Netflix and Comcast On Demand that allow me to escape my worries and stress temporarily at the drop of a hat by having thousands of movies available.  This weekend, I watched Total Recall, The Switch, Man of the House, and Insidious.
I'm thankful for the fresh start to do better and live fuller that Monday brings us each week!
Have a great week!
Saturday, my friends Sarah and Amy and I decided to have a girls/craft day!  Most of the crafts I've been wanting to do are household related and since Ben and I STILL HAVE NOT found a house, those will all have to wait.  So I decided to go with something that I could enjoy immediately… jewelry!
Ever since my sister was making jewelry and beading back in high school, I've wanted to try it.  She always made such pretty things that were very similar to items in the store that cost lots of money.  So I decided I'd make a very simple beaded bracelet.  We headed to Joann Fabrics for crafting supplies where I decided to go with copper wire and turquoise beads.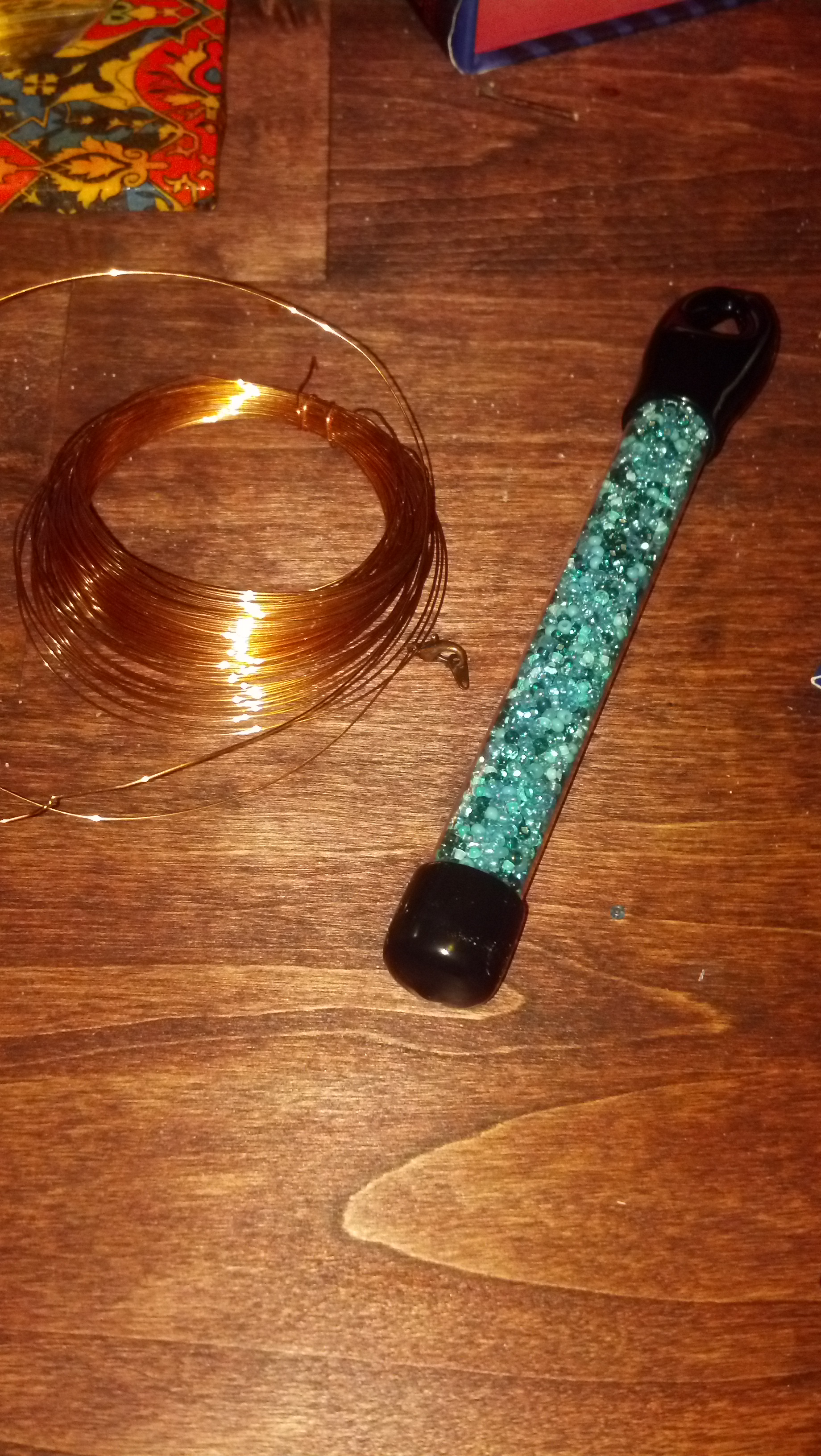 While Sarah worked on her amazing curtains and Amy created beautiful artwork for her home, I meticulously added bead by bead to my copper wire in a nice and organized pattern.  I was very happy with the result and think I'd like to keep learning and crafting jewelry   The finished product looks like this: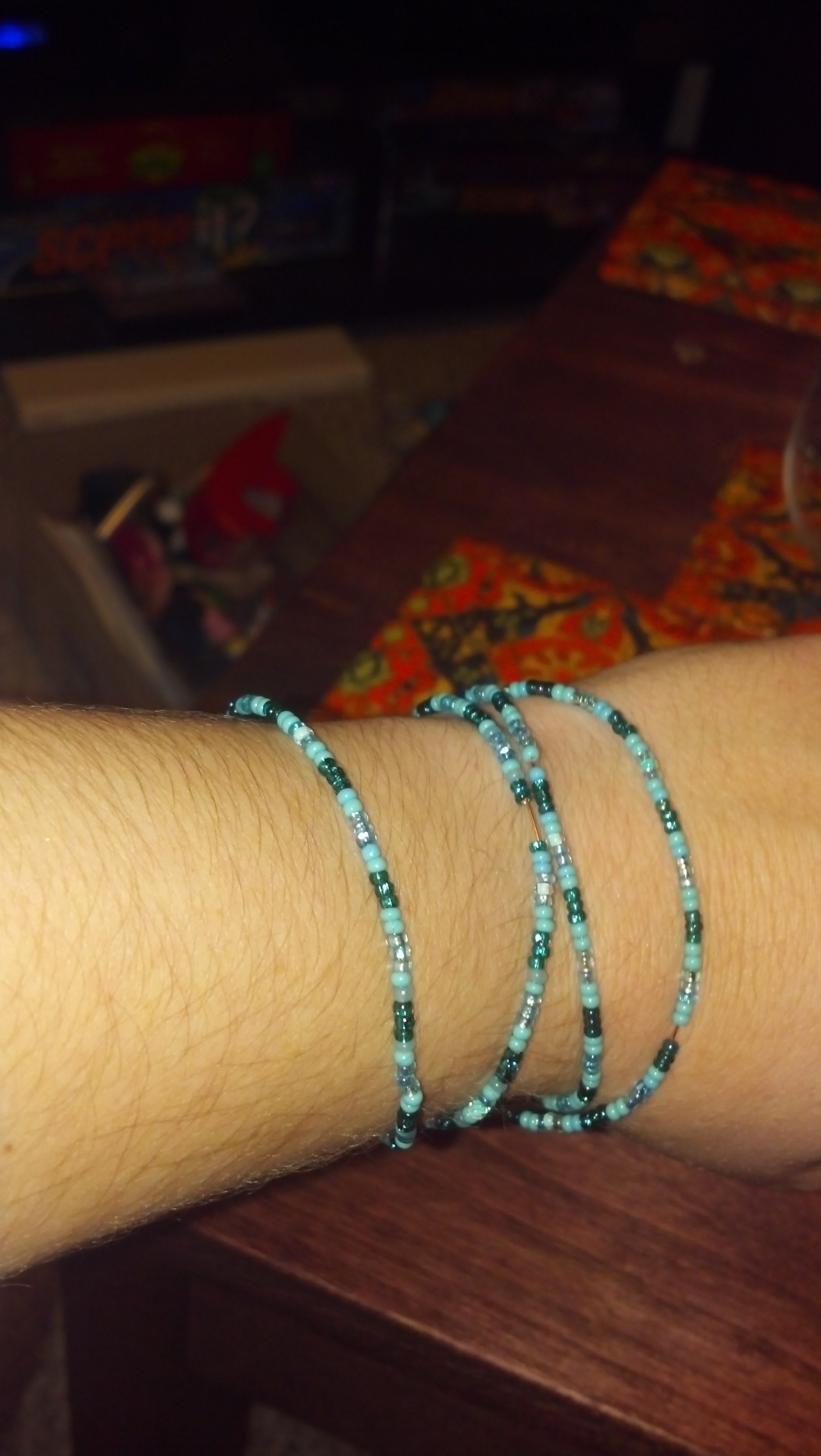 Can't wait to make my next work of art!
Good morning and welcome to this week's Thankful Monday post!
Here's what I'm thankful for today:
I'm thankful for good friends and their creativity.  I had a wonderful time crafting and spending time with girlfriends on Saturday and even made a lovely bracelet!
I'm thankful for cool in-laws.  I've always said that I'm very lucky to love and get along well with my mother and father-in-law especially when I hear other people complain about theirs.  My in-laws let me watch the Texans game at their place last night at the last minute and even made an event out of it complete with dinner and beer!
Again I am thankful for today's technology.  This past week, it allowed me to chat with my brother, talk to my sister, Skype with my mom, and text with my dad.  I'm so thankful to be able to stay close with them even when we are far away from each other.
I'm thankful for my cats.  My husband went camping Saturday night and they cuddled with me and kept me warm all night while he was gone.
Lastly, I'm thankful for God who watched over and protected a friend who was in a car accident this weekend and turned out to be just fine.
Have a wonderful week!
Good morning and welcome to week 2 of 2013 and today's Thankful Monday post!
Today I am thankful for the following:
I am thankful for a job where I can work from home on occasion.  I was sick with a cold most of last week and luckily I was able to work from home in my pajamas on the couch rather than come to work and infect others while an endless stream of mucous flowed from my nose or waste my precious PTO!
I am thankful that for now, my body seems to be getting over this cold quite quickly.  It's been less than a week since I started feeling badly and with the exception of some leftover congestion, I'm already feeling pretty much back to my old self.
I am thankful for a husband that went to the grocery store Friday after work and bought me the ingredients to make my mom's homemade chicken noodle soup that always makes me feel better when I'm sick.
I am thankful my brother made it home safely from South Africa and had a good trip.
I am thankful my sister has found a job at Starbucks and seems to be excelling at it.
And as a bonus,
I am thankful that the Texans beat the Cincinnati Bengals on Saturday in the first round of the NFL playoffs!  Go Texans!
Have a great week!
Good morning and welcome to the last day of 2012 and today's Thankful Monday post.  Here's what I'm thankful for:
I'm thankful for a fresh start with a new year starting tomorrow.  I'm ready to do right by 2013!

I'm thankful that my brother comes home from South Africa tomorrow.  Even though we live 6 hours apart, we've been talking alot and I miss our little chats.  Plus I'm really excited to hear about his adventures!
I'm thankful for the ability to work from home on occasion.  It made me feel alot safer to work from home rather than drive to work last week when we had a snowy and icy day and there were lots of car accidents being reported.
I'm thankful for my wonderful mom and her amazing talent for gift giving.  We are loving our new AeroGarden and Soda Stream, both of which will save us some money and help us to live healthier lives.
I'm thankful for my mother-in-law Virginia mom and her craftiness and creativity.  She helped me make an amazing New Years wreath yesterday and has really introduced me to some great projects lately that have allowed me to healthily distract myself from my anxieties.
Happy New Year everyone!  May 2013 be your best year yet!
Welcome to today's Thankful Monday Wednesday post!  Monday was my birthday and yesterday was Christmas and my mom was in town so there was little time for blog posting.  Here's what I'm thankful for this week:
I'm thankful for the BEST most wonderful mom who loves me so much.  She knew I was down in the dumps about not being able to fly to Texas for my birthday and Christmas this year (the first time ever) so she flew to Virginia and surprised me!  I love her so much it makes my heart hurt!

I'm thankful for my wonderful husband and friends who helped facilitate my mom's trip by picking her up from the airport and delivering her to me at the ugly Christmas sweater party I was attending.
I'm thankful for my Virginia family who not only helped my mom plan the surprise but were generous hosts while she was here, making us dinner and desserts on several occasions.  I'm also thankful for them welcoming us into their home on Christmas Eve and Christmas.
I'm thankful for airports, pilots, airplanes, and everything else that allows us to travel far and wide these days.  Mom was able to travel to Virginia Friday night and then back to Houston on Christmas morning in order to spend time with my sister on Christmas after she got off work.
I'm thankful for my husband for being caring, considerate, and understanding, and giving me a shoulder to cry on when it was finally time for my mom to leave.  I miss her so much, but I'm so thankful for the people who I love who live close by to get me through the times when I find myself missing my family unbearably!
Merry belated Christmas to everyone and mom, if you are reading, I love you so much and am grateful for you everyday!
I found this story on facebook and have seen it before.  I'm not sure of the original source or author of the story, but I wanted to post it here so that I could always return to it and be reminded of its great message:
A professor stood before his philosophy class and had some items in front of him. When the class began, he wordlessly picked up a very large and empty mayonnaise jar and proceeded to fill it with golf balls. He then asked the students if the jar was full. They agreed that it was.

The professor then picked up a box of pebbles and poured them into the jar. He shook the jar lightly. The pebbles roll
ed into the open areas between the golf balls. He then asked the students again if the jar was full. They agreed it was.

The professor next picked up a box of sand and poured it into the jar. Of course, the sand filled up everything else. He asked once more if the jar was full.. The students responded with a unanimous 'yes.'

The professor then produced two Beers from under the table and poured the entire contents into the jar effectively filling the empty space between the sand.The students laughed..

'Now,' said the professor as the laughter subsided, 'I want you to recognize that this jar represents your life. The golf balls are the important things—-your family, your children, your health, your friends and your favorite passions—-and if everything else was lost and only they remained, your life would still be full. The pebbles are the other things that matter like your job, your house and your car.. The sand is everything else—-the small stuff.

'If you put the sand into the jar first,' he continued, 'there is no room for the pebbles or the golf balls. The same goes for life.

If you spend all your time and energy on the small stuff you will never have room for the things that are important to you.

Pay attention to the things that are critical to your happiness.

Spend time with your children. Spend time with your parents. Visit with grandparents. Take your spouse out to dinner. Play another 18. There will always be time to clean the house and mow the lawn.

Take care of the golf balls first—-the things that really matter. Set your priorities. The rest is just sand.

One of the students raised her hand and inquired what the Beer represented. The professor smiled and said, 'I'm glad you asked.' The Beer just shows you that no matter how full your life may seem, there's always room for a couple of Beers with a friend.
This is the last week of my twenties.  Next Monday, December 24th at approximately 1:38 PM central time, I will enter a new decade.  I'm looking forward to making my thirties infinitely better than my twenties.  As many people have pointed out to me, I have the following advantages going for me at the start of this new era:
I'm more confident
I'm more financially stable
My relationships are more stable and of an adult quality (this does not mean that they aren't super fun)
I'm more educated
I have more experience
Just a few goals I have for the next decade are:
Become a mother
Become a homeowner
Discover my passion and my dream job and excel at it
Continue to strengthen the bonds of my relationships with family and friends
Have a blast!
And as a great ending to this post, I leave you with Tim McGraw's "My Next Thirty Years":

This Monday, I'm thankful for the following:
I'm thankful for my wonderful AMAZING friends who threw me a surprise birthday party this weekend!  I'm a lucky gal to have so many great people in my life!
I'm thankful for the opportunity to get to know some of my coworkers better on Friday at an unofficial work Christmas party.  I had a blast!
I'm thankful for a cooperative and wonderful husband who not only attended my work party on Friday and spent all day Christmas shopping with me on Saturday, but he also helped my friends with surprise party planning!
I'm thankful for a good job that pays well and has allowed me to buy my loved ones Christmas gifts this year.
I'm thankful for the long phone conversation I had with my cousin Megan yesterday.  It was so great to finally catch up with her!
I hope everyone is having a lovely and grateful Monday!
I found another new and interesting beer at the one and only Beer Run.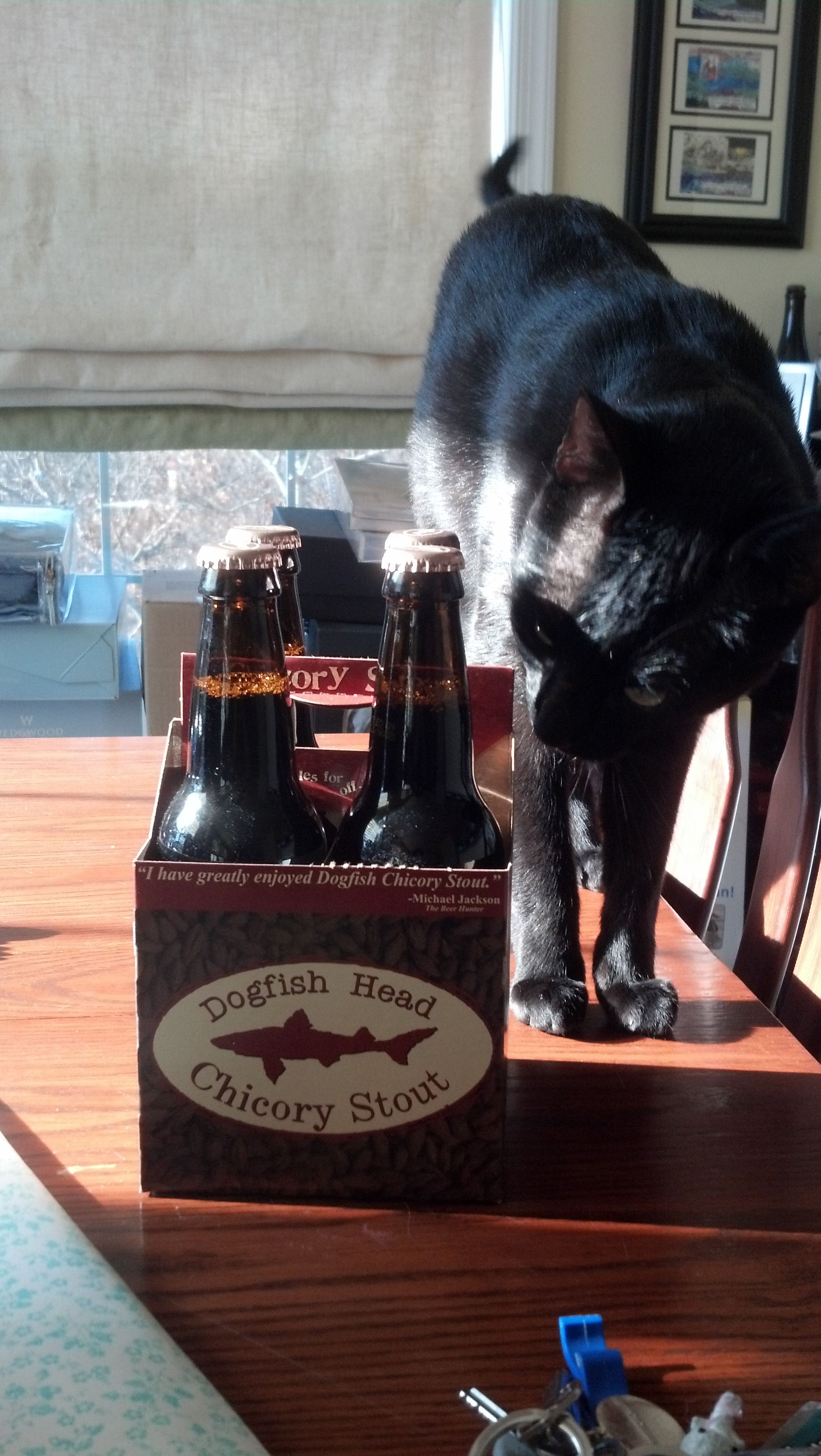 Dogfish Head Chicory Stout  from the amazing Dogfish Head Craft Brewery is a seasonal beer made with chicory, the same ingredient used to make the famous coffee at Cafe Du Monde in New Orleans.  This is one of the first seasonal beers that Dogfish Head brewed when they first started operations in the mid 1990′s.  It's a dark, thick stout filled with many unique flavors like chicory and licorice that you won't find in many other craft brews out there.  Give it a try!
P.S.  Revolver Ocelot approves!