Archive for the 'Uncategorized' Category
Whenever I leave Texas/home/family or get back to reality after a lovely trip to Texas/home, I get this nagging tinge of sadness.  It eats at the back of my mind.  It makes my heart ache.  It creates the lump in my throat.  It makes me question my place in my life.  Can I stay in Virginia forever?  Will I stay in Virginia forever?  I have to stay in Virginia forever.  I feel trapped.  I've made a life here, a wonderful and amazing life filled with beautiful souls surrounding me.  But I also have a life there, a wonderful and amazing life filled with more beautiful souls who I long to be around.  I start to panic, worrying about all of the moments I'm missing with those people in Texas.  I start to get jealous of them because they are there and I am not.  I miss my mom, I miss my dad, I miss them all.  Sometimes I wonder if I have Separation Anxiety Disorder.  Sometimes I wonder if I'm just an emotional child who never learned to be OK with being on my own.  And other times I wonder if maybe what I'm feeling is normal even though it hurts so very much.  The tinge of sadness turns into much more.  It turns into anxiety, emotion, pain, and depression that engulfs me.  Its like I'm on a roller coaster.  I go from level ground in my every day life to being at the very top spending an amazing time with people who I miss and love in a place that I miss and love and then I'm down at the bottom trying to get back to that ground level again when all I can think about is the very top.  My mind conjures up an old woman, the me of the future, here in Virginia, all alone, with no one to love me and let me love them.  This may be my biggest fear.
My main motivation becomes getting back to that top, back to Texas, back to the ones I love as often as possible.  The reason I seek a high-paying job, the reason I save my money, the reason I allow my inbox to overflow daily with the latest airfare deals.  It becomes an obsession.  I need to find a way to stop this cycle.  Leaving my family and Texas cannot always reduce me to becoming an emotional child.  It's not healthy and it's not fair for the ones around me that I love.
Here are some things that seem to help:
Having another trip or visit to look forward to (this isn't always easy as I don't always have the next trip planned or booked)

Getting back into a schedule as fast as possible
Spending time with the people I love here to remind me why I am here
Counting my blessings…being thankful that I am even able to take the trips
Talking to the people I love there on the phone or on the internet to remind me that they are only physically far away but close in all other ways (thank goodness for Facebook, Email, Cell phones, Skype)
Escaping…into a movie, into fun, into activities
I'm not sure if any of those are healthy ways of dealing, but they all seem to provide some relief until I've reached that level ground again.  Please, if anyone has any suggestions or ideas, I'd love to hear them.  How do you cope with being permanently away from the ones you love?
Good morning and welcome to the last day of 2012 and today's Thankful Monday post.  Here's what I'm thankful for:
I'm thankful for a fresh start with a new year starting tomorrow.  I'm ready to do right by 2013!

I'm thankful that my brother comes home from South Africa tomorrow.  Even though we live 6 hours apart, we've been talking alot and I miss our little chats.  Plus I'm really excited to hear about his adventures!
I'm thankful for the ability to work from home on occasion.  It made me feel alot safer to work from home rather than drive to work last week when we had a snowy and icy day and there were lots of car accidents being reported.
I'm thankful for my wonderful mom and her amazing talent for gift giving.  We are loving our new AeroGarden and Soda Stream, both of which will save us some money and help us to live healthier lives.
I'm thankful for my mother-in-law Virginia mom and her craftiness and creativity.  She helped me make an amazing New Years wreath yesterday and has really introduced me to some great projects lately that have allowed me to healthily distract myself from my anxieties.
Happy New Year everyone!  May 2013 be your best year yet!
I just voted in the 2012 election and here's proof: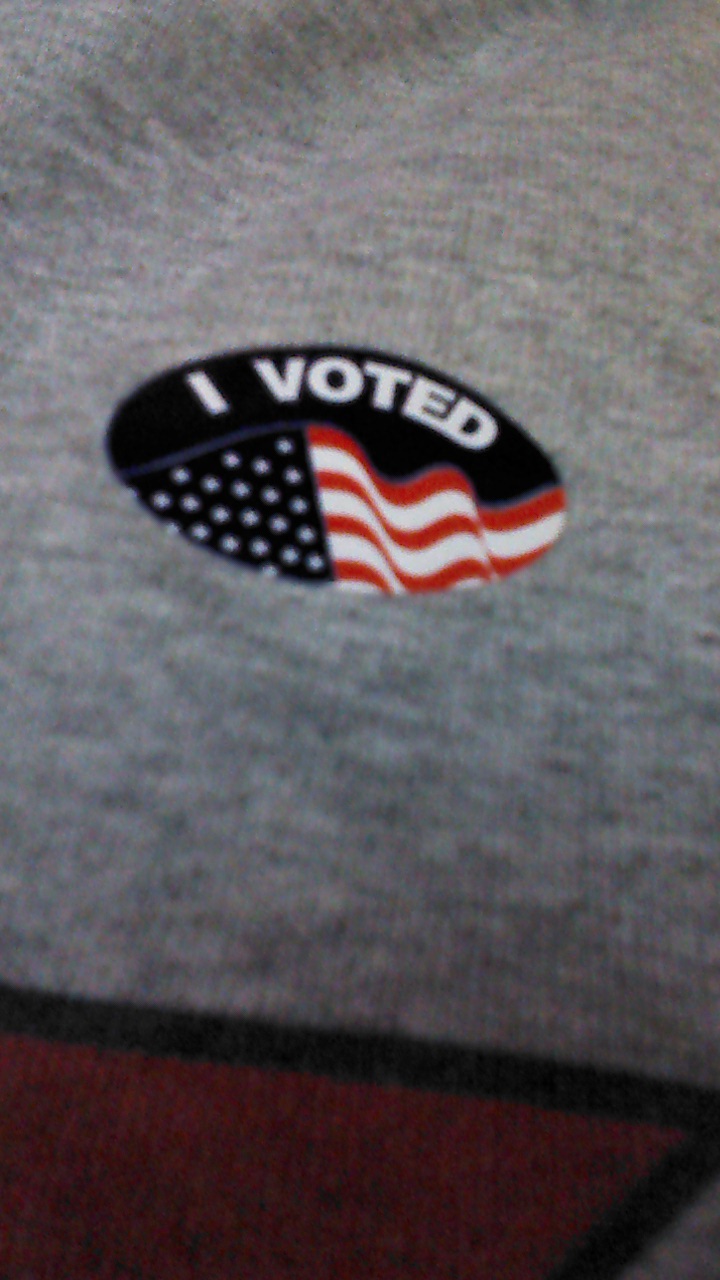 I'm wearing my voting sticker proud this morning!  I voted for the office of President and Vice President of the United States, Senator for Virginia, House Representative for Virginia, and cast my vote on two amendments to the Virginia state constitution.
Everyone should get out there and vote regardless of the long lines or your busy schedules.  This is a right and privilege that many people in this world do not have and less than 100 years ago, even women in this country did not have so get out their and exercise your right as an American!
Happy Election Day!
This morning, on my way to work, I was stuck behind an SUV going unusually slow.  I was really annoyed that the person in front of me was making my commute last a few minutes longer than it normally does.
All of a sudden, a deer darted out in front of the SUV in front of me which caused them and then me to slam on our breaks.  We were all lucky…the deer escaped without injury and the driver of the SUV and myself were safe from any car accident.  Then I realized that had that slow driver not been in front of me, I probably would have been driving at my usual higher speed or following another car driving at a faster speed and things could have ended very badly for myself, the deer, and my car.
I realized that someone or something was watching out for me and the unusually slow driver in front of me this morning was put there for a reason.  I found myself being thankful for them rather than annoyed or frustrated and reminded myself to not always be in such a hurry.  It's experiences like this that reinforce my belief in God and a higher power.
A couple weeks ago, I joined my dad, brother, and sister for an impromptu trip to New York City to see the Houston Texans play the New York Jets for Monday Night Football.  It was an amazing trip and I absolutely loved getting to spend a weekend with my family.  The only way it could have been better was if my mom and husband were there but mom had to work and Ben was on a fishing trip in North Carolina.
We all met up at the airport on a Saturday afternoon.  Mikey flew in from Columbia, South Carolina, I flew in from Charlottesville, and Dad and Carrie flew in from Houston.  After a wild goose chase around Laguardia Airport and bumping into some other Texan fans in town for the game, we made it by taxi to our hotel in New York City.  We got settled in and then sat down at the hotel bar to discuss the evening's plans over drinks.
Since the Longhorns were playing West Virginia, we decided to find a pub to watch the game.  Mikey had heard about a place in New York called Hill Country Barbecue Market that Texas Exes go to watch the games so we headed that way.  Let me tell you, BEST.DECISION.EVER!  This place was straight outta Texas, complete with Shiner and Lone Star beer, Blue Bell ice cream, tons of Texas decor, and authentic Texas barbecue!  Mikey and I, having not lived in our dear home state for years, were in HEAVEN!  They even had their own Texas flag, a Pearl Brewery sign (located in San Antonio where I went to college, I attended one of the most amazing parties of my college career there), and the waiters all wore Longhorn shirts for the game.
We stuffed ourselves with barbecue and cheered on the Longhorns over 4 buckets of Lone Star beer!  Unfortunately the Longhorns lost, but man was it a good game and you never would have known you were in New York by the inside of that bar.  Almost every person was sporting burnt orange and after each touch down, the entire bar was yelling the University of Texas Fight Song at the top of their lungs.  Mikey swore we could have won had he thrown more chairs!
The next day, it was raining so we picked up some cheap, broken umbrellas.  Of course we didn't know they were broken when we bought them.  Mikey found a disgusting green paperclip on the streets of New York City that was just what he needed to MacGuyver his green umbrella to stay open.  Since it matched the umbrella perfectly, we dubbed it the "Green pooperclip of destiny".  Pooperclip was the appropriate term since that's probably what it had on it after laying in the streets of New York.
After standing in like in Time Square, we bought tickets to Chaplin on Broadway.  It was our last choice (if you ever go to New York, make sure to buy your Broadway musical tickets well in advance), but the play was spectacular and we learned alot about Charlie Chaplin that we hadn't known.  We had time to kill before the play, so we headed to an Irish pub near Time Square called the Pig 'n Whistle where we dined on appetizers, drank beer served by an authentic Irish bartender, and watched NFL.  We then headed to see Chaplin at the Ethel Barrymore Theatre which was amazing and I'd highly recommend to anyone looking to see a Broadway musical.  Afterward, we found McGee's Restaurant and Pub which is the bar that MacLaren's Pub in the show How I Met Your Mother was based on.  There we had more drinks and then headed to Stand Up NY, a famous comedy club where tons of comedic actors got their start doing stand up.  There was a 2 drink minimum so we drank cocktails and laughed until we cried.
The next day we all put on our Texans gear to represent our home team.  Carrie wanted to see the 9/11 Memorial and the Empire State Building, so we navigated our way through the subway to get to Manhattan.  I hadn't been to the site of the World Trade Center 9/11 terrorist attacks since 2005 when they were still cleaning up debris so I was blown away by the memorial that now sits in its place.  Although it is still not complete, the memorial and north and south pools were quite a site.  It was humbling to see the spot where thousands of innocent Americans died and I was thankful for the opportunity to honor them.
After that, we headed to the Empire State Building where we did what my dad would describe as a lot of standing in line.
We finally made it to the 86th floor after all of that waiting and it was definitely worth it.  I went to the top of the Empire State Building back in 2005, but that was at night time so it was cool to go up during the day and see the city from so high!  We splurged and joined the 102 club, going all the way to the 102nd floor!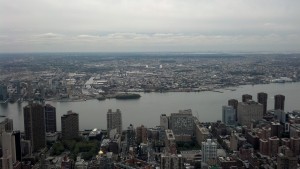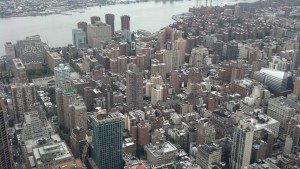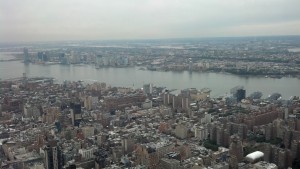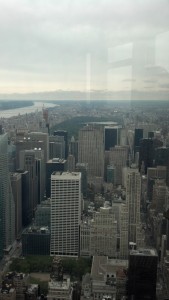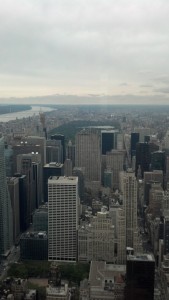 After all of that elevator riding, we were famished, so we walked to Keens Steakhouse for lunch.  Keens has the largest collection of churchwarden pipes in the world and their ceiling and walls were lined with them!  The food was amazing too and we were stuffed after dining on steak and a fine Cabernet Sauvignon.  After that, dad needed a rest before the game, so we headed back to the Doubletree to relax for a while.  I took advantage of the downtime to enjoy a Saint Arnold's Oktoberfest that my awesome sister brought me all the way from Houston (you can't get Saint Arnold's beer outside of Texas or Louisiana).  I also attempted to help my dad log into his iPad, but he forgot the password and I have to say it was quite comical watching him try to remember it!
Soon it was time to head to see our Texans beat the New York Jets at Met Life Stadium.  First, we headed to Stout to pre-game where we met some fellow Texans fans going to the game.  After seeing some other patrons doing Irish Car Bomb shots, we decided to do one as a family and convinced my dad it was a good idea.  Then we headed to Penn Station where we took the train to New Jersey where Met Life Stadium is located.  We met more Texans fans from Houston on the train and had a great time talking football with them!
When we got to the stadium, everyone was pumped.  There were alot more Texans fans there than we expected so there was lots of cheering and shouting of "Go Texans!" every time we passed other fans in their Texans jerseys!  The game was great and the Texans beat the Jets 23 to 17.  It was a pretty close game, but our undefeated Texans pulled through!
It was an amazing weekend and I'm so thankful for the opportunity to make such great memories with my loved ones.  A special shout out goes to my dad for footing the bill!  I can't wait for the next Elsaifi adventure!
You know what really drives me nuts?
People who have last names that sounds like first names.  For example, John Robert or Lisa Leslie.
Why does this drive me crazy?  Because I'm an idiot and get their names fixed up.  Then I end up calling John, Robert, and Lisa, Leslie and everything turns into a big ole I'm an idiot fest!  This happened to me the other day at work and after a coworker pointed it out to me, I felt terrible and HAD to apologize to the person right away.  Now, whenever I see that person, all I can think about is how I butchered their name and I just keep reminding myself in my head of what his actual first name is!
Thank goodness my kids' last name will be Davidson.  Although I'm sure there are people out there whose first names are Davidson, I don't think it's very common.
Today is rough.  Yesterday was rough.  I've been discovering that there is so much I don't know and so much I need to learn to even come close to feeling comfortable at my new job.  Javascript, SQL, Jquery, CSS…the list goes on and on.  Of course I know tiny bits and pieces of these languages and concepts and can infer alot because of my programming background but I still feel like I'm drowning in a sea of inexperience and anxiety.
I want to quit because quitting is easy.  I want to find an easy job.  But another part of me refuses to take the easy route or be a quitter or work for a lower salary when I've become accustomed to the amount of money I make now.  I am trying to teach myself and learn from coworkers and Ben, but why does everyone else seem to get it easier and faster than me?  I'm tired of being the person that is constantly asking questions and needing someone to hold my hand through every little process.
I told Ben I'd give it 3 more months here and evaluate how much I've grown and learned.  I'm afraid I'm in the wrong job or the wrong field but I don't know if that fear is based in reality or based in the exhaustion of anxiety about not being able to do my job or do it well.  I know I'll feel so much stronger and confident if I can hold on and work through being inexperienced but in the meantime, every minute I spend at work is filled with terror, frustration, and anxiety.  I'm just waiting for things to get easier.
Lately we've had a bit of bad luck on the homefront.
Ben's fish has been really sick for a couple of weeks now.  Despite lots of medicine and trips to the pet store, he's only gotten worse and we're worried he's dying.
Then on Sunday, we realized our kitchen sink had been leaking for quite some time and had flooded the particle board cabinet underneath.  Now we've got to deal with the possibility of mold and tracking down the leak.
In addition, on Sunday, our TV turned itself off and made a strange noise when we turned it back on.  We're keeping our fingers crossed that this was an isolated incident.
Then last night, my laptop blue screened.  I'm getting nervous that the motherboard or hard drive might be going bad.  I've had the computer for 4 years now and it's no longer under warranty.  Although it would be nice to have a new one, I definitely can't afford it right now.
Ben's car has also been giving us a hard time.  He had it in the shop 3 different times in the past couple of weeks.  First they thought he needed a new battery, then they realized they actually needed to replace the alternator.  Then the alternator they replaced it with went bad.  We are hoping that nothing else bad happens in the car department.
All of these are kind of trivial (except for Ben's fish dying of course), but added together, there could be alot of money and effort needed to get everything back in working condition.  I'm starting to wonder if we are just going through a bout of bad luck or if we might have gremlins in the house.  Either way, I need to find some lucky rabbits feet and four leaf clovers fast!
Last night, I joined my sister-in-law/best friend, brother-in-law, and a friend for dinner at their house.  I brought the wine (of course) and Sarah did the cooking.
When I first arrived, Sarah announced that she was making Tilapia for dinner.  Upon hearing that, I thought that I would just eat mostly sides as I'm not a fan of fish at all.  I really don't like the smell or the texture of it despite how good I know it is for me.  But I said I would try the fish at the very least because Sarah and Ian have raved about how wonderful it is plus I didn't want to me a rude dinner guest either.
After lots of laughter and good conversation, dinner was finally ready and Sarah, Ian, Collin, and I sat down to tilapia with a creamy dill sauce, baked asparagus, and baked potatoes.  It was a delicious dinner and I actually LOVED the fish.  I even came home telling Ben (who is always wanting me to cook more fish at home) how wonderful it was and that I was going to make it for dinner in the future.
It just goes to show that if you try new things, you might just be surprised and find a new favorite!
If you're interested in the recipe, check out Scissorsandspatulas.com.
I just experienced my first earthquake.  At first I thought it was just construction going on in the building I work in, but those around me informed me that it was indeed an earthquake.  I've got to say it has left me a little shaken up (no pun intended).  I didn't think earthquakes happened in Virginia, or at least not big ones that could be felt.  This one was a 5.9 and seemed to last for around 30 seconds.
Hopefully everyone is ok and there wasn't much damage done.  Keeping my fingers crossed that there won't be any more earthquakes here!
You can see details about today's tremor here.