Archive for the 'Travel' Category
Hi friends,
It's been a long time (3 months to be exact) since I last posted.  Life's been busy with 2 two-year olds, work, home-ownership, and a few other things I have up my sleeve.  I've been trying to remember to be grateful and practice gratitude and I'm even trying to teach my boys how to practice it, but nothing seems to work as well as this weekly posting so I'm back for more!
Today, I'm thankful for the following:
I'm thankful for a fun trip to Texas 2 weeks ago and also so thankful to my dad for footing the bill, my sister and brother and their significant others for hosting us, and my mom for making a special trip just to see us for a couple of hours.  We had such a great time in Houston and got to see so many friends and family we love so much.  We can't wait for our next trip!
I'm grateful for the opportunity my boys have to start preschool in August.  We got into our first choice school and I'm so excited for them to start attending and learning!  I'm grateful they were accepted and we didn't have to be on a wait-list.
I'm thankful for new opportunities at work.  I'm been extra busy at work since the start of 2017 learning some new skills and getting familiar with new areas of our website that I hadn't previously had the opportunity to work in.  I'm grateful to my boss and team for giving me the opportunity and also providing me with support as I learn.
I'm thankful for spring!  It's here and the cold weather, my least favorite, is almost behind us!  Bring on the flip-flops!
I'm thankful for my husband who continues to work hard on getting our house in order.  It seems like he is constantly fixing or improving something and all of that on top of working full time and taking great care of his health and fitness!  We would be lost without him.
Have a happy day and I hope to post again next week!
Happy New Year Friends!
I'm wishing everyone peace, prosperity, health, and happiness in 2017!  Here's what I'm grateful for today:
I'm grateful for an amazing Christmas holiday celebrated in Texas surrounded by so much family!  I'm so thankful that we were able to travel and spend time with so many of the people that mean the most to me!  I hope you had a great Christmas too!
I'm thankful that I work for a great company with an awesome employee discount benefit!  Our 10 year old TV finally kicked the bucket last night and I was able to save almost $500 on a new TV with my employee discount.  Thanks Crutchfield!
I'm grateful for my mom.  She always does her best to make sure that her family has a great Christmas.  She outdid herself this year by providing a big and beautiful festive home for us all to convene for the holidays and by cooking some amazing holiday meals!  Thank you Mom!
I'm grateful for my husband who spent his first Christmas away from his parents so that we could spend the holiday in Texas (my first time in 5 years!).  I know it wasn't easy for him or his family to be apart on Christmas so I want to say a special thanks to them all for being cool with it.
I'm grateful for a fresh start and the new year.  There are exciting things coming for my family this year and one of my goals is to try and remain grateful with a positive attitude and to also raise my boys with that same mindset.
Happy 2017!  Love you all!
This week, my family and I have a lot to be grateful for:
My father-in-law nearly choked to death and my mother-in-law saved his life!  I'm grateful that he is ok and so thankful that my mother-in-law was there and able to save him.  I'm also very thankful for the quick-responding EMTs and hospital staff at Martha Jefferson who took good care of him.
I'm thankful for each day that myself and everyone I love wakes up and is healthy.  After what happened this week, I am reminded that every day is a gift for us all.
I'm thankful that we live close to my in-laws and were able to be nearby in an emergency.
I'm grateful for washing machines!  We've had alot of blowouts this week and having a washing machine and dryer sure does make life with toddlers a lot easier!
I'm thankful for the week ahead which will be filled with sun, fun, family, and friends!
Love to you all!
Oh wow!  It's been a while since my last post!  Summer has been busy yall!  I need to remember to be grateful and keep a positive outlook on life so here's a few nuggets of gratitude!
I'm thankful for the opportunity to fly to Texas with Ben and the boys back in July and introduce Carter and Morgan to so many friends and family and the place that I first (and will forever) called home!  They got to meet so many people who are some of the most important people in my life and that makes me so happy!
I'm thankful for an amazing summer so far!  We've done so much, including but not limited to, graduated from swimming lessons, tried out our first splash park, flew to Texas and back, ate authentic Tex-Mex, went to the Richmond Zoo, met and visited uncles, aunts, and cousins (in both Texas and Virginia), attended 2 beer festivals, went to King Family Polo with awesome friends, had so many awesome play dates, went swimming, visited new wineries and breweries, tried lots of new foods and restaurants, and went on lots of fun walks!  If I have time, I'll do a detailed recap of the boys' big summer.  What a blast it has been and I thank my boys and everyone involved for making it so much fun!
I'm thankful for a new restaurant in town I've discovered, Brazos Tacos.  It is owned and run by Texans, serves authentic Texas-style tacos and awesome salsas and guac, and is totally kid friendly!  I'm so thankful for a little taste of home here in Virginia.
I'm grateful for awesome coworkers and cool people I have the opportunity to work with.  I'm lucky to be surrounded by such talent and amazing personalities.
I'm grateful for all of the moms in my life…they make being a mom myself so much easier and so much more fun!
Love to you all!
I'm trying to keep positive these days!  Lately, I'm thankful for the following:
I'm thankful for fun friends visiting from out of town and a husband who watches our children so I can have a night out!  My friends Cris and Carolyn were in town so a bunch of us spent a great evening at World of Beer!  It was a blast!  Then on Sunday, we had a great lunch at Beer Run!  I got to enjoy awesome people, great food, and two of my favorite beer joints in town!
I'm thankful for my hard-working husband who spends most of his free time trying to keep up with the demands of our yard and house!  He is constantly fixing something or mowing the grass or doing some sort of upkeep and I hope he knows how much I appreciate it.
I'm thankful I FINALLY get to take my boys to Texas and go to the beach after a 2 year beach-hiatus!
I'm grateful for the holiday we have this week!  YAY 4th of July!
I'm thankful for electricity.  We had a rough thunderstorm with hail last Thursday and I was afraid we were going to lose power again.  It blinked a couple of times but luckily it came right back on.  After last weekend's power outage, I am much more grateful for the common comforts electricity provides that we often take for granted!
Happy day friends!
Good morning and happy Thankful Thursday (it's been a busy week)!
Today I'm thankful for the following:
I'm thankful our tenant has decided to continue renting for 6 more months!  That definitely takes some pressure off since we can delay finding a new renter for a while.  Plus he's a great tenant!
I'm thankful that we can afford to go to Texas to spend some time with family at the beach this summer!
I'm thankful that I was able to successfully complete a fairly tough project at work despite having a cold that is lasting a long time and causing my head to be foggy.
I'm grateful for my in-laws who housed us, fed us, and provided us with air-conditioning and running water when our power was out for 26 hours last weekend.
I'm grateful our power was only out for a day and not longer and that none of our food in the refrigerator or freezer went bad.
Have a great day!
Good morning and happy Thankful Monday!
Since tomorrow marks the end of the 2013 and Wednesday marks the beginning of 2014, I thought I do a special 2o13 Recap of the things I am thankful for this year!
I'm thankful for a very productive year.  At the end of 2012 and when I turned 30 a week before 2013, I made myself a promise that I'd make 2013 a very productive and memorable year.  Though it wasn't productive in the ways that I thought it would be, I think the improvements I made were even better than the ones I imagined.  They include the following:
Bought my dream house with my husband!
Traveled alot (10 out of the 12 months):

DC in February with good friends
New Orleans for my cousin Jennifer's bachelorette party in March
Padre Island in April to visit my mom and spend time with family
Houston and Galveston in June for my cousin Jennifer's wedding and to spend time with family
Nashville in June to visit good friends
Baltimore for a fun girl's weekend to celebrate Independence Day
Seattle and Victoria, Canada in July for my cousin Catie's wedding and to visit family
Nag's Head in August to have a girl's weekend at the beach
DC in September to see the Book of Mormon with friends
DC in October for a great training course for work
Massanutten with good friends in November
Cape Cod in December for my husband's cousin's wedding and to spend time with his family

Did alot of work to improve my happiness and mental health (reading, learning to meditate, cognitive behavioral therapy, online learning, exercise).

Trained for and ran the

Charlottesville 10 Miler

in March with my husband!

Got a great review and a raise at work and also learned to be more experienced and confident in my job.

Spent alot of very important time with family and friends.

Ran 1 race in June (

4 the Wounded 5K

), 4 races in the month of September (

Charlottesville Women's 4 Miler

,

9/11 Heroes Run

,

Special Olympics Pepsi 10K

, and 

Benefit 5K for Shiloh Thompson

) and 1 race in November (

Shelter For Help in Emergency 5K

) and greatly improved my running, pace, and personal records.

Lost 25 pounds (FINALLY – this had been a goal for a long time)!

Won tickets to the

King Family Vineyards Pink Ribbon Polo Classic

,

Top of the Hops Beer Festival

,  

Virginia Chili Blues & Brews Festival

,

 and an entry to the

4 the Wounded 5K

 – it was a lucky year (maybe it was that

red egg

we found)!

Helped several friends welcome sweet babies into this world!

Bought several pieces of furniture and large appliances for our first house (couch, book shelves, washer and dryer).

Bought and decorated our first Christmas tree together and celebrated our first Christmas in our new house with our families!

Created 2 amazing gifts that are still in the works (more on those later)!

Many more!
It was an amazing year and although there were ups and downs as there always will be, the wonderful things listed above will be the things I remember about 2013 and am grateful for when I look back on this year in the future!  I know 2014 is going to be one of the hardest but most rewarding and amazing years of my life thus far and I am truly looking forward to the challenge.
Happy New Year!  I'm wishing everyone a happy and amazing 2014 and please remember to try and be thankful.  I will continue to be!
Good morning and welcome to this week's Thankful blog post…on Tuesday!  I was traveling all day yesterday so I didn't have a chance to post my regular Monday morning Thankful post.
Here's what I'm thankful for today:
I'm thankful for a wonderful long weekend in Cape Cod!  I'm grateful that I got to see a new part of the country I'd never visited, got to see where my husband spent his summers as a child, got to visit with family that we don't see very often, and got to meet new family members.
I'm thankful to my in-laws for planning the trip, booking the hotel, renting the car, paying for way too much, and allowing us all to have a nice family vacation together.  They were more than generous on this trip and I'm grateful to them for the whole experience!
I'm thankful that our cousin Kimberly found her best friend and soul mate in Matt and that we were able to help them celebrate this weekend.  They both seemed so happy to be joining each others' families and I am ecstatic for them!  And Kimberly sure knows how to pick them…Matt is a wonderful and funny guy!  They had an amazing and beautiful rehearsal dinner, fabulous wedding complete with ceremony, cocktail hour, and reception, and Sunday brunch at the beautiful Wequassett Resort .  It was a wonderful place to stay and to hold the festivities!  I'm also grateful that Kimberly and Matt gave us the opportunity to help them celebrate their marraige to one another!
I'm thankful that I finally got to meet Ben's Uncle David and Aunt Dee.  They were both so hospitable and nice and shared many pictures and family heirlooms with us when we visited.  I probably learned more about Ben's extended family in one weekend than I have in the seven and a half years we have been together.  I'm also so very grateful to get to visit with and get to know Ryan, Olya, Marcia, Kimberly, Matt, and all of their friends and family.  Family, friends, and relationships are the most important thing in the world to me, so I'm always grateful for the chance to nurture them and allow them to grow.
I'm thankful that we all made it safely to Cape Cod and back despite thunderstorms and winter storms all along the way.  We were lucky that we didn't run into any terribly slippery roads or extreme weather conditions and I'm also thankful to be home now and see our kitties that we missed so much!
Have a wonderful week!
P.S.  Here's a picture of Ben and I from the wedding on Saturday!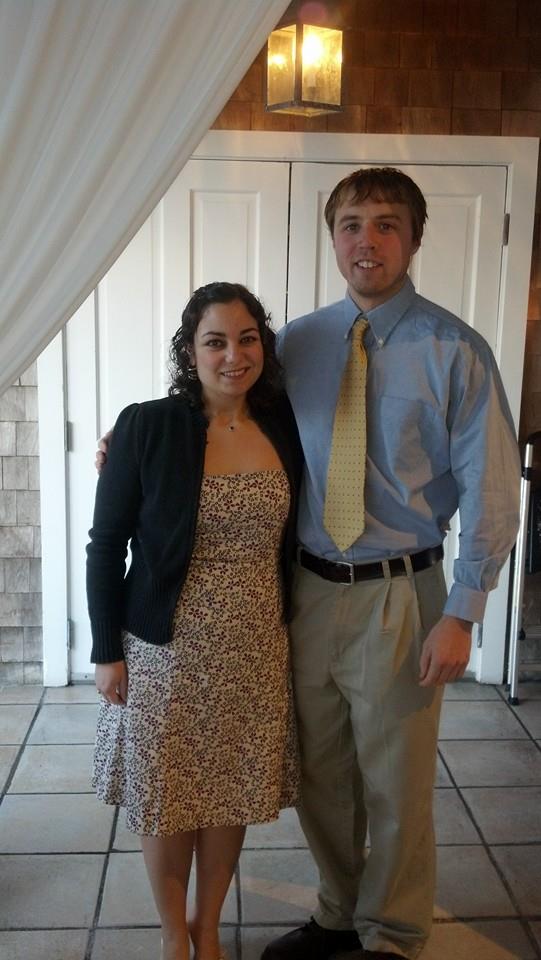 Good morning and happy thankful Monday!
Here's what I'm thankful for today:
I'm thankful to be back home with my husband and kitties after a week away in Reston for training.  I missed them alot and being away from them always makes my heart grow fonder! <3
I'm thankful to my work for giving me the opportunity to attend a really informative and well-done Learning Tree course last week on web development.  I learned so much and got to check out Reston, an area I had never been to.  My hotel and training center were in Reston Town Center, a really cool place if you ever have the opportunity to check it out.  The whole experience was wonderful and I'm really grateful to my work for paying for the trip and giving me the opportunity to learn!
I'm thankful that I got to see my yaya Cris last week.  She lives in Northern Virginia and since I was there for training, we hung out Thursday night and went to Mister Days with some of her friends.  I had a great time and was soooo happy I got to catch up with her!
I'm thankful for date days/nights with my husband!  Yesterday, we went to see Gravity with free movie tickets I had and then we had lunch together at one of our favorite places, Sticks Kebob Shop.  The movie was really good but caused me alot of anxiety…if you see it, you'll know what I mean!
Lastly, I'm thankful for a healthier me.  In the past 7 weeks, I've worked really hard and lost 14.5 pounds!  I'm at my lowest and healthiest weight since 2007 and I am motivated and excited to lose more!
Have a great week!
Good morning and welcome to my weekly Thankful Monday blog post!
Here's what I'm thankful for today:
I'm thankful for the opportunity to see The Book of Mormon musical with my friends Cris and Carolyn at the Kennedy Center on Friday.  Thanks to all of us working together, the plans for the night turned out great!  I'm cherishing these little trips right now as once I have kids they will be fewer and far between.  The play was hilarious and the Kennedy Center was a beautiful venue!  What a great night!
I'm thankful for the generosity from my sister-in-law's dad.  He was cleaning out a storage unit this weekend and gave us several items that homeowners would need including a shop-vac and a miter saw!  I'm so grateful for his generosity and the future spending he has saved us!
I'm thankful for family.  Sunday, we had lunch with my in-laws to celebrate my nephew's 20th birthday.  It was nice to spend time with the whole family and enjoy my mother-in-law's awesome lunch, including her famous coconut raspberry cake!  She and I also made bacon wrapped figs using the figs from our fig tree.
I'm thankful for the cooler weather we've been having.  Our air conditioner has been broken so the cooler weather in August has been a blessing!
I'm thankful for a fresh start this Monday!
Have a great week!