Archive for the 'Autumn' Category
Living in Charlottesville provides quite a few lovely sites to help one become in tune with nature.  When I first moved to the Commonwealth, I was quite intimidated by the endless landscape of mountains and trees accompanying all roads and stretches of highway.  Born and raised a city gal, I was used to having numerous gas stations, restaurants, and shopping centers accompany me along my rides.  Being in Charlottesville and driving through the countryside for hours without seeing a single sign that the human race existed made me feel pretty lonely.  However, now I really do enjoy making my way from Charlottesville to Richmond with a only nature as my passenger. 
Besides the Blue Ridge Mountains, the occasional roadside grazing deer, and the trees often coated in white snow in the winter, Charlottesville is home to many hot air balloons and their pilots.  On most clear and sunny days in the Fall or Spring, you can catch a glimpse of a beautifully and brightly colored hot air balloon sailing through the sky on your way to and from work.  People often take them up to watch the sunrise or sunset so the timing is perfect to watch them on my drive to work or home from work. 
Even though my drive to and from work is only 30 minutes, I still get bored (probably because my commute at my former job was only about 5 minutes).  So the hot air balloons provide a nice background as I impatiently make my way through what small-town Charlottesville residents call traffic.  Getting to see these balloons sure beats the hell out of talk-radio!  I was lucky enough to have my camera to snap some great shots of the hot air balloons this fall.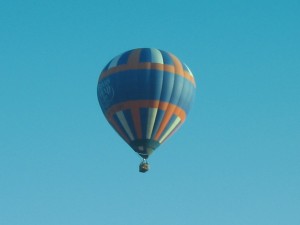 I'm so glad that autumn is finally almost here! 
One thing that I have learned to appreciate about living on the East Coast is the beautiful weather and scenery that takes over between September and November.  Leaves changing colors and the weather getting colder is something I rarely got to experience growing up in southern Texas.  Now that I live in central Virginia, I can't get enough of it!
I love taking pictures of the leaves changing colors from bright greens to various hues of orange, brown, yellow, and red.  I love getting to bundle up in sweaters and fleece and sit by a bonfire and drink apple cider.  And I love all of the fall festivals that take place during this time of year.  The Graves Mountain Apple Harvest Festival, the Carter Mountain Orchard Apple Harvest Festival, and the Fall Fiber Festival and Montpelier Sheep Dog Trials are just a few that I plan on attending!
The next couple of months are sure to be filled with lots of fun and plenty of pictures.